Sustainability at the Liverpool Welcome
Posted on: 19 September 2022 in Issue 3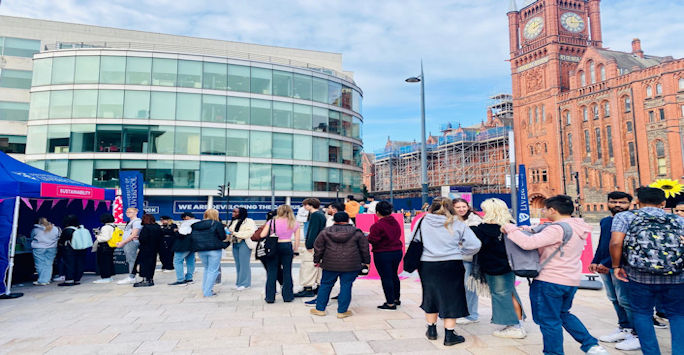 During Welcome Week, the Sustainability Team were on University Square, on Tuesday 20th and Thursday 22nd September, speaking to students about how they can find out more about sustainability at the University of Liverpool.
New students were welcomed on to campus for the start of the new academic year, as we aimed to equip them with the skills, information and knowledge to be more sustainable in Liverpool, and beyond.
Dedicated staff were on hand to answer questions, provide insight into the Sustainability in Action module and the Student Sustainability Hub, sustainability in halls, as well as the health and wellbeing support networks and resources available at the University.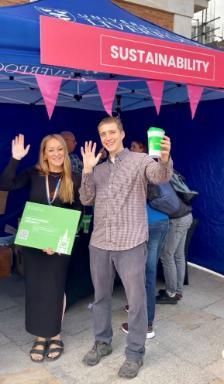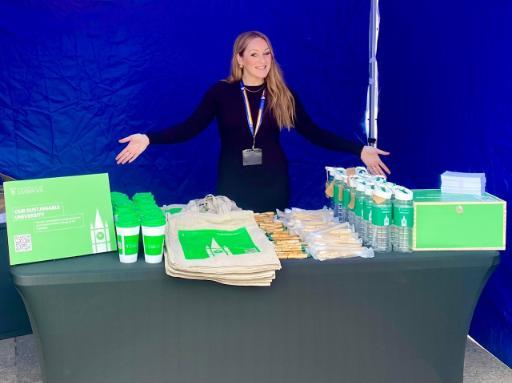 We engaged with over over 1000 queueing students, all of which signed up to the 'Sustainability Pledge', committing to a more sustainable future by pledging to make changes in their daily activities. Students received eco-friendly reusable tote bags, water bottles, and coffee cups, providing that they will be used to replace the need for buying things from the source, which means less production, and less waste.
We were inundated with students wanting to make a personal pledge, and we also recieved hundreds of suggestions on what the University could improve on. Examples of some of the great pledges received were:
'To make more vegan food choices and only buy second hand clothing'
'To never use plastic bags, only reusable tote bags for shopping'
'To get involved with sustainability volunteering opportunities at University'
'To complete the Sustainability in Action course and get HEAR accreditation'
'Avoid driving and public transport and cycle or walk where possible'.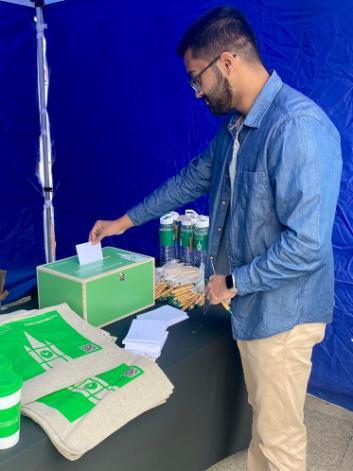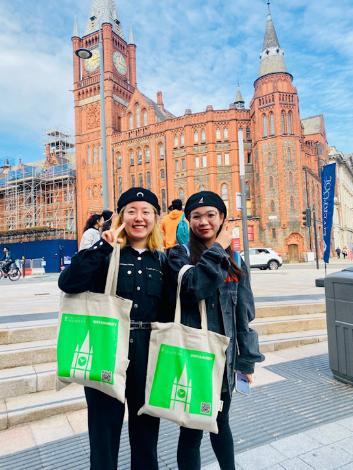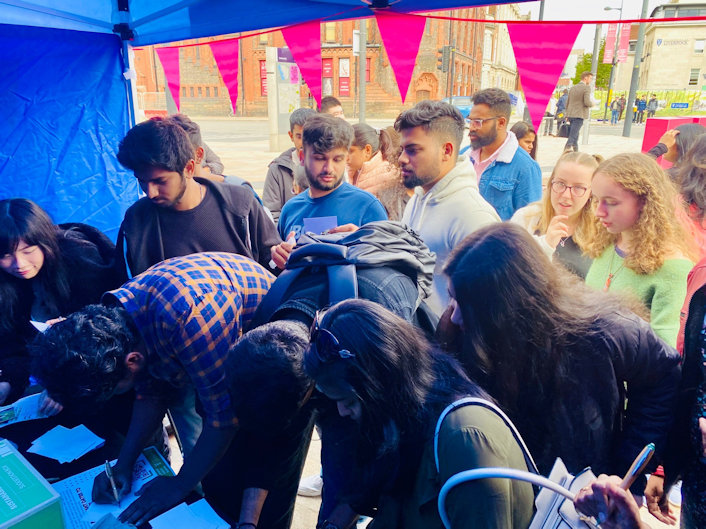 Following such a successful day on campus, we will be launching our annual Sustainability Week of events, due to take place in 2023 – details will be posted on the Sustainability website soon.
Get involved
We will only achieve our sustainability aspirations through collaboration and innovation and we have a wide range of opportunities for students to get involved to shape sustainability across campus.
Sustainability should be a fundamental part of the student experience, and there are plenty of opportunities for students to get involved through volunteering activities like beekeeping, gardening and food growing, the swap shop, litter picking, student switch off ambassadors, sustainability champions and much more! Students can also contribute to the Sustainable Liverpool newsletter, attend events, curriculum mapping and complete our bespoke Sustainability in Action module.
Get involved from day one, there is something for everyone and you can see what's happening and when on the My Liverpool app.
Student Sustainability Hub, supporting SDG8: Decent Work and Economic Growth
There are many development opportunities which support SDG8, to enhance the student experience. This includes but is not limited to sustainability internships, SDG curriculum mapping, campaigning, and the Sustainability in Action course.
The Student Sustainability Community Hub is a central point of reference to find resources on sustainability-related societies, volunteering, careers advice, COP26 activities, lifestyle choices, and social networks.
The community hub also has an online course which introduces students to the UN SDGs and upon completion of a series of short assessments, receive HEAR accreditation. Our Sustainability in Action module provides a thorough insight into the UN's Sustainable Development Goals and aims to help students be more sustainable through fun activities and engaging content, and is available through Canvas.
Wellbeing Hub, supporting SDG3: Health and wellbeing
Good health and wellbeing is critical for sustainability and there's an array of support services aimed at maintaining or improving mental and physical health and wellbeing at the University.
The Wellbeing Hub provides information and resources on what health and wellbeing is and why it is important; what the University is doing to ensure that staff and students are working and studying in a healthy and happy environment; as well as links to helpful facts and tips to stay fit and well. New students can access the Wellbeing map which shows areas on campus to access support, be active, places to connect, take time out and places to eat well.
Sustainability in Halls
To ensure that sustainability is a fundamental part of the student experience, the University's Halls team advocate sustainable living by providing a range of initiatives and activities, which help shape sustainability on campus.
As part of the Guild's Give It A Go programme, Halls offer sustainable activities for students, such as swap shops, herb pot planting, upcycling workshops, cooking workshops and bike rides from Greenbank and campus Halls. These activities are free and open to students living in Halls.
Last year, the Halls team ran an inter-hall energy saving competition with SOS-UK as well as hosting recycling audits to see which Hall recycles best as a collective. This year students trained as campaign volunteers for SOS-UK and took part in sustainable masterclasses, webinars, and quizzes. 30 students conducted 2 recycling audits across Halls where they audited the recycling bins and rated students on how well they recycle. Students were left Fairtrade chocolates in return and advice slips on they can improve their recycling as a flat. Philharmonic Court won 'most sustainable residence' for 2021/22 and awarded prizes. Halls students also successfully donated their unwanted belongings to British Heart Foundation as part of the Guild's Leave Liverpool Tidy programme. As well as this, unwanted food items were donated by residents to FareShare at Christmas and at the end of the year.
The Halls team help to promote sustainable living not only in terms of being environmentally friendly but also financial sustainability on the Halls Life website. There's also plenty of advice and guidance available, such as tackling food waste while living in Halls, budget friendly recipes, how to look after your money, sustainable spending in Liverpool and information on recycling and looking after your area before leaving Halls and moving into the community.
Find out more
Find out more about what we do and what you can do by visiting our dedicated sustainability welcome week page and get involved on social media using the hashtags #HelloLivUni, #TeamLivUni