A Sustainable Global Experience
Posted on: 6 July 2022 in Issue 2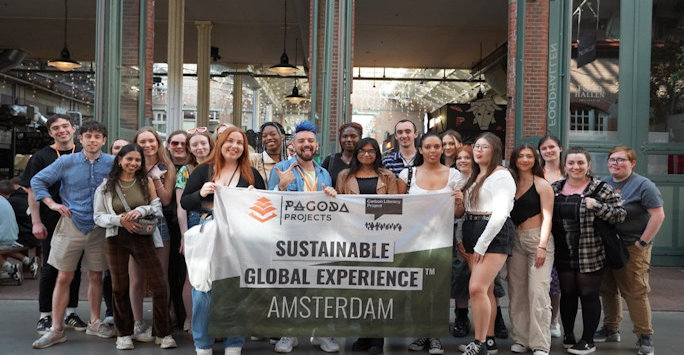 Combining a study abroad experience with the opportunity to learn more about sustainability, the Sustainable Global Experience Programme recently took place for the first time.
Run by Pagoda Projects in partnership with the University's Global Opportunities Team, the fully funded programme saw over 30 University of Liverpool and Liverpool John Moores students take part in a visit to Amsterdam to learn more about innovation in sustainability.
The trip included visits to local sustainable businesses, New Economy and Seenons, as well as a tour of DeCeuvel – a derelict shipyard which has been transformed into a sustainable cafe and workspace. There was also a group activity, focusing on the Corporate Social Responsibility of organisations, which concluded with presentations on the final day and is being followed up with Carbon Literacy training.
Niall O'Donnell, Global Opportunities Coordinator, said "I feel the trip was really important for students to see how sustainability affects the wider society. We chose Amsterdam as there's lots going on there in terms of innovation, and it was really interesting to visit the different companies to find out more about what they're doing."
In a bid to cut down the environmental impact of the trip, the group travelled by coach and Eurostar as an alternative to flying and took advantage of public transport to get around the city. They also used an app called Carbon Capture to track their carbon emissions which they plan to offset by 150%. "In the Global Opportunities Team, we are aware that we're essentially flying students all over the world" Niall explains. "We want to encourage students to get trains, buses and boats - it's not just all about flying – and we want to think more creatively about the different ways we can reduce our impact."
Why not download the Carbon Capture app, or any of the other similar apps available, to help track, reduce and remove your carbon footprint too? A friendly 'eco-coach' in your pocket, available on the App Store and Google Play.
Aside from the visits and group exercise, students were also able to take part in cultural activities such as a canal tour, a scavenger hunt, and a visit to an exhibition at NEMO Studio. This was particularly beneficial to some participants who had never travelled abroad before. "We prioritised widening participation students and those from lower income backgrounds during the application process" Niall says. "It's nice to see the confidence they've gained from this trip - some have gone from never having been overseas to now planning to do a year abroad."
"During my time on the Sustainable Global Experience in Amsterdam I discovered a range of new sustainable ways of living and was able to meet likeminded people who I created connections and friendships which wouldn't have been possible without this experience. I'm very thankful that the University of Liverpool was able to fund this opportunity and would highly recommend everyone interested in saving the planet to apply!" – Kyra MacKinnon, Philosophy student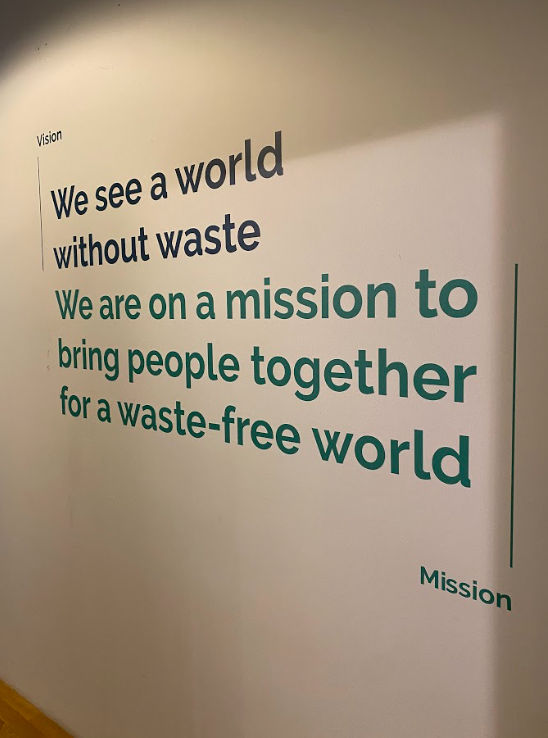 The Sustainable Global Experience Programme is one of many examples of initiatives taking place at the University that help us work towards the key ambitions outlined in our Sustainability Strategy. The trip tied in with the following areas:
Education for Sustainable Development: Students gained real-world insight to sustainable companies and innovations
Travel and transport: Students used alternative transport methods and utilised technology to help reduce environmental impact
The Sustainable Global Experience also contributed towards SDGs 3, 8, 9, 10, 11 and 12.
Find out more about Global Opportunities at University of Liverpool. Contact the team at saenq@liverpool.ac.uk or follow Global Opportunities on Instagram, Twitter or Facebook.
Did you know you can work, volunteer or study abroad during your degree? With programme options ranging from 1 week to a full academic year, and over 100 partners across the globe, there truly is something for everyone. Use the search tool to find out where your degree could take you.