Engaging the public: building better data systems
Posted on: 18 July 2023 by Dr Emily Rempel in July 2023 posts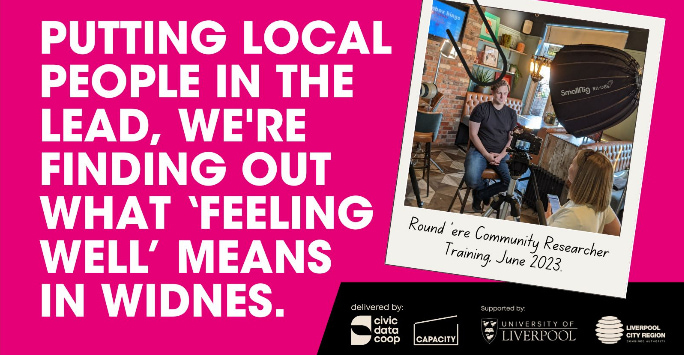 Dr Emily Rempel is the Public Participation Manager at the Liverpool City Region Civic Data Cooperative (CDC). Hosted by the University of Liverpool, the CDC connects organisations and citizens to appropriate data in order to help improve service delivery and solve big problems. Here Emily discusses their Round 'Ere project, which focuses on wellbeing in Widnes.
The development of new data technologies and sharing initiatives is a tale of two stories. Evidence for potential harm from new data development abounds. Examples range from the now infamous failure of the NHS data linkage system Care.Data to the life-altering harm from biased sentencing algorithms reinforcing racism in health and justice systems. Equally, evidence abounds for data tech to solve problems, create opportunities, and save lives. Health data analytics are revolutionising infectious disease tracking, antimicrobial resistance strategies, and clinical imaging. Data technologies can save lives but without adequate review and regulation can cause harm. How do we bridge these two stories? Specifically, how can we maintain the good of data tech while preventing the harm?
Civic Data Cooperative
At the Civic Data Cooperative (CDC), we believe developing beneficial data technologies should happen directly alongside building better models of public stewardship of data governance and design. Public participation, involvement, and engagement (PPIE) is at the core of our work. The CDC is funded by the Liverpool City Region Combined Authority and hosted by the University of Liverpool to make data about the Liverpool City Region work for the people who live here. We have three primary strands of work. First, imagining better services and solutions supported by data and data tech. Second, exploring different ways to use data for innovative health and social care research. And, third, engaging people across the region in how they want their data used. We are taking a stepped, flexible approach by supporting a range of PPIE activities. Our core work is testing small scale models of data governance at the local level.
Wellbeing in Widnes
Our newest project, Round 'Ere, aims to build a community-designed and governed wellbeing data hub in Widnes, a town in the Halton region of the Liverpool City Region. That aim likely throws up a lot of questions on what we mean by wellbeing, wellbeing data, data hubs, and community governed. The underlying ethos of the project is to support community to decide for themselves what those things should mean and how better data could support their area.
Round 'Ere uses co-design and community-led social science to first ask what wellbeing means to people who live and work in Widnes. By using collaborative methods, the project can better reflect residents' true perspectives and also support a sense of ownership over the wellbeing data hub. In practical terms we have recruited seventeen local people to take part in four months of community-led social science research. This includes community researchers attending a series of research training days, co-designing a study on wellbeing, and conducting the research themselves. Once we have a shared definition of wellbeing for Widnes, we will use co-production and stakeholder workshops to design a data hub that tracks and measures the community's perception of wellbeing with an aim of impacting local services and support. You can follow the progress of the project at civicdatacooperative.com/round-ere.
Round 'Ere is one example of the kind of PPIE work CDC is supporting and running. We are not just researching what good data tech looks like, but what good public engagement practice should be as well. By reflecting both on tech and public stewardship models we hope to create a system where the harms of data are prevented while the benefits realised. Ultimately, we want to support doing good with data by ensuring we aren't the only ones deciding what good looks like.
---