Rebecca Evans wins STEM for Britain Award
Posted on: 10 March 2023 by Rebecca Evans in March Posts 2023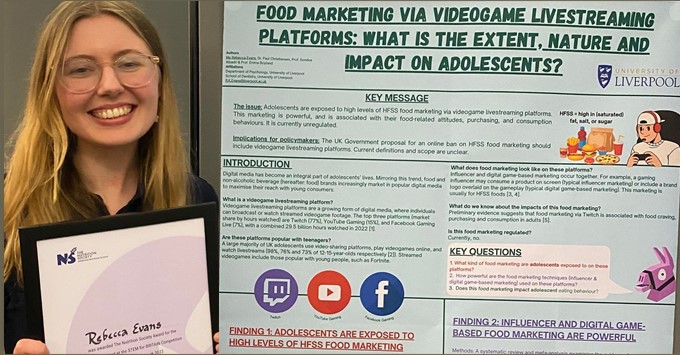 Rebecca Evans, PhD candidate from the Department of Psychology, was awarded the Nutrition Society prize for her poster, in the biological and biosciences category at the prestigious annual STEM for Britain poster competition this week.
Rebecca's research focuses on the influence of digital food marketing on adolescent eating behaviours and she was shortlisted from hundreds of entries to present her work. Prizes were awarded to posters that parliamentarians and judges considered the best at communicating the research to a lay audience.
We asked Becky about her experience on the day...
My poster was about the extent, nature and impact of food marketing via videogame livestreaming platforms on young people. Our research suggests that, on these platforms, adolescents are exposed to marketing of foods with high levels of saturated fat, salt or sugar while gaming so that their recall of the foods advertised is associated with more positive attitudes, purchasing and consumption of these foods. This research has important implications for policies around food marketing to adolescents.
Did you enjoy the experience?
Yes, it was a brilliant experience - I would encourage other early-career researchers to apply. I really enjoyed discussing our research with a variety of interested experts and MPs. It was really exciting to have the opportunity to share our research in Parliament, particularly considering the policy implications of our work. It was also lovely to chat with the other finalists and hear about all of the inspiring research going on. Winning the Nutrition Society Prize was the perfect end to the day!
Did you meet any anyone interesting on the day?
I particularly enjoyed discussing my research with Prof Bernard Corfe and Dr Wendy Hall (both from the Nutrition Society), and Prof Liz Sheffield (also from the University of Liverpool). It was great to speak to several interested MPs, and also a representative for my local work MP, Kim Johnson, who was unable to attend.
What would you like to do next in terms of your career?
Currently, I am in the final year of my PhD with the Appetite and Obesity Research Group and would like to continue pursuing research in this area to help inform policy.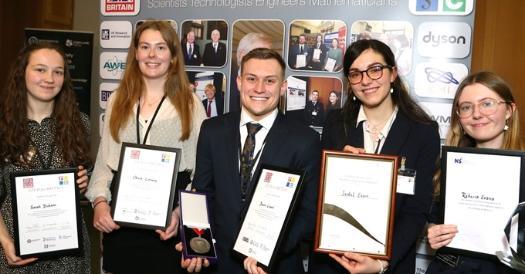 Becky with other award winners at the event
---