Hearing Public Health: Who is listening?
Posted on: 2 December 2022 by Dr Dalia Tsimpida in December Posts 2022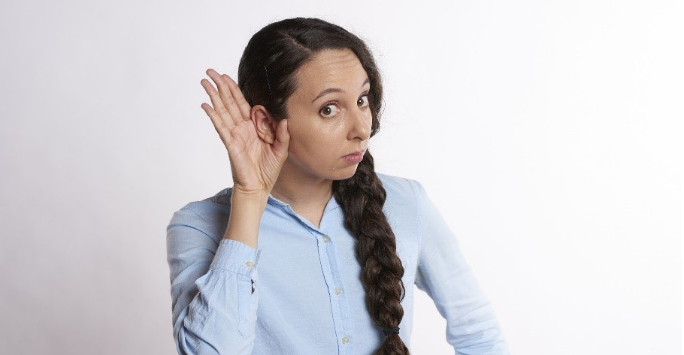 Dr Dalia Tsimpida, Lecturer in Public Health recently visited the World Health Organization (WHO) in Geneva and attended the Core Committee meeting of the World Hearing Forum, together with 40 global leaders in the area of public health policy-making for hearing health. Dalia explains what motivated her to work in this field and how she is aiming to make a difference and tackle hearing health inequalities.
Hearing loss is estimated to affect over 12 million adults in the UK and at the same time costs the English economy over £25 billion per year in productivity and unemployment.
It is known as an invisible disability because you can't tell someone has hearing loss by looking at them and it is easy for it to go unnoticed. Even those living with the disability don't realise how much of an impact hearing loss has on their lives.
The negative impact does not end with a person's ability to hear. It can dramatically impact the way you interact with others and experience life; affecting communication, educational opportunities, work participation and employability, family life, and social life.​
Studies also consistently show poorer mental health outcomes (e.g. stress and anxiety, depression, and/or behavioural and emotional disorders) for people with hearing loss than for those without. There is also strong evidence that mild hearing loss doubles the risk of a person developing dementia, with moderate hearing loss leading to three times the risk and severe hearing loss five times the risk.​
Pathway to research
My career path has not been straightforward. Twenty years ago, I worked as an aircraft technician, an occupation which has probably the highest level of occupational noise exposure. Any noise above 85 decibels has the potential to cause hearing damage, especially if the noise exposure is prolonged or frequent. Working in an environment where aircraft engines produce noise of around 120 decibels, any exposure without ear protection can cause permanent hearing loss in less than two minutes. ​​At less than 25 years of age, many of my colleagues already had high-frequency hearing loss, the type traditionally associated with ageing. However later as an explosive ordinance disposal specialist, I started questioning this. As I was studying for a degree in psychology alongside my full-time job, I was able to view the issue from different perspectives. I started thinking that hearing loss does not necessarily come with ageing; there are many things we can do to protect our hearing when we are young and hearing loss may be a result of exposure and not an inevitable result of ageing.
After graduating in 2007, I served in several roles in the Hellenic Ministry of National Defence, where I gained significant experience designing and evaluating behaviour change interventions and worked as an expert advisor to government departments on behavioural research and analysis. These roles fueled my passion for doing research with impact. They were the catalyst that led me from the grit of armed forces to a decade in groundbreaking hearing health research, envisioning a world in which no person experiences hearing loss due to preventable causes and those with hearing loss can achieve their full potential.
"The negative impact of hearing loss does not end with a person's ability to hear as commonly believed; hearing is an important determinant of physical, mental and social health, and hearing loss is a major public health issue that costs the English economy over £25 billion per year in productivity and unemployment."
- Dr Dalia Tsimpida
Making an impact
My research over the last decade is concerned with the public health aspects of hearing loss, focusing on hearing health inequalities: the avoidable differences in people's hearing health across different populations and social groups. One of the most important contributions I have made in the field is the development of the Conceptual Model of Hearing Health Inequalities (HHI Model). The model offered new insights that help explain the pathways that lead to inequalities in health and access to health services in older age. My work led to the reconceptualisation of hearing loss in later life as a preventable lifestyle disease and the exploration of the effect of social determinants on hearing health in distinct developmental stages during the life course.
I was proud to lead the PLACE Project, which updated the hearing loss prevalence estimates in older adults in England. The New National Study of Hearing in England revealed a previously unknown north-south divide in the prevalence of hearing loss in older adults in England.
During my research career, I have discovered novel psychosocial mechanisms and provided answers to complex research problems that have remained unanswered for decades. My work has been published in world-leading scientific journals and is internationally recognised, allowing me to forge independent international collaborations. I am currently a Special Advisor and Consultant of the World Health Organization (WHO) on global hearing health policy and towards establishing hearing loss in Member Countries as a public health priority.
Sharing knowledge
I have delivered research-led teaching for many years, developing materials for medical students in their clinical communication with people with hearing loss, and on the social and psychological consequences of hearing loss. I currently lead the Theme 'Public, Preventative & Global Health' (PPGH) in Year 2 of the MBChB at the University of Liverpool and was recently awarded a Senior Fellowship of the Higher Education Academy (SFHEA). A specific requirement of SFHEA is demonstrating the impact and influence you have on others' teaching.
I'm passionate about transferring my knowledge and created the first training opportunity on the psychological needs of people with hearing loss. I recently delivered the first webinar on this topic on behalf of The British Psychological Society, the representative body for psychologists and psychology in the United Kingdom that has more than 65,000 members.
Learn more
My next talk will be at the January webinar of the Liverpool Dementia & Ageing Research Forum, where I have been invited to present an overview of the current understanding of the link between hearing loss and dementia. You can reserve your place on Eventbrite.
You can also check your hearing at home using the HearWHO app. This WHO app gives the general public access to a hearing screener to check their hearing status and monitor it over time. It clearly displays the users' results and keeps a personalised track record of their hearing status over time.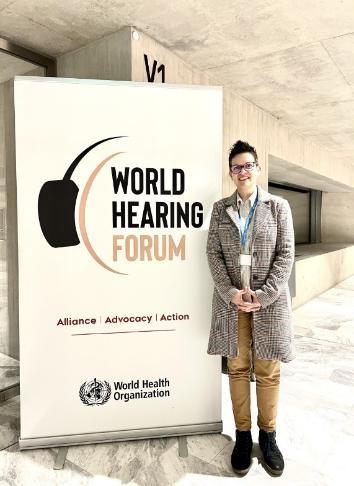 ---