Urban Design and Planning
Return to top
Course overview
In this course, you'll gain insights into the social, economic, and environmental challenges that urban planners face in designing cities that are functional, liveable, and sustainable. You'll also become familiar with various planning and urban design tools and methods that are used to address these challenges, and learn how they can be applied to specific contexts. By exploring the complexities of urban design and planning, you'll be equipped with the knowledge and skills to tackle real-world issues and create vibrant and resilient communities.
Introduction
Urban design and planning is a complex field that requires an interdisciplinary approach, drawing on expertise from the landscape, architecture, engineering, social sciences, and environmental sciences.
Our course will introduce you to the fundamental concepts of urban design and planning, providing you with a solid foundation in the principles and practices of designing and managing urban spaces. You will explore the social, economic, and environmental challenges that cities face today and learn how to address these challenges through innovative design and planning strategies.
By the end of the course, you will be able to analyse urban contexts, develop urban design proposals, and evaluate the social, economic, and environmental impacts of projects at different scales. Whether you aspire to become an urban designer, planner, or researcher, this course will provide you with the necessary knowledge and skills to succeed in your future endeavours.
What you'll learn
A critical appreciation of challenges facing modern society in terms of the need to reconcile economic growth and development with protecting and conserving the environment.
An understanding of the diversity of planned interventions at a variety of spatial scales, which are designed to produce effective and implementable solutions to policy dilemmas.
A range of analytical skills and techniques that are designed to develop appropriate and implementable solutions to a range of complex problems.
You'll get the opportunity to apply your knowledge, skills and understanding to the achievement of feasible solutions to real-life problems.
Develop the ability to appreciate the need to adopt strong professional values and ethics, recognising the diversity of interests that planning serves.
Explore ideas, perspectives and debates in one specialised area of planning.
Accreditation
This programme has been devised to enable you to meet all of the learning outcomes specified by the Royal Town Planning Institute (RTPI) and is in the process of seeking RTPI accreditation.
Course content
Discover what you'll learn, what you'll study, and how you'll be taught and assessed.
Semester 1
In your first semester, you will be introduced to the forces that shape the built environment and the role played by design professionals.
You will develop an understanding of the conflicts facing planners and urban designers in trying to deliver sustainable development, learn methods and techniques for analysing spatial planning and design issues, and the perspectives and theories that are relevant to the understanding of the role and purposes of planning and urban design.
You will attend lectures, seminars and take part in tutorials and field work to help you to build an understanding of planning and urban design principles and the field.
Compulsory modules
Spatial Planning Challenges (ENVS411)

Credits: 15 / Semester: semester 1

This module provides students with an understanding of the conflicts facing planners in trying to deliver sustainable development. It introduces students to the range of social, economic and environmental issues that face contemporary society. It outlines the role of spatial planning in managing development pressures while protecting the built and natural environment, and it explores different planning responses to address and reconcile these competing interests.
Theory, Power and Ethics (ENVS432)

Credits: 15 / Semester: semester 1

The focus of this module is on the institutional perspective on planning across different spatial scales and the different strands of theories that are relevant to the understanding of the role and purposes of planning.
Trends, Outcomes and Impacts (ENVS469)

Credits: 15 / Semester: semester 1

The modern planner must be conversant with statistics and mapping. To achieve this, this module aims to provide students with a coherent guide to the variety of methods and techniques employed in analysing contemporary spatial planning issues. It provides a discussion of statistical analysis, and the ability to produce detailed mapping. In doing so, the aim is to furnish you with the critical thinking skills to understand the benefits of statistics in the work of a planner, and to use this to good effect. The module is delivered through lectures and a series of practical workshops and assessed through technical exercise and a group project report.
Urban Design: Principles and Practice (ENVS420)

Credits: 15 / Semester: semester 1

This is a seminar-based module, which aims at promoting an understanding of the forces that shape the built environment and the role played by design professionals. It will help you as future designers to understand that the city is a complex and dynamic system. It will also stimulate your active thinking and positive responses to various phenomena. The module will be delivered through illustrated lectures, debates, site visits, tutorials and a design day (design charrette). Topics are based around current challenges for urbanism such as building tall, developing appropriate and effective design guidance, and designing for communities in the light of financial viability and climate change. You will be introduced to key theories and design skills and have the opportunity to engage first hand with professionals from the field of planning and urban design. Assessment for this module is comprised of an essay, a case study presentation and the design day output.
Programme details and modules listed are illustrative only and subject to change.
Semester 2
In your second semester, you will further develop the skills required to excel in the field of urban design and planning.
You will understand more about the challenges that are faced by planners and urban designers when working towards meaningful change and get hands-on with project work that will allow you to apply concepts you have learned in a practical context – working with your peers and clients within the local community.
Compulsory modules
Implementing and Managing Change (ENVS459)

Credits: 15 / Semester: semester 2

How do planners implement and manage change? This module provides you with an understanding of the statutory and practical basis of planning and the challenges and issues planners face in mediating, regulating and managing change. It provides an understanding of the planner as a professional practitioner and the responsibilities this entails. It also equips students with the skills and practices necessary to implement and manage change in an effective manner and with attention to the variety of stakeholders involved. The module is delivered through interactive lectures and guest talks. It is assessed through a report reflecting on the development process and a theory-focused essay.
Spatial Planning in Action (ENVS467)

Credits: 30 / Semester: semester 2

The module provides an opportunity for students to apply knowledge gained in other aspects of their studies to a plan-making exercise. In this project-based module, students will work with a client on the development of a strategy for the improvement of a selected area. Student will work in groups on a project brief that will allow them to address issues that are both relevant for the local client and reflect relevant planning debates (e.g. on urban sustainability, climate change, etc.)
Urban Design Studio (ENVS463)

Credits: 15 / Semester: semester 2

This is a studio- and client-based module which usually supports a local community group or a Community Interest Company within the Liverpool area. It is delivered through formal introductions to project and work stages by means of traditional lectures, as well as guided site visits, weekly design tutorials and skills sessions on drawing and modelling. You will develop a self-paced work ethic, interpret a design brief and propose a sustainable design solution following a rigorous, process-lead design through group discussions and by responding to critical feedback. Further work usually consists of an area appraisal and contextual studies, a design framework or strategy and a site design. At the end of this module, you will be able to formulate a design vision, objectives and a strategy, present an urban design proposal graphically and verbally and demonstrate planning and design of development plots, buildings and open spaces.
Programme details and modules listed are illustrative only and subject to change.
Final Project
For your final research project, you will undertake a research focused on urban design. Using all of the skills, knowledge and understanding you have gained throughout the programme, you will identify a research topic, manage your research process and draw policy and design conclusions from your findings.
Lectures and seminars will support your academic writing and primary research skills – and you will have support from your tutor on developing your research outline into a full-scale research project.
Compulsory modules
Dissertation MCD/MA/MSc Planning (ENVS491)

Credits: 60 / Semester: summer

The module supports students in the development, researching and execution of an independent piece of research under the supervision of an academic member of staff.
Programme details and modules listed are illustrative only and subject to change.
How you'll learn
You'll learn through a combination of teaching, learning and assessment methods in line with the varied nature of the programme.
You'll attend lectures, seminars and tutorials and take part in practical sessions, such as project work and field visits. You are encouraged to take a proactive approach to your learning.
You will plan and organise your studies both on an individual basis and working in groups, take an active role in seminars, class discussions, library and IT studies and make practice contacts and site visits associated with coursework submissions.
How you're assessed
You will be assessed through a combination of coursework, such as essays, reports, seminar presentations, examinations and project work. Essays, reports, seminars and discussion papers enable you to explore particular components of the course in-depth and present coherent arguments using a range of writing styles, suitable for different audiences.
Seminar presentations provide opportunities for you to develop and demonstrate your ability in presenting and defending your arguments. Group projects enable you to demonstrate, through verbal presentations, written reports and and design work, your ability to work as part of a team to resolve large and complex problems. Examinations test knowledge, understanding and critical reflection on a range of materials covered in a module.
You will also take part in a final research project focused on urban design. You will work independently to develop and demonstrate research skills and apply knowledge to a specific research problem. You will be specifically assessed on your initial presentation, your research outline, and your dissertation.
Liverpool Hallmarks
We have a distinctive approach to education, the Liverpool Curriculum Framework, which focuses on research-connected teaching, active learning, and authentic assessment to ensure our students graduate as digitally fluent and confident global citizens.
Your experience
The Department of Geography and Planning is home to the world's first planning school. We are a centre of excellence for innovative and influential research and scholarship and are a leading provider of high-quality professional education. We have excellent academic staff who are actively engaged with research and professional practice. This is reflected in the fact we edit two international journals: Town Planning Review and Journal of Environmental Assessment Policy and Management.
Virtual tour
Chat with our students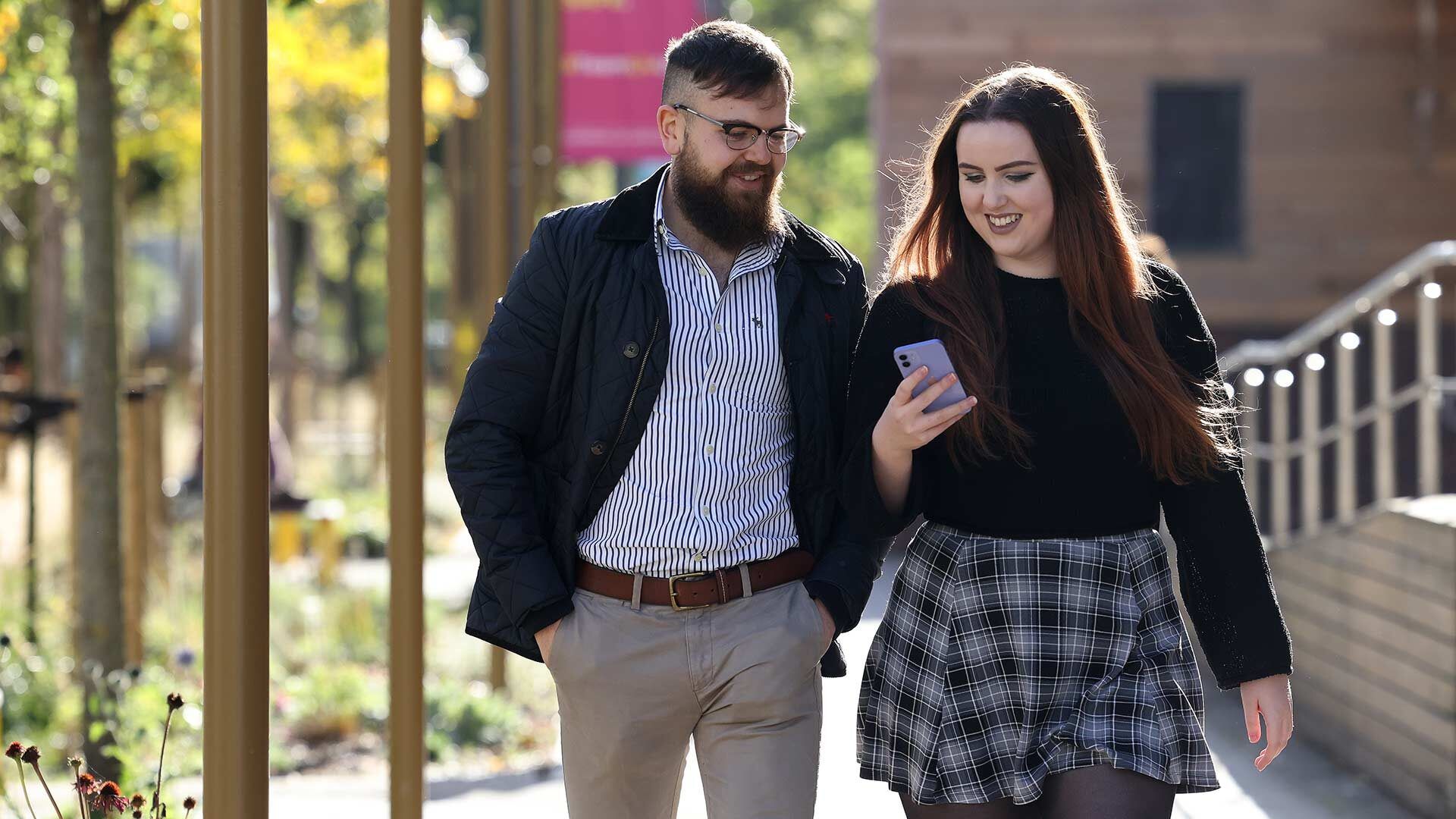 Chat with our students
Want to find out more about student life?
Chat with our student ambassadors and ask any questions you have.
Careers and employability
Graduates of this MCD programme have excellent job prospects in the field of urban design and planning and beyond.
Your future
There are significant career opportunities in the fields of urban design and planning. Graduates from this programme will develop a set of skills that will be attractive for employers in the urban design and planning sectors – local authorities, the private and voluntary sectors, as well as architectural offices working on place-making and master planning. Students can also go on to take higher degrees or work as research assistants in academic institutions.
This programme meets particular needs, both in the UK and internationally, for specialists in this field.
Fees and funding
Your tuition fees, funding your studies, and other costs to consider.
Tuition fees
UK fees

(applies to Channel Islands, Isle of Man and Republic of Ireland)

Full-time place, per year
£11,600
International fees
Full-time place, per year
£22,400
Fees stated are for the 2024-25 academic year.
Tuition fees cover the cost of your teaching and assessment, operating facilities such as libraries, IT equipment, and access to academic and personal support.
If you're a UK national, or have settled status in the UK, you may be eligible to apply for a Postgraduate Loan worth up to £12,167 to help with course fees and living costs. Learn more about paying for your studies..
Additional costs
We understand that budgeting for your time at university is important, and we want to make sure you understand any course-related costs that are not covered by your tuition fee. This could include buying a laptop, books, or stationery.
Find out more about the additional study costs that may apply to this course.
Scholarships and bursaries
We offer a range of scholarships and bursaries to provide tuition fee discounts and help with living expenses while at university.
Entry requirements
The qualifications and exam results you'll need to apply for this course.
Your qualification
Requirements
Postgraduate entry requirements

The normal entry requirement for all our postgraduate programmes is a good first degree (2:1) or above, in a related area from an approved university or equivalent. Applications from those with non-traditional qualifications and relevant work experience are also welcomed and will be considered on their individual merits.

For applicants wishing to study this programme, a Portfolio of design work must be submitted with the application. The portfolio should comprise of a maximum of 16 pages. This should be in digital format (.pdf or .jpg) which can be attached to your application (hardback copies are not accepted).

Relevant work experience is not an entry requirement, but prospective students are encouraged to gain some familiarity with the work of planning professionals prior to joining the programme.

Students admitted to this programme must have completed the equivalent of ENVS427 Making Plans and ENVS439 Making Places in their previous studies.

International qualifications
Applications from international students are welcome. International qualifications will be evaluated in line with the National Recognition Information Centre (NARIC) guidelines.

English language qualifications
All applicants must have reached a minimum required standard of English language and are required to provide evidence of this. Qualifications accepted by the University please review the English Language requirements specific to your country.

If you meet the academic requirements of the course but do not have the required level of English Language, it is possible for you to come and study at the University on one of our Pre-sessional English for Academic Purposes programmes. Please see the English Language Centre website for further information about these programmes.

If you require additional English Language training during your study, the University is able to provide tuition and arrange IELTS tests through its English Language Centre, details of which are available at via the website.

International qualifications

If you hold a bachelor's degree or equivalent, but don't meet our entry requirements, a Pre-Master's can help you gain a place. This specialist preparation course for postgraduate study is offered on campus at the University of Liverpool International College, in partnership with Kaplan International Pathways. Although there's no direct Pre-Master's route to this MA, completing a Pre-Master's pathway can guarantee you a place on many other postgraduate courses at The University of Liverpool.
English language requirements
You'll need to demonstrate competence in the use of English language. International applicants who do not meet the minimum required standard of English language can complete one of our Pre-Sessional English courses to achieve the required level.
English language qualification
Requirements
IELTS
B
View our IELTS academic requirements key.
International Baccalaureate

Standard Level 5

TOEFL iBT
88 or above with minimum scores in components as follows: Listening and Writing 17, Reading 17, Speaking 19.
INDIA Standard XII
National Curriculum (CBSE/ISC) - 75% and above in English. Accepted State Boards - 80% and above in English.
WAEC
C4-6
Hong Kong use of English AS level
C
More about life in Liverpool
Discover more about the city and University.
Why study at Liverpool?
Liverpool bursts with diversity and creativity which makes it ideal for you to undertake your postgraduate studies and access various opportunities for you and your family.
Accommodation
To fully immerse yourself in the university experience living in halls will keep you close to campus where you can always meet new people. Find your home away from home.
Fees and Finance
Discover what expenses are covered by the cost of your tuition fees and other finance-related information you may need regarding your studies at Liverpool.
Contact us
Have a question about this course or studying with us? Our dedicated enquiries team can help.