Microelectronic Systems with a Year in Industry
Course overview
On this well-established MSc programme, you will develop advanced knowledge and skills in key aspects of telecommunications and wireless systems. The course content is updated every year to maintain industry relevance and to reflect the latest developments in the industry.
Introduction
Teh first year of this MSc follows the same structure as the one year MSc programme. You will study core (compulsory) topics during the MSc: embedded computer systems, digital system design, IC design, microprocessor systems, research skills and project management.
The course content also covers digital design techniques, you will be introduced to materials used in microelectronics, and develop an understanding of designing advanced embedded computer systems – along with a module that will help you to develop the practical skills to develop your final project in semester three.
You'll be able to develop your specialism through optional modules, where you can learn the fundamentals of image processing, the principles of communications networks, the theoretical and practical aspects of parallel programming for multi-core architectures, and an introduction to electrical plasma and how it can be used in microelectronics.
In Year two you will undertake an industrial project and placement (either in the UK or overseas), typically 30 weeks from September to next June. During the placement year you will spend time working in a relevant company suitable for the MSc. This is an excellent opportunity to gain practical engineering experience which will boost your CV, build networks and develop confidence in a working environment. Many placement students continue their relationship with the placement provider by undertaking relevant projects and may ultimately return to work for the company when they graduate.
Who is this course for?
This course is aimed at graduates who already have a good general level of knowledge and understanding in electronics or closely related subjects with advanced knowledge (at level M) and capabilities in the specific areas of microelectronic systems.
What you'll learn
Develop an understanding of the issues in designing complex digital and analogue systems
Understanding the capabilities of tools used for the design and simulation of these complex systems
Build your understanding of signal processing using digital systems
Get an awareness of the techniques used for the networking of digital systems
Knowledge and skills in software engineering, design and management
Transferable skills such as analysis, problem-solving, communication and team-working.
Accreditation
Accredited by the Institution of Engineering and Technology on behalf of the Engineering Council as meeting the requirements for Further Learning for registration as a Chartered Engineer. Candidates must hold a CEng accredited BEng/BSc (Hons) undergraduate first degree to comply with full CEng registration requirements.
Course content
Discover what you'll learn, what you'll study, and how you'll be taught and assessed.
Year one
Semester one
In your first semester, you will develop your practical programming and coding skills by creating software for engineering applications, and an introduction to the "Internet of Things".
Modules that will cover Semesters one and two will cover digital design techniques, introduce you to materials used in microelectronics, and give you an understanding of designing advanced embedded computer systems – along with a module that will help you to develop the practical skills to develop your final project in semester three.
Semester two
Your second semester will introduce you to ARM Cortex M Microprocessors. You'll learn about the general functionality, learn to interface a peripheral to the AHB-Lite bus using microprocessors, and use RTX to implement a multi-threaded application.
You will continue to develop your knowledge of materials, and digital design skills while building the knowledge you'll need for your research project – moving into project planning and literature searching.
You'll also have the choice to learn about the principles of communications networks, their components and protocols; develop an in-depth understanding of EMC, the scope of EMC, standards, typical EMC problems and solutions; and get an extensive overview of information theory and coding.
Compulsory modules
Advanced Embedded Systems (ELEC470)

Credits: 15 / Semester: whole session

This module covers material for understanding and designing advanced embedded computer systems.

Key topics include computer architecture, low-power design, hardware/software co-design and synthesis techniques.

The module prepares students for research and employment in the leading research groups and embedded system companies in the world.
Digital System Design (ELEC473)

Credits: 15 / Semester: whole session

This module introduces students to the digital design techniques used in industry and research. The methods for describing digital systems using the Verilog Hardware Description Language (HDL) are introduced. Students will examine the operation of the MIPS Processor and will also be introduced to Altera's NIOS-II Processor. The module is assessed via four assignments and two class tests. Altera's Quartus package is used for sythesising the digital systems.
Integrated Circuits - Concepts and Design (ELEC472)

Credits: 15 / Semester: whole session

To understand the reasons for the predominance and importance of silicon-based microelectronics to the semiconductor industry. To understand how materials, devices and circuit issues are inter-related and exploited to make the microchips that underpin the information age. To gain experience in using a simulation tool (Multisim) in the design, simulation and analysis of digital and analogue circuit designs. To prepare students for entering the Silicon semiconductor industry.
Research Skills & Project Management (ELEC483)

Credits: 15 / Semester: whole session

This module is concerned with introducing and developing the key skills necessary undertake research and to effectively disseminate the results of that work.

On the whole it is geared to providing training in these skills through observations of real-life examples and best practise and importantly hands-on training.

In particular, the module addresses the mechanics of research, gathering information, managing and planning the work, report writing and giving oral presentations.

The assessment of skill development throughout the study comes through the completion of five assignments.
Engineering Programming (ELEC431)

Credits: 15 / Semester: semester 1

​This module gives a comprehensive coverage of two most popular programming languages, C++ and MATLAB. It aims to help students to gain an understanding of the Functional Decomposition method for program design, and practical skills of designing and coding software for engineering applications based on a problem specification.
The Internet of Things: Architecture and Applications (ELEC423)

Credits: 15 / Semester: semester 1

This module covers two areas. An introduction to the "Internet of Things" which introduces the topic from the basics describing its evolution, its architecture and its application to real-life scenarios. Students will then develop a real IoT application which builds on the basic knowledge of embedded systems and programming, obtained in a EEE or related B.Eng degree which includes knowledge of digital electronics and microprocessor systems and the ability to programme in C.
Microprocessor Systems (ELEC422)

Credits: 15 / Semester: semester 2

This module will cover three aspects of ARM Cortex M Microprocessors.

The general functionality of the Cortex M series will be introduced along with the Instruction Set Architecture (ISA) Assignment one will be based on Assembly Language Programming.

The internal bus operation of the AHB-Lite interface will be introduced. For Assignment two students will be expected to interface a peripheral to the AHB-Lite bus using a Cortex-M0 soft core. The peripheral and the interface will be coded using Verilog. They will then be required to write a program to verify the operation of their peripheral3. The final aspect will be on using Real-Time operating systems. This will include how synchronisation, communication and resource sharing is implemented using the RTX real-time operating system.

The third and final assignment will be on using RTX to implement a multi-threaded papplication.
Optional modules
Advanced Systems Modelling & Control (ELEC476)

Credits: 15 / Semester: semester 1

This module will provide advanced modeling, simulation and control techniques and to develop student's skill of considering engineering problem in a system point of view.
Image Processing (ELEC319)

Credits: 7.5 / Semester: semester 1

This module covers the fundamentals of how images are generated, represented, compressed and processed to extract features of interest.
Mobile Communications and Security (ELEC463)

Credits: 15 / Semester: semester 1

This module introduces the principles of mobile communications networks, protocols and security mechanisms.

The major mobile and wireless communication technologies are covered, including cellular communications (from legacy to 4G/5G and beyond) and popular wireless networks including wireless local area networks (WiFi), wireless personal area networks (ZigBee), and low power wide area networks (LoRa/LoRaWAN).

Students are provided with basic concepts about network architectures, the implementation of different protocol stack layers, the major techniques used at each communications layer, the security mechanisms adopted to protect wireless transmissions.
Multi-Core and Multi-Processor Programming (COMP528)

Credits: 15 / Semester: semester 1

This is a module to cover theoretical and practical aspects of parallel programming for multi-core architectures with the main focus on hand-on programming experience with latest multi-core and multi-processor platforms.
Optimisation (COMP557)

Credits: 15 / Semester: semester 1

This module is an in-depth tour over optimisation methods applied for various optimisation models. These methods are extensively used in both academic and industrial practices.
Plasma System Engineering (ELEC391)

Credits: 7.5 / Semester: semester 1

The module introduces to the students the basic concepts of electrical plasmas and how they are used in industry. It concentrates on the engineering principles behind plasma technology rather than the physics of the discharge, however some mathematical approaches are explored so that quantification of the action of plasmas upon material surfaces can be made. The module explains how a gas can turn into a plasma and how high energy ions in the plasma can be generated to process a substrate, such as silicon wafer in micro-electronics fabrication. The module is taught by a mixture of power points notes and chalk and talk. There are a number of question sheets given out to help the students understand the basis plasma-material processes. On completion, students will understand how plasmas are used in industry, they will have an appreciation of some aspects of simple design and how plasmas can be configured for the next generation of fusion power stations.
Communications Networks (ELEC461)

Credits: 15 / Semester: semester 2

This module introduces the principles of communications networks, thier components and protocols.

Students are provided with basic concepts about network architectures, the reference models used to describe them, the major protocols used at each communications layer, and the tools to analyse the performance of link layer, median access control, Network and Transport layer protocols.

The main protocols for routing packets over the Internet are also introduced, along with an overview of the packet switching architectures used in the core of today's routers.
Electromagnetic Compatibility (ELEC382)

Credits: 7.5 / Semester: semester 2

This module is aimed at developing an in-depth understanding of EMC, the scope of EMC, standards, typical EMC problems and solutions.

Based on the theory, the students are expected to be able to analyse and solve EMC problems, and also use relevant equipment for conducting EMC measurements. 
Information Theory and Coding (ELEC415)

Credits: 7.5 / Semester: semester 2

This module is aimed to provide an extensive overview of the information theory and coding. Different source codes and channel codes are discussed. Cryptography is also covered.
Programme details and modules listed are illustrative only and subject to change.
Year two
In Year two you will undertake an industrial project and placement.
The University of Liverpool has a dedicated team to help students find a suitable placement. Preparation for the placement is provided by the University's Careers and Employability Services (CES) who assist students in finding a placement, help students produce a professional CV and prepare students for placement interviews. Placements can be near or far in the UK or overseas.
The University has very good links with industry; companies (such as ARM Plc) have offered our MSc students competitive placements.  Although industry placements are not guaranteed, the University offers students opportunities and support throughout the process to ensure that the chance for a student to find a placement is high.
If you are unable to secure a suitable placement by the end of April during Year one, you will be transferred onto the one-year MSc to undertake the MSc project over the summer and graduate after one year.
Compulsory modules
MSc Placement Experience (ELEC498)

Credits: 60 / Semester: whole session

This module contains the elements of the second year industrial placement for the 2 year MSc programme that are generic to all work experience.  The technical elements of the placement are contained in a different module, ELEC499.
MSc Industrial Project (ELEC499)

Credits: 60 / Semester: whole session

​This module is a major part of the 2-year MSc programme with a year in industry. It worths 60 credits. The project should take place in year 2 during the placement, typically from Sept to next May for a minimum of 30 weeks.

An earlier starting date is allowed which is subject to the agreement between the University and the company involved.

The module will be assessed by an interim report, oral presentation and final thesis. The student will be supervised by a university supervisor as well as an industrial supervisor. 

This module aims at developing the student's ability to undertake a industrial project in a real world environment successfully with limited supervision. The student is expected to apply the knowledge learnt from the university in practice and also expected to gain significant knowledge and skills from the industry, thus the employability of the student should be much enhanced. 
Programme details and modules listed are illustrative only and subject to change.
How you'll learn
You will learn by attending lectures, laboratory sessions, tutorials and doing your own research on a specific topic. You are expected to complete all the set coursework and exercises as it is an important part of your learning. You will have the opportunity to have hands-on training during your industrial placement.
How you're assessed
You will be assessed through various methods including final exams, quizzes, exercises, laboratory reports, presentations, oral examinations and a report writing.
Liverpool Hallmarks
We have a distinctive approach to education, the Liverpool Curriculum Framework, which focuses on research-connected teaching, active learning, and authentic assessment to ensure our students graduate as digitally fluent and confident global citizens.
Course options
Studying with us means you can tailor your degree to suit you. Here's what is available on this course.
Your experience
The Department of Electrical Engineering & Electronics has world-class specialist facilities including top industry standard laboratories, which puts us at the forefront of research in this fast-moving discipline and our postgraduate body is one of the largest in the University, encompassing world-class fundamental and applied research. We offer an exciting, theoretical and practical range of degree programmes which address all of the major subject areas underpinning the new IT-based modern economy.
Watch now
Video
Inside Electrical Engineering and Electronics: A conversation with Dr Kirsty McKay and Dr Ian Sandall
Supporting your learning
From arrival to alumni, we're with you all the way:
Chat with our students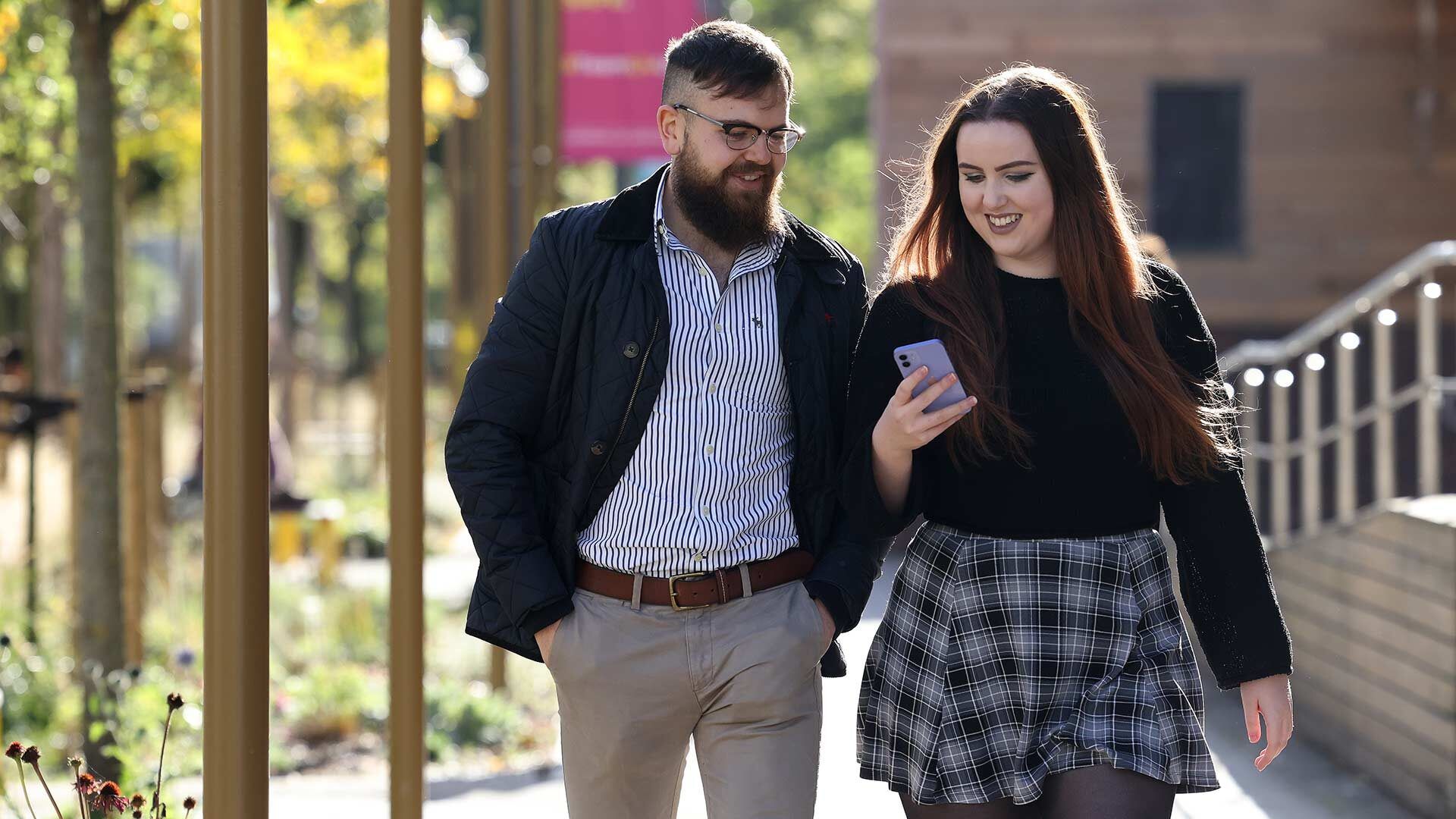 Chat with our students
Want to find out more about student life?
Chat with our student ambassadors and ask any questions you have.
Careers and employability
This MSc degree programme is the basis for a career in a profession that offers an extremely wide choice of employment opportunities in Engineering, R&D, Project Management, Finance and many more.
Undertaking the placement year will strengthen your career options by, undertaking the project work in an industrial setting, applying theory learnt in the classroom to real-world practice, developing communications and interpersonal skills, and building networks and knowledge which will be invaluable throughout your career.
Your future
Graduates of this programme will be qualified across a broad range of subjects related to the electrical engineering and electronic engineering profession. They take up postgraduate training positions in design, development, research, manufacturing and consultancy with leading engineering companies, in order to pursue professional qualifications. Others join smaller engineering companies to pursue professional qualifications while establishing themselves in engineering positions. Some graduates move into non-engineering positions where their analytical, communications and IT skills as well as technical background are much sought-after.
The main career opportunities for graduates from this programme are:
Companies related to electronics and microelectronics systems
Companies utilising the latest technology to deal with problems requiring microelectronics solutions at relatively high technical levels
Companies and government agencies using managing  microelectronics systems aspects
Yniversities for further education, such as studying for PhD degree.
Fees and funding
Your tuition fees, funding your studies, and other costs to consider.
Tuition fees
UK fees

(applies to Channel Islands, Isle of Man and Republic of Ireland)

Full-time place, per year
£11,950
Year in industry fee
£2,400
International fees
Full-time place, per year
£26,350
Year in industry fee
£5,300
Fees stated are for the 2023-24 academic year.
Tuition fees cover the cost of your teaching and assessment, operating facilities such as libraries, IT equipment, and access to academic and personal support.
If you're a UK national, or have settled status in the UK, you may be eligible to apply for a Postgraduate Loan worth up to £12,167 to help with course fees and living costs. Learn more about tuition fees, funding and Postgraduate Loans.
Additional costs
We understand that budgeting for your time at university is important, and we want to make sure you understand any course-related costs that are not covered by your tuition fee. This could include buying a laptop, books, or stationery.
Find out more about the additional study costs that may apply to this course.
Scholarships and bursaries
We offer a range of scholarships and bursaries to help cover tuition fees and help with living expenses while at university.
Entry requirements
The qualifications and exam results you'll need to apply for this course.
| Your qualification | Requirements |
| --- | --- |
| Postgraduate entry requirements | You will normally need a 2:1 honours degree or above, or equivalent. This degree should be in a relevant subject, for example mathematics, engineering or physical sciences. |
| International qualifications | If you hold a bachelor's degree or equivalent, but don't meet our entry requirements, you could be eligible for a Pre-Master's course. This is offered on campus at the University of Liverpool International College, in partnership with Kaplan International Pathways. It's a specialist preparation course for postgraduate study, and when you pass the Pre-Master's at the required level with good attendance, you're guaranteed entry to a University of Liverpool master's degree. |
English language requirements
You'll need to demonstrate competence in the use of English language. International applicants who do not meet the minimum required standard of English language can complete one of our Pre-Sessional English courses to achieve the required level.
English language qualification
Requirements
IELTS
B
View our IELTS academic requirements key.
International Baccalaureate

Standard Level 5

TOEFL iBT
88 or above with minimum scores in components as follows: Listening and Writing 17, Reading 17, Speaking 19.
INDIA Standard XII
70% or above from Central and Metro State Boards
WAEC
C4-6
Hong Kong use of English AS level
C
More about life in Liverpool
Discover more about the city and University.
Why study at Liverpool?
Liverpool bursts with diversity and creativity which makes it ideal for you to undertake your postgraduate studies and access various opportunities for you and your family.
Accommodation
To fully immerse yourself in the university experience living in halls will keep you close to campus where you can always meet new people. Find your home away from home.
Fees and Finance
Discover what expenses are covered by the cost of your tuition fees and other finance-related information you may need regarding your studies at Liverpool.
Contact us
Dr Jiafeng Zhou