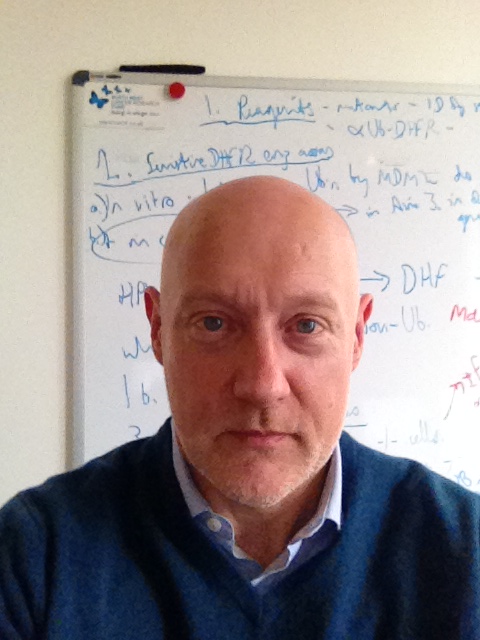 Professor
Mark
Boyd
B.Sc., Ph.D. SFHEA, FRSB
Professor of Molecular Oncology
Molecular & Clinical Cancer Medicine
About
Personal Statement
I graduated from University College London in 1985 with a B.Sc. degree in Biochemistry, and then moved to Southampton University where I obtained my PhD in 1989, researching the molecular basis of myeloproliferative/preneoplastic haematological disorders, in particular the notion that mobile genetic elements such as retrotransposons might play a role in disease development. Following the publication of these studies in the Lancet in 1989, I moved onto the Institute of Cancer Research on the Fulham Road in London to work on retroviruses with Prof Robin Weiss and stayed at the ICR for five years working both on HIV tropism and also continuing my interest in mobile genetic elements and carcinogenesis.

In 1994 I moved to Philadelphia to take up a position as Assistant Professor at the Hematology and Oncology Department of the then Hahnemann University (now part of Drexel University College of Medicine). During this time I re-focused my research towards the p53/MDM2 pathway leading to the discovery of the MDM2 binding protein MTBP. In 1999 I returned to the UK to take up a position as Lecturer in the Department of Surgery and Oncology at the University of Liverpool where, together with Dr Nikolina Vlatković I established the MDM2-p53 research group.

Clinical & Research interests

As founder members of the Mersey Head and Neck Oncology Research Group (MHNORG), our research team has developed interests in the function and manipulation of the p53 pathway, in particular the p53-MDM2 auto-regulatory feedback loop and the exploitation of this for therapeutic benefit in particular in head and neck cancers investigating combinatorial and re-purposing strategies and as a result have acquired considerable expertise in radiobiology.

Most recently, we have been investigating the regulation of metabolism by the p53 axis and evaluating ways to take advantage of our increasing understanding of this, for potential therapeutic approaches.

In addition, partly as a result of the unusual biology of kidney tumours, we have put considerable effort into similar studies of renal cancers using combinatorial strategies including chemotherapeutic and biological agents. In the course of the p53-MDM2 group's research Boyd and Vlatković we established expertise in transgenics including gene targeting in ES cells to study complex biological processes with a particular focus on carcinogenesis. Following the arrival of Dr Carlos Rubbi, the p53-MDM2 group have also published studies which indicate a critical role for nucleolar trafficking in the regulation of p53 ubiquitylation by MDM2.

I am proud to be a Fellow of the Royal Society of Biology and our research, whilst being highly focused on the ultimate goal of translation to therapy, is fundamentally an investigation of cancer biology.

Teaching

I am a senior fellow of the higher education academy (SFHEA) and lead the Science and Scholarship Supratheme and Science of Medicine Themes for the MBChB program. I also desinged and for many years led the Foundation Block in years 1 and 2 : teaching the fundamental science that underpins medicine.

As part of the MBChB program I also provide Research and Scholarship modules for first, second and third year students typically examining determinants of cancer therapeutic success, particularly biological approaches.