Dr
Carrie
Duckworth
PhD (Liverpool) MA Hons (Cantab)
Lecturer
Molecular & Clinical Cancer Medicine
Research
What makes the gastrointestinal epithelium tick?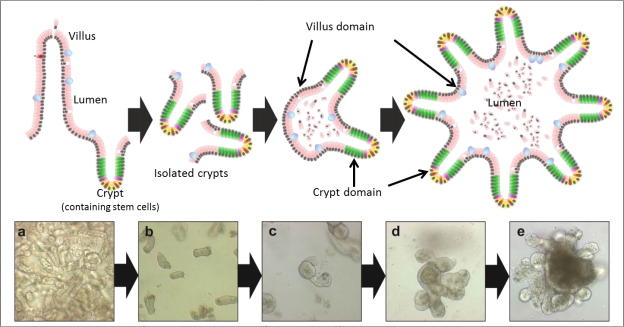 My research interests are focused on the regulation of gastrointestinal architecture and the maintenance of gut homeostasis with a focus on the intestinal epithelium. I am particularly interested in the processes that modulate the susceptibility to the development of drug-induced gastrointestinal toxicity, colitis, colitis-associated cancer and the processes that occur in the gut during the early stages of sepsis. The epithelium consists of a single layer of cells, turning over around once every 5 days, and yet forms a very effective barrier against invasion into the body by bacteria and other microorganisms that are found in great abundance in the intestinal lumen. This barrier function of the intestine fails as either a cause or a consequence of several intestinal and systemic diseases such as inflammatory bowel disease (IBD), coeliac disease (CD), off-target toxic effects of drugs, and sepsis, often resulting in excessive inflammation, epithelial cell destruction and further perpetuation of disease.

My lab aims to target the processes and mechanisms responsible for this breakdown of intestinal barrier function, epithelial cell destruction and inflammation in order to develop novel therapeutic approaches. We have recently identified the NF-κB2 transcription factor as an important regulator of intestinal epithelial damage in murine in vivo models and in intestinal organoid culture, and are currently developing novel methods to modulate the NF-κB2 signalling pathway to prevent injury to the intestinal epithelium.
Organoids - The Conversation with PhD student Louise Thompson
Louise Thompson is a PhD student in the Department of Molecular and Cellular Physiology working with Prof Barry Campbell and Dr Carrie Duckworth. Click here to read Louise's article. Enjoy!The Conversation
Research Grants
Intercalating Medical Students MRes
NORTH WEST CANCER RESEARCH INCORPORATING CLATTERBRIDGE CANCER RESEARCH (UK)
September 2019 - September 2021
Research Support Fees for Muhammed Negedu
TERTIARY EDUCATION TRUST FUND (NIGERIA)
December 2019 - November 2023
How does NF kappa B2 signalling contribute to intestinal homeostasis and disease?
ROYAL SOCIETY (CHARITABLE)
November 2017 - October 2018
New tools for investigating enteric host-pathogen interactions in livestock species
BIOTECHNOLOGY & BIOLOGICAL SCIENCE RESEARCH COUNCIL
October 2015 - February 2017
MECNUT: Impact of dietary exposure to emulsifiers on the intestinal mucosa - implications for inflammatory bowel disease and metabolic syndrome
MEDICAL RESEARCH COUNCIL
November 2017 - September 2021
Improved tools for investigating the intestinal uptake and subsequent immune and endocrine responses to novel dietary proteins.
N8 RESEARCH PARTNERSHIP (UK)
July 2017 - September 2018
Targeting intestinal epithelial cell shedding using NF-kB inhibitors to ameliorate sepsis
WELLCOME TRUST (UK)
June 2015 - July 2015
Targeting intestinal epithelial cell shedding using NF-kB inhibitors to ameliorate sepsis
FIONA ELIZABETH AGNEW TRUST (UK)
June 2016 - May 2017
Investigating the importance of nuclear factor kappa B (NF-κB) signalling in the intestinal epithelial cell response to gliadin-derived peptides
THE PHYSIOLOGICAL SOCIETY (UK)
October 2015 - September 2016
The importance of NF-kB regulation in inflammatory bowel disease
EPISTEM LTD (UK)
October 2013 - September 2016
VIP Award- Dr Carrie Duckworth
WELLCOME TRUST (UK)
March 2011 - May 2011