Promoting sustainable travel to reach net zero
Posted on: 6 July 2022 in Issue 2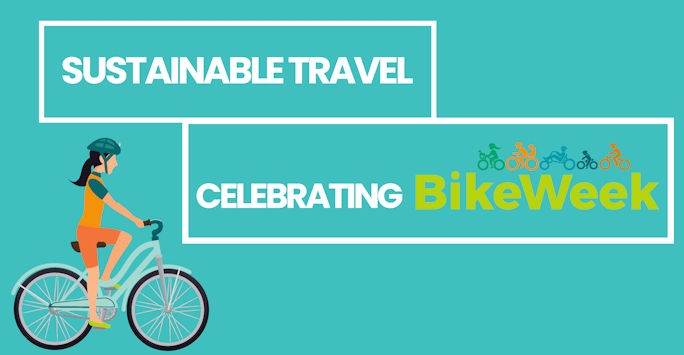 To help us achieve our aim of being the most cycle-friendly campus in the UK, we have a wide range of cycling initiatives and incentives available to staff. We also recently celebrated Bike Week.
As part of the University's aim to reach net zero carbon by 2035, all University-owned vehicles will be replaced by an electric fleet by 2025. The University is also committed to tackling indirect carbon emissions associated with staff and student commuter travel.
So as part of our plans, we are working in collaboration with the students and staff to significantly reduce emissions associated with both business travel and journeys to and from campus. That includes promoting active travel among staff and students, such as walking and cycling to campus wherever possible to replace shorter journeys made by less sustainable options, such as single occupancy car journeys.
The University wants to encourage staff and students to choose either walking or cycling as their main mode of travel and as a fun, enjoyable form of daily exercise. Whether you're working or studying from home or on campus, access to bikes and equipment can help preserve your health and wellbeing. Plus it's a valuable opportunity to get some fresh air, reduce stress, and stay healthy.
Bike Week 2022
At the end of 2018, the University's Sustainability Team won the 'Sustainable Travel Champion Employer of the Year' award at the Liverpool City Region Sustainable Travel Champion Awards. The Team were awarded for their 'long term commitment to sustainable travel. Particularly staff engagement at cycle events''. Building on past successes, the Team host regular events on campus for cyclists and in June this year, celebrated Bike Week (6-12 June 2022) with an event aimed at encouraging staff and students to make cycling their main mode of travel.
This year's event was all about people and the local community, with the aim of encouraging as many people as possible to get out there and enjoy their community on two (or possibly more) wheels. Bike Week also aimed to build on changes which took place during the pandemic when many people dusted down their old bikes or took up cycling for the first time. Some jumped on the saddle for exercise, others got on their bikes to commute to work, go to the shops or just to be able to see friends and family. Whatever their reasons, it's clear that cycling can give people the freedom to choose how and when to travel and how to live their lives better and healthier.
In the lead up to Bike Week and the extra bank holiday, the team brought together all the right people to help the University community get cycling, and to improve their cycling experience. A cycle event took place on May 26th on Guild Walk and the team were available to answer questions about cycling to and from campus, on-campus cycling facilities and how the University is supporting sustainable travel.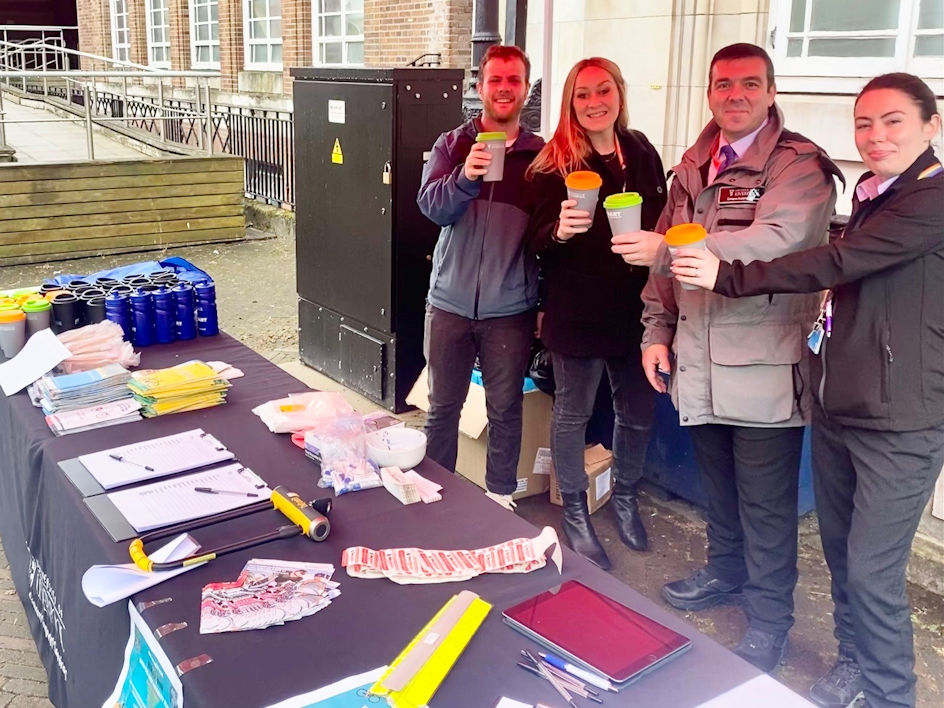 Staff from the Sustainability Team and Campus Support at the Bike Week event
Members of staff considering taking up cycling were also able to find out more about the University's Cycle to Work scheme and the wide range of bikes, including electric and mobility bikes, currently on offer at through the scheme; from Halfords, Tredz and independent shops.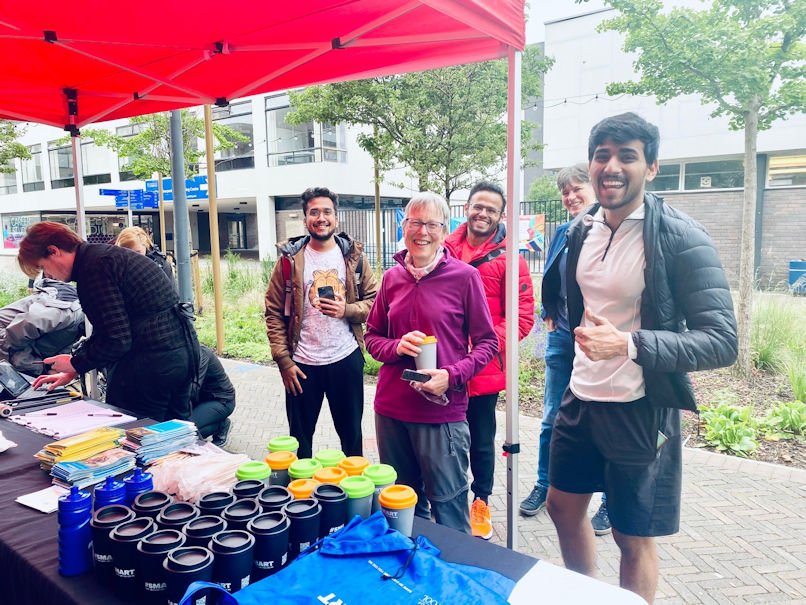 University staff and students attend Bike Week event on campus
For cyclists on campus, Peloton Liverpool offered free bike repairs and bike maintenance throughout the day, with Campus Support providing bike safety advice and the opportunity for cyclists to have their bike registered on the National Cycle Database.
With all this plus cycling maps, discounts and giveaways - including the ever popular 100% recyclable travel mugs - the event was a great success. So make sure you come along to the next event in September – details will be posted on the Sustainability website soon.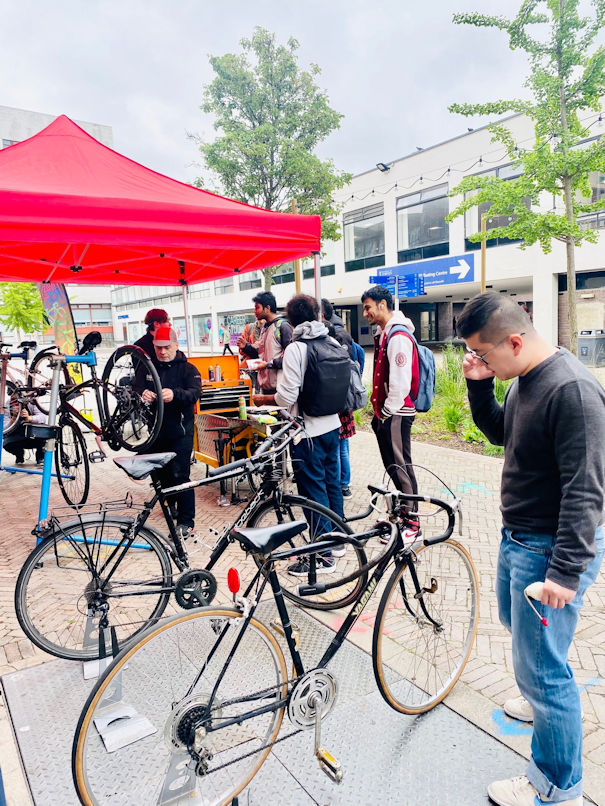 University staff and students at the Peloton bike maintenance stall
Our cycle-friendly campus
It is our ambition to be the most cycle-friendly campus in the UK. To achieve this aim, the University provides a wide range of cycling initiatives and incentives as well as high-quality cycling infrastructure, facilities and services for students, staff and visitors designed to make their cycling experience to, from, and on campus as easy and pleasant as possible.
Initiatives to support active travel
The University's Cycle to Work Scheme offers staff with the opportunity to purchase electric bikes, mobility bikes, higher-quality bikes and safety equipment up to the value of £2,500. Through the scheme, staff can conveniently spread the cost over 12 months with tax and National Insurance savings via a salary sacrifice.
Cycle2Work is supported by a wide range of specialist bike dealers, catering to everyone regardless of their needs, budget, location or journey to work. Dealerships include Halfords, Cycle Republic, Tredz and independent bike shops where staff can exchange their cycle voucher for the bike and safety equipment of their choice.
Through the The Merseytravel cycle discount scheme, University employees can take advantage of the cycle discount provided by numerous cycle providers, on the production of their staff ID card and by quoting the Merseytravel Employers' Network Scheme.
Staff can also receive a 20% discount when signing up for an annual citybike membership while students can hire a CityBike for a whole calendar year for £30, if they quote the Guild's discount code CB/LIV/C/033 when registering.
Students can hire a LivCycle bike from the Green Guild for a full academic year for just £60. All bikes are serviced regularly by trained mechanics and come with a very sturdy D-lock for extra security.
Facilities to support active travel
There are many shower and changing facilities available as well as cycle storage locations on campus, with plans to increase cycle storage as part of capital projects.
Cycle security is overseen by the Campus Support team who are happy to register bikes onto the National Cycle Database, Bike Register, at regular cycle events. You can also schedule an appointment to do this by emailing Campus.support.managers@liverpool.ac.uk. You are advised to use a D-shaped lock when securing your bike (preferably with a shackle lock), which can be purchased at cost price at the Student Guild shop.
The Bikiosk cycle maintenance service at Crown Place is available for all repair and service needs with Peloton Liverpool, a local social enterprise aiming to deliver a better cycling experience in Liverpool. Peloton is available for free cycle maintenance at the University's regular cycle events held on campus throughout the year.
Partnerships to support active travel
Both Liverpool City Council, and Liverpool City Region are supportive of the University's ambition to become a cycle-friendly campus and are keen to work together to ensure that our staff and students have safe access to their homes and key cycle routes into, and around, the main campus.
Both authorities are actively engaged in improving access for cyclists, with Liverpool City Council due to install over 1.2km of segregated cycle lanes as part of the Liverpool Connectivity Scheme. Discover the network of cycle tracks and quiet streets that provide enjoyable cycle routes whether for commuting or for leisure.
If you do not feel confident cycling on the region's roads, Bike Right has set up a number of free one-to-one and group cycle skills lessons for adults who live, work or study in the Liverpool City Region. Courses are designed to improve confidence levels and include basic cycle skills, urban cycle skills and advanced cycle skills.
Find out more about all the initiatives and facilities to support active travel at the University.