Focus on SDG17: Partnership for the Goals
Posted on: 6 July 2022 in Issue 2
In the recently released Times Higher Education Impact Rankings League, the University was ranked number 1 in the 2022 Times Higher Education Impact Rankings League for its partnership work in support of the UN SDG 17. Here we explore some of the different activities being undertaken across the institution which support this SDG's far-reaching targets.
Co-operation and capacity building
While you probably know that there are UN SDGs focused on ending hunger (SDG 2) or achieving quality education for all (SDG 4), you may not know much about SDG 17 (Partnership for the Goals), which is surprising as many commentators say it underpins all the other goals.
SDG 17 sets out a vision for improved and more equitable global trade and investment, which promotes sustainable development across borders as well as international support for developing countries. It also emphasises the importance of access to science, technology and innovation, in particular internet-based information and communications technology. Put simply, SDG 17 is about strengthening and streamlining cooperation between nation-states, both developed and developing, using the SDGs as a shared framework and a shared vision for defining a collaborative way forward.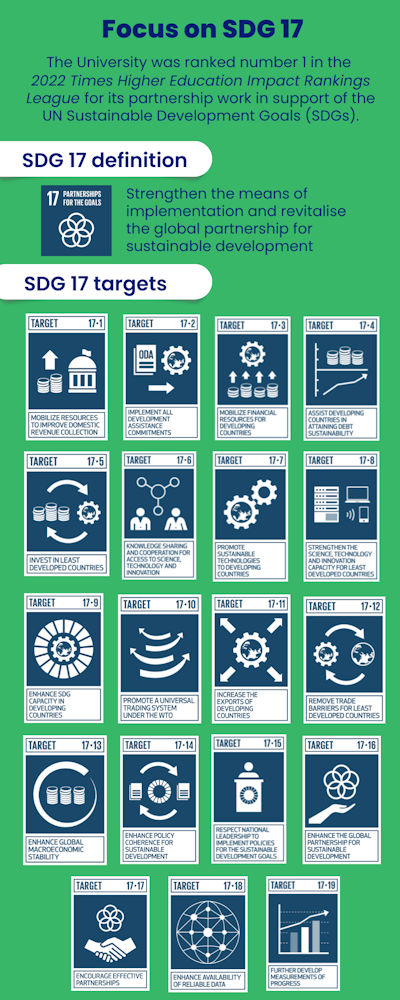 Partnerships
In its submission to the 2022 Times Higher Education Impact Rankings League, the University highlighted a number of key projects which support various aspects of this crucial goal.
For example, in support of target 17.2 (Relationships to support the goals), the University is providing key data and insights to Liverpool's new SDG Data Platform. Launched in September 2021, this open-source tool is helping provide a more complete picture – and richer data – on how the Liverpool city region measures against indicators. Liverpool is now part of a select group of cities, such as Los Angeles and Barcelona, which are using this OpenSDG platform.
The University is also a key member of the Liverpool City Region Climate Partnership and played a leading role in developing the Year One Climate Action Plan, drawn up to ensure 'opportunities for early action are not missed' as the city region strives to become zero-carbon by 2040. Again published in 2021, the Action Plan reveals that while greenhouse gas carbon dioxide emissions reduced by 40% in the Liverpool City Region between 2005 and 2018, transport emissions (while lower than in 2005) have risen since 2013. As a result, transport and clean air schemes feature prominently in the comprehensive 82-point plan. Waste, infrastructure and sustainable energy projects are also included along with policy, planning and collaboration.
Climate futures
The submission also flagged the important work being carried out under the University's core Climate Futures research theme. Colleagues are using their expertise to advise government, industry, and funding bodies and they also informed the UN's IPCC Report. Researchers have developed proposals on a wide range of topics, from nuclear technologies and net zero, to habitat preservation as well as forging partnerships with industry to support ultra-low carbon construction, sustainable packaging and much more.
Anti-slavery
Other important partnerships have been established through the Antislavery Knowledge Network, which connects three of the UK's main centres on research into slavery – the University of Liverpool's Centre for the Study of International Slavery, the University of Hull's Wilberforce Institute and the University of Nottingham's Rights Lab – with the University of Ghana, Legon.
Collectively, this Network is exploring how approaches from the arts and humanities can address contemporary forms of enslavement by adopting a community-engaged, human rights focus that delivers development impacts. The Network has already expanded to include leading antislavery NGOs and a range of academic and non-academic partners across West and Central Africa in Ghana, Sierra Leone and the Democratic Republic of Congo.
Shared mission
In May 2018, the University began a pilot study considering how the UN SDGs relate to all areas of institutional activity. The study found a strong correlation between our strategic aims and the aims of the SDGs, with the University's mission 'for the advancement of learning and ennoblement of life' strongly resonating with the overarching objective of the global goals.
In terms of impact, the study found that the University makes a strong, positive contribution to the goals through its research activities, the knowledge, skills and attributes of graduates and through activities as an employer, land holder, regional partner and civic leader. However, education and research activities can also have negative impacts, both in Liverpool and in other places across the world, leaving an environmental footprint through energy consumption, the creation of waste and pollution. This raises the important question of how the University can maximise its positive impact and minimise the negative. The University is now mapping impact against the SDGs in many of its reports with examples including CIE's Education for Sustainable Development Report, and the Guild's SDG Curriculum Mapping Report, published in 2020, both of which also support target 17.4 (Education for the SDGs).
Sustainable education
The student-led detailed project mapped module and programme alignment to the SDGs. In many instances, students highlighted good practice examples and made suggestions for the incorporation of the SDGs into specific modules. The study also provided an opportunity for students to influence changes in their curriculum, pushing the University to take a more impactful approach to embedding sustainability into our academic programmes.
As part of the University's Sustainability Strategy, we have set ourselves the challenging target of ensuring that every student has the opportunity to undertake a sustainability-related module, extra-curricular activity, or other relevant learning by 2022. The award-winning Sustainability in Action online module has already been completed by over 14,000 students, and this number is set to increase further with the launch of the Sustainability Hub in September 2022.
Providing opportunities for students to volunteer in outreach activities within schools and the local community is also vitally important, and again is aligned to target 17.4. Partnerships have been established with groups such as Enactus, a national initiative that supports students across the country to engage in social action and social enterprise. University of Liverpool students have carried out numerous initiatives with Enactus, including Project Ruby which aims to combat period poverty within the region by working with local charities to increase community awareness and donate boxes to those in need.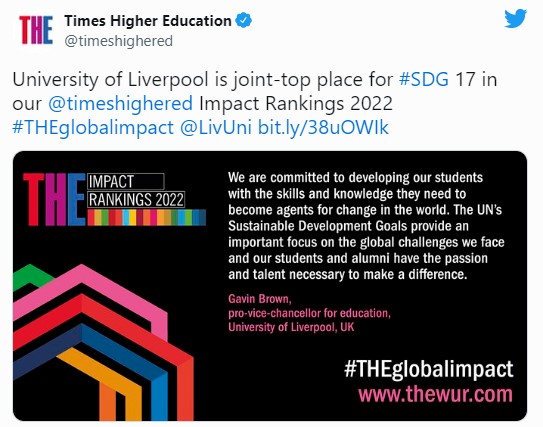 To find out more about how the University's operations are supporting the UN SDGs visit our Sustainability website. Find out more about SDG17 here.
Do you know all 17 UN Sustainable Development Goals?
.
Are you contributing to tackling the challenges of the UN Sustainable Development Goals?
Why not shout about it? Add the SDG icons to your webpages, social media, and communications materials. The Sustainable Development Goals (SDGs) logo, including the colour wheel and 17 icons are available for use. You will also find goal-specific visual assets such as social media cards, a gif, and an infographic for each goal. 
Download your communications materials 
Please check the FAQ's for information on permissions and licensing agreements prior to publishing. 
We are currently collating the submission for 2022 so please also get in touch if you have evidence that can be used to support our work against any of the sustainable development goals. Please email sustainability@liverpool.ac.uk