'Artists as Activists', guest seminar with Malik Al Nasir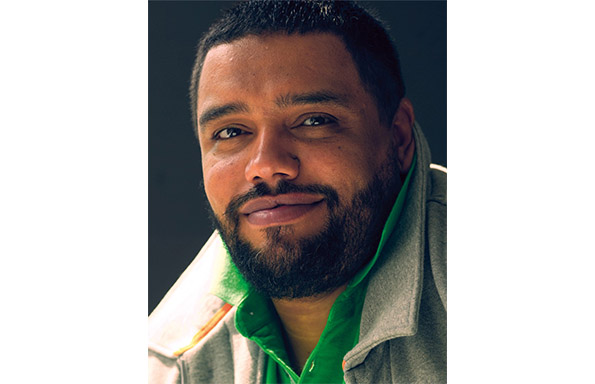 Speaking to a busy audience made up of students and staff at the University of Liverpool in October 2019, academic Malik Al Nasir, who is also a spoken word performance poet – Malik & The O.G's, - delivered a seminar and recital entitled 'Artists as Activists'. During the seminar, Malik discussed how colonialism and slavery destroy identity and disrupt the historical transition of cultural self-awareness for the black Diaspora from generation to generation.
Within his seminar, Malik who is of Guyanese extraction, spoke about his own experiences growing up in Liverpool in the 1970s and '80s and the racism he experienced, as one of the only black children in his school and neighbourhood. Born to a Welsh mother and Guyanese father, during his childhood and teenage years, Malik had no knowledge about his heritage, his ancestors or his cultural identity. It was not until he met the famous poet, musician and political activist, Gil Scott-Heron, that he began to learn about his past. Encouraged by Gil's mentoring and guidance, Malik began a journey of soul searching, through learning about his paternal ancestral lineage, the community he grew up in and the world around him, in a quest to discover his own cultural identity.
"My form of activism, to be able to reassert my cultural identity, starts with establishing who I actually am and where I come from? That is what Gil taught me, if you don't know where you come from you don't know where you're going."
A graduate of all three of Liverpool's Universities, Malik conducted his own research over 15 years, which uncovered a remarkable family mercantile history, of sugar, shipping, slavery, political power and banking. It explored how a prominent group of Scottish West India merchants, based in Glasgow and Liverpool (with extensive plantations in Guiana and Grenada), developed one of the most influential commercial enterprises of the late 18th, 19th and 20th centuries, predicated entirely upon slavery. Malik's research also uncovered, how their massive accumulation of wealth, became the foundation of the modern banking system, from which their descendants still enjoy the privilege to this very day.
At the behest of Sir Hilary Beckles (Pro-Vice Chancellor of the University of The West Indies and Chairman of the CARICOM Commission for Reparations) Malik was invited to present a case study of his work at the CARICOM Commission for Reparations seminar on 'Slavery, Colonialism and Banking' in Antigua with The Hon. Gaston Browne – Prime Minister of Antigua and Prof. Verene Shepherd Director of the 'Centre For Reparations Research' at The University of The West Indies. Malik's archive was also highlighted in an article about its discovery and its significance, in an article in the Liverpool Echo newspaper.
The uniqueness of Malik's research is that he used his family tree as its foundation. Through exploring his genealogy, he was able to assess the true scope of the wealth of these slave traders extensive mercantile and political influence and the myriad of firms they owned, who benefitted from slavery. Malik was able to contextualise these slave traders, by the familial relationships that underpinned the salve merchant so-called 'houses' such as Sandbach Tinne & Co. in Liverpool and their affiliates like Sandbach Parker & Co. in Demerara, or McInroy Sandbach & McBean in Glasgow, within the wider economic and political power structures that facilitated the maintenance of the slave trade between the 18th and 19th centuries.
Malik also brought with him his personal and unique private archive, containing hundreds of handwritten 18th and 19th century documents and artefacts, including comprehensive financial records from 1808-1880, that uncovered the familial ties, that bound these slave merchants, in both business and in blood.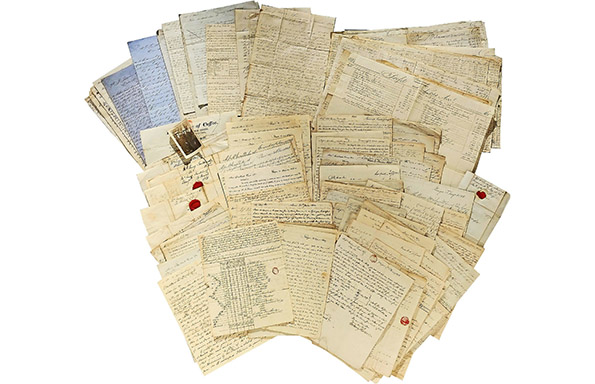 Malik's archive of 18th and 19th century documents and artefacts that uncovered the familial ties of the slaves merchants.
Alongside this, Malik talked about how politicised poets such as his mentors Gil Scott-Heron and The Last Poets, had used spoken word poetry, to champion causes rooted in the civil rights movement in the United States in the 1960's and 70's with the formation of 'The Black Arts Movement' a bi-product of the earlier 'Harlem Renaissance'. Inspired by their work and guided by Gil, Malik began to write poetry, pose and songs:
"Having lost my entire sense of identity, my entire culture, any reference to my history; not knowing where I came from or who I was, my art form of poetry, the spoken word, gave me the ability to be able to look into that misnomer and try and fill out the blanks in verse."
Malik recited one of his spoken word poems, 'Freedom is a funny thing', in which he explores the concept of freedom and how the meaning of the word differs to a person, depending on their race.
The event was organised by Dr Leona Vaughn, Derby Fellow for the Slavery and Unfree Labour Research Theme at the University.
"I have known Malik professionally for many years and never knew he was working on this archive. As soon as I saw it, I knew I had to connect him with Sir Hilary Beckles because of its international significance, but also I had to work to bring him to share his knowledge with the University of Liverpool and our local residents. This was how I came to develop this workshop with BlackFest, CSIS, AKN and the School of Law and Social Justice for Black History Month, however, this is just the beginning of more community engagement on issues of slavery and its legacy in this city and our institutions."
Dr Leona Vaughn, Derby Fellow - Slavery and Unfree Labour Research Theme
Artists As Activists was first delivered by Malik at The University of Cambridge in 2017 for the faculty of Latin American Studies. This year, The University of Liverpool's School of Law and Social Justice hosted the event, which was produced by Malik's production company Yesternight Productions Ltd. in association with BlackFest, a grassroots Liverpool Black arts festival founded in 2018, that showcases an eclectic mix of work from Black creatives, across community spaces and established venues. The Festival answers a crucial need in the city's cultural offering, celebrating Black arts and bridging the gap between institutions and the marginalised communities they represent. BlackFest highlights work by and creates new platforms for anyone who feels marginalised for their race or ethnicity.
.........................................................................................................................................................................................................................................
To learn more about the work of Malik, see please see the below:
Twitter and Instagram: @malikandtheogs