Improving Youth Political Engagement and Citizenship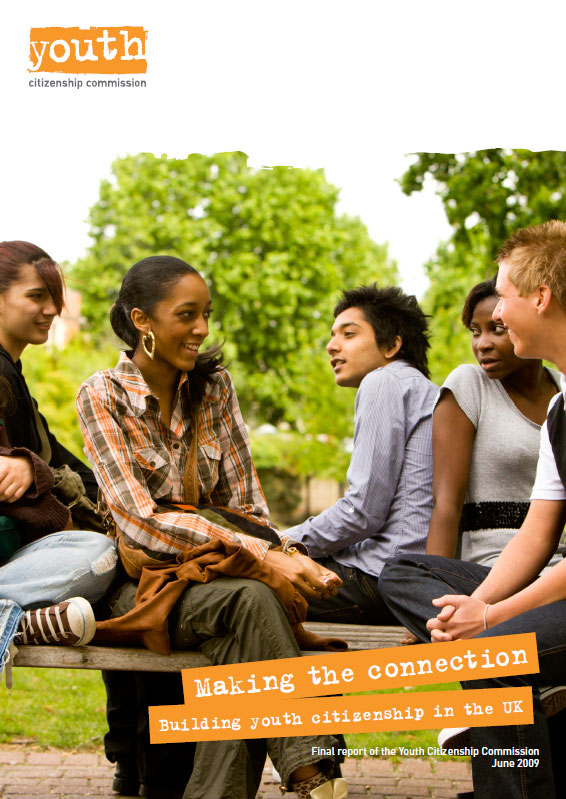 Background
Professor Jonathan Tonge was appointed as Chair of the Youth Citizenship Commission (YCC), from 2008 until 2009. This Commission was established as an independent organisation with the following remit:
to examine what citizenship means to young people
to consider how to increase young people's participation in politics
to assess how citizenship can be promoted through community and political engagement
to lead a consultation with young people on whether the voting age should be lowered to 16
This project features Jon's research and publications regarding youth civic engagement and his work as Chair of the YCC.
The project
The initial research involved extensive interviews with young people and groups attempting to promote youth political engagement/volunteering, as well as survey attitudinal analysis.
Overall, the research found that the lack of civil and civic engagement among young people was often caused not by apathy but by a lack of information or opportunity. The research found a lack of prioritisation of young people's civic needs amongst policy-makers, leading to the absence of reforms designed to boost civic engagement. Policy-makers needed to develop new methods of engaging with young people to connect better and to re-orientate institutions to be capable of adapting to the desires of young people, otherwise youth civic non-engagement could worsen.
The Commission [chaired by Professor Tonge] had a significant impact on the direction of government policy and also on the wider political debate concerning youth citizenship

- Rt Hon Jack Straw, former Secretary of State for Justice
Outcomes
In order to achieve maximum impact, key findings and recommendations were 'road-tested' via a range of potential beneficiaries and stakeholders, such as the British Youth Council, the Prince's Trust, the Hansard Society and the UK Youth Parliament.
Research findings were presented directly to government ministers: Jon was invited to present recommendations to the Prime Minister and the Cabinet Office. Findings on the value of citizenship education were sent directly to the Education Minister Michael Gove and the government subsequently reversed its initial intention to abolish citizenship education from the school curriculum.
Of 17 policy recommendations arising from the research, 16 were approved by the government, improving opportunities for young people to volunteer, become politically engaged and receive better citizenship education. These included:
The establishment of a Minister for Youth Citizens and Youth Engagement in October 2010 to bolster youth civil and civic engagement and coordinate youth engagement initiatives
The creation of a youth online hub by the government in 2010, allowing young people to access information concerning citizenship opportunities and funding for youth engagement projects and informational networks
The Children Schools and Families Bill 2011 placed statutory responsibilities upon schools to give pupils 'voice', in line with research recommendations
The research did not advocate a lowering of the voting age for Westminster elections but suggested that ensuring young people are registered to vote was a bigger priority than the examination of the voting age
Overall, the significance of the research has been to shift governmental agendas towards a much clearer and far more focused approach towards youth civil and civic engagement.
The Political Studies Association (PSA) published a volume in 2014 entirely dedicated to this issue. 'Beyond the Youth Citizenship Commission: Young People and Politics', edited by Jon and Dr Andy Mycock from the University of Huddersfield, builds on the work of the Youth Citizenship Commission and seeks to further energise debates about young people and democratic participation (full volume downloadable on the PSA website).
Downloads (pdf)
Reports
Testimonials
Written testimonials provided from government ministers demonstrate how recommendations arising from the research have been put directly into effect: