EPSRC Workshop - Modelling competition between pathogens and the evolution of AMR - Tuesday 18th and Wednesday 19th July 2017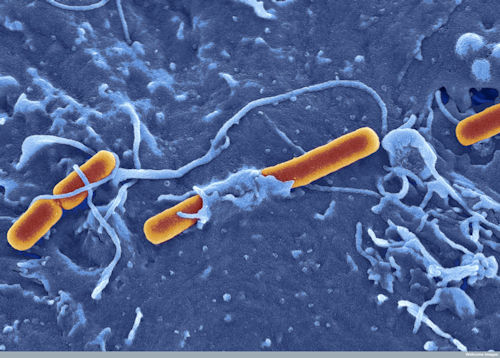 Image: Shigella flexneri invading embryonic stem cell. LCMH is currently modelling Shigella, a priority organism identified by the WHO.
Overview
Strain competition dynamics occur in many important areas of concern associated with infectious diseases. A pressing example of this is the development of anti-microbial resistance (AMR) which will be a major focus of this workshop. Other important examples concern virus competition dynamics, for example the evolution of seasonal influenza.
The purpose of the workshop is to identify the major biological problem areas in strain competition dynamics that may benefit from mathematical modelling and analysis. The workshop will bring together biologists working in these areas and mathematicians together with public health England. An objective is to identify and facilitate future collaborative opportunities where the input of mathematics can benefit understanding leading to improved control and potential control policy development.
Organisers
Kate Baker
Mal Horsburg
Sarah O'Brien
Jon Read
Kieran Sharkey
Bakhti Vasiev
Keynote Speakers
Aras Kadioglu - University of Liverpool
Simon Foster - University of Sheffield
Jo Fothergill - University of Liverpool
Tim Dallman - Public Health England
Mario Recker - University of Exeter
Lileth Whittles - Imperial College
Sara Jabbari - University of Birmingham
Nicola Williams - University of Liverpool
Chris Ruis - University College London
William Hope - University of Liverpool
Andrew Hoyle - University of Stirling
Contact
If you have any questions regarding this event or would like to reserve a space please contact Leanne Poole (Centre Administrator) using the below details -
EPSRC Liverpool Centre for Mathematics in Healthcare
Department of Mathematical Sciences
University of Liverpool
L69 7ZL, UK
email: lcmh@liverpool.ac.uk
Phone: +44 (0)151 794 4003