Investigative and Forensic Psychology
Return to top
Course overview
Renowned worldwide, this MSc in Investigative and Forensic Psychology is a high-quality master's course providing academic and research knowledge of forensic practice. This includes crime reduction and intervention; investigative procedures, forensic interviewing, court processes, custody and rehabilitation.
Introduction
Why Choose Investigative and Forensic Psychology at Liverpool?
it's the only programme of its type offered by a Russell Group University
we have received multiple commendations by the British Psychological Society
the course is eligible for Economic and Social Research Council (ESRC) and eligible for ESRC 1+3 training studentship linked to a PhD programme
you'll join sessions offered by a high number and calibre of external practitioners delivering key understanding of real-life applications
we place a strong emphasis on employability skills and as a result our students have gone on to be some of the most successful individuals in their field
the course attracts a large number of international students and visiting speakers.
Who is this course for?
This course is for you if you have a high 2:1 bachelor's degree in Psychology (65% or above) and want to pursue a career in forensic psychology, law enforcement, investigations, intelligence, or go on to study a PhD and work in research/academia.
What you'll learn
Criminal Behaviour – statistics
Research Methods
Policing & Emergency Response
Assessment of the criminal act
Legal processes, court process and potential custodial and through care processes
Conceptual and theoretical exploration of aggression, deviance, decision-making, leadership and stress, memory, communication and persuasion.
The psychology of crowd dynamics.
Accreditation
Accredited by the British Psychological Society (BPS) as Stage 1 Forensic Chartership training (if applicants UG degree is accredited by BPS); recognised by the Division of Forensic Psychology (DFP, British Psychological Society), and also counts towards Chartered Forensic Status.
Applicants do not need to have completed a psychology degree recognised by the British Psychological Society (BPS) as Graduate basis for chartership (GBC). However, if applicants do not have GBC then they need to be aware that unless they obtain GBC from the BPS before completing the masters they will not be able to progress to Stage 2 Forensic Chartership.
Course content
Discover what you'll learn, what you'll study, and how you'll be taught and assessed.
Semester one
You will gain conceptual knowledge, skills and critical awareness via:
Practitioner seminars
Lectures from visiting speakers
Core Lectures –with key readings in conceptual models and key debates
Tutorials – for reflection and promote debate
Student seminars and presentations to their peers
E-Portfolio of personal and professional development
Traditional assessment methods – Essays, statistics exams and research project
Authentic assessments – Practitioner reports, poster presentation and research proposals.
Compulsory modules
CRIMINAL BEHAVIOUR (PSYC702)

Credits: 30 / Semester: semester 1

This module introduces students to the area of Investigative and Forensic Psychology.

Specifically students will explore the various theories and explanations which have been put forward to help explain why people commit criminal behaviour. The module will also focus on applied forensic practice and how these forensic tools can be used in the investigative process.

The module will be taught via lectures, seminars, group project, and tutorials. Learning will be assessed via a practical report and essay.
RESEARCH METHODS AND STATISTICS (PSYC640)

Credits: 30 / Semester: semester 1

This module explores the range of qualitative and quantitative research methods and statistical analyses used in psychological research. The module covers ANOVAs, factor analysis, ROC, mediation, multiple regressions, spatial statistics, cluster analysis, interviews, and field research to cite the main techniques. The module encompasses both theoretical content and practical skills that are transferable to research designs in psychology and in other subject disciplines. The module will be delivered via lectures, laboratory work, and online material. Learning will be assessed via a critical evaluation of research methodologies and a written examination.
Programme details and modules listed are illustrative only and subject to change.
Semester two
Compulsory modules
Policing and Emergency Response (PSYC703)

Credits: 30 / Semester: semester 2

This module examines several psychological theories related to the process of investigation and critical incident management. The aim of this module is to provide students with an overview of the relevant psychological theories to understand how a range of organisational, situational, individual and social factors may affect decision-making, leadership and communication processes within investigations and critical incident management. The module will be taught via a range of activities including lectures, seminars, tutorials, and laboratory work. Learning will be assessed via a critical evaluation of current theoretical explanations for the management of major investigations or critical incidents and a practical assignment based on case materials provided.
ASSESSMENT AND LEGAL PROCESSES (PSYC706)

Credits: 30 / Semester: semester 2

This module provides students with an overview of the relevant conceptual theories and approaches to assessment and legal processes with children and adults in forensic contexts. Students will critically explore and develop awareness of the application of psychology to processes in the justice system and client groups in forensic domains. This will include ethical and professional standards with some special reference to information communication.
Programme details and modules listed are illustrative only and subject to change.
Final project
Compulsory modules
DISSERTATION (PSYC705)

Credits: 60 / Semester: whole session

This is a psychological research study conducted by the student under the supervision of a member of staff. The student is responsible for designing, running, analysing, and writing up this research study. There will be a minimum of eight hours of supervisory meetings to assist the student in achieving this. In addition, there will be; an initial meeting to introduce the module and the research interests of the staff, three hours; a formative assessment based on a short written report, 1500 words, of the research plan and ethical approval at the end of semester one to monitor progress, and; a poster presentation, three hours, of progress at the end of semester two.
Programme details and modules listed are illustrative only and subject to change.
How you're assessed
Assessment is by primarily through coursework. There is an in class exam for the module PSYC640 Research methods and statistics. Assessments align with the University of Liverpool commitment to have relevant, authentic and varied activities and are designed to lead directly to enhanced professional and personal objectives as well as being appropriate to the academic discipline.
Liverpool Hallmarks
We have a distinctive approach to education, the Liverpool Curriculum Framework, which focuses on research-connected teaching, active learning, and authentic assessment to ensure our students graduate as digitally fluent and confident global citizens.
Course options
Studying with us means you can tailor your degree to suit you. Here's what is available on this course.
Your experience
You will benefit from excellent online and on-campus teaching with a strong academic and pastoral support framework.
There are opportunities to develop skills to improve employability.
You will have access to excellent recreational and sports facilities and can enjoy membership of hundreds of student societies and sports clubs.
Virtual tour
Supporting your learning
From arrival to alumni, we're with you all the way:
An exciting place for postgraduate study
Internationally recognised qualifications with a wide range of programmes
Access to some of the best specialist units in the UK
World-leading excellence in research and research-connected teaching
The MSc Investigative and Forensic Psychology is renowned worldwide and attracts a large number of international students and visiting speakers each year
Provides specialist training with taught and research components
Work alongside internationally-renowned academic researchers and experts in their field.
What students say...
The course content is excellent, there are vast research opportunities, the staff are incredible and supportive and we get to see the real-world impact of what we're learning in class.
Chat with our students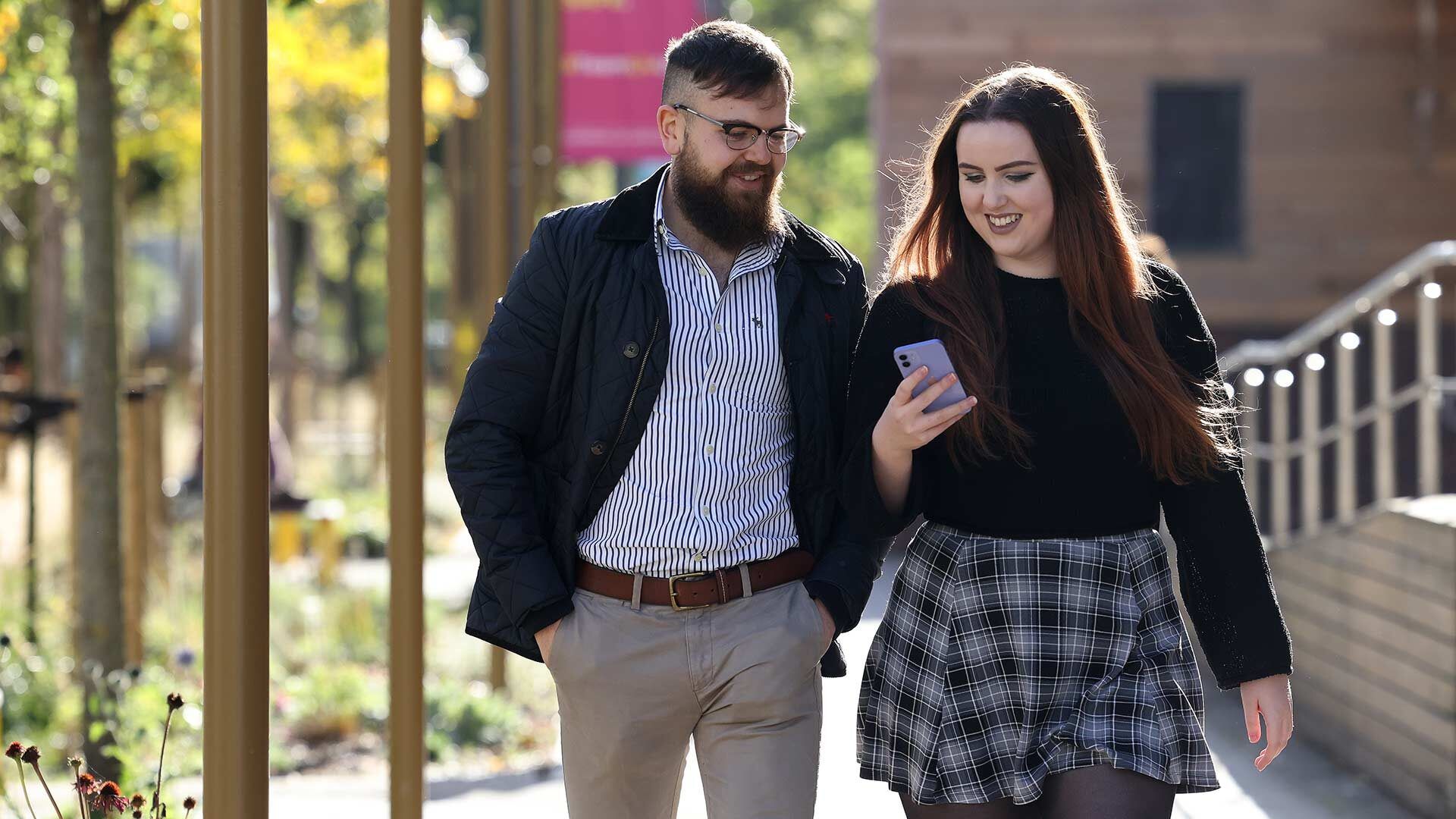 Chat with our students
Want to find out more about student life?
Chat with our student ambassadors and ask any questions you have.
Careers and employability
On completion of the programme, your resulting knowledge, skills and attitudes will enable you to put psychological principles into effect in a variety of settings including research, practice and the interface of applied research.
The scientific aspects of the course, including the application of a reasoned approach, problem solving and manipulation of data, provide useful tools for careers in healthcare, law enforcement, finance, IT and research.
This Programme provides a solid grounding for careers in law enforcement, criminal justice, government agencies, education, commercial or industrial sectors.
Your future
Forensic and Investigative Psychologists can work in various fields, including:
Crime analysts and principal crime analysts working for police forces
National and International Police forces
Behavioural investigative advisors
Medium/high security prisons, psychiatric units or hospitals.
Home Office
Probation services
Youth offending teams
National Crime Agency
Office for National Statistics
PhD's
Research associates
Lectureships
PsychD Clinical Psychology
Fraud investigators
Ministry of Defence
Security Services (MI5, MI6)
Defence and Science Technology Laboratory
Expert witness
Professional consultancy
Independent Office for Police Conduct
TiKTok Hate crime policy
Mobile phone cellsite analyst
Fees and funding
Your tuition fees, funding your studies, and other costs to consider.
Tuition fees
UK fees

(applies to Channel Islands, Isle of Man and Republic of Ireland)

Full-time place, per year
£10,800
International fees
Full-time place, per year
£26,400
Fees stated are for the 2024-25 academic year.
Tuition fees cover the cost of your teaching and assessment, operating facilities such as libraries, IT equipment, and access to academic and personal support.
If you're a UK national, or have settled status in the UK, you may be eligible to apply for a Postgraduate Loan worth up to £12,167 to help with course fees and living costs. Learn more about paying for your studies..
Additional costs
We understand that budgeting for your time at university is important, and we want to make sure you understand any course-related costs that are not covered by your tuition fee. This could include buying a laptop, books, or stationery.
Find out more about the additional study costs that may apply to this course.
Scholarships and bursaries
We offer a range of scholarships and bursaries to provide tuition fee discounts and help with living expenses while at university.
Entry requirements
The qualifications and exam results you'll need to apply for this course.
Your qualification
Requirements
Postgraduate entry requirements

To apply, you must have a high 2:1 bachelor's degree in Psychology (65% or above) with high marks in research methods and statistics.

You do not need to have completed a psychology degree recognised by the British Psychological Society (BPS) as a Graduate Basis for Chartership (GBC). However to progress to Stage 2 Forensic Chartership you must obtain GBC from the BPS.

All applicants must have some relevant work experience with a vulnerable client group (voluntary or paid), but not necessarily in a forensic setting.

Applicants who meet the minimum entry requirement will be invited to attend an online interview.

International qualifications

If you hold a bachelor's degree or equivalent, but don't meet our entry requirements, a Pre-Master's can help you gain a place. This specialist preparation course for postgraduate study is offered on campus at the University of Liverpool International College, in partnership with Kaplan International Pathways. Although there's no direct Pre-Master's route to this MSc, completing a Pre-Master's pathway can guarantee you a place on many other postgraduate courses at The University of Liverpool.
English language requirements
You'll need to demonstrate competence in the use of English language. International applicants who do not meet the minimum required standard of English language can complete one of our Pre-Sessional English courses to achieve the required level.
English language qualification
Requirements
IELTS
F
View our IELTS academic requirements key.
International Baccalaureate

Standard Level 5

TOEFL iBT
108 or above with minimum scores in components as follows: Listening 24, Writing 24, Reading 24, Speaking 24
INDIA Standard XII
National Curriculum (CBSE/ISC) - 75% and above in English. Accepted State Boards - 80% and above in English.
WAEC
C4-6
Hong Kong use of English AS level
C
More about life in Liverpool
Discover more about the city and University.
Why study at Liverpool?
Liverpool bursts with diversity and creativity which makes it ideal for you to undertake your postgraduate studies and access various opportunities for you and your family.
Accommodation
To fully immerse yourself in the university experience living in halls will keep you close to campus where you can always meet new people. Find your home away from home.
Fees and Finance
Discover what expenses are covered by the cost of your tuition fees and other finance-related information you may need regarding your studies at Liverpool.
Contact us
Have a question about this course or studying with us? Our dedicated enquiries team can help.