Advanced Manufacturing Systems and Technology
Return to top
Course overview
Gain the advanced skills and knowledge to become a manufacturing engineer or researcher on this MSc (Eng). We'll provide a comprehensive overview of the materials, processes, technologies and systems in manufacturing. You'll encounter real-world challenges and discover the opportunities offered by this growing industry worldwide.
Introduction
In modern manufacturing, engineers are being continuously challenged to make more effective use of technology, management systems, production techniques and processes.
On this master's degree, developed in conjunction with industry partners, we'll equip you with skills to become an industry-ready engineer with advanced knowledge of manufacturing technology, management and systems.
You'll gain insights into manufacturing systems of different scales and examine how they function at each level. Material manufacturing and processing technologies will be introduced, including key factors in the selection of materials.
Immersing you in computer aided design and robotics, we'll introduce the latest 3D tools and techniques and reveal how to design, build and operate industrial robotic systems.
The role of additive manufacturing in new product development will also be explored and you'll discover how the principles of advanced manufacturing techniques using lasers are being adopted by industry.
Accredited by the Institution of Mechanical Engineers, the programme includes a supervised independent research project. This provides the opportunity to enhance your skills and knowledge in an area of manufacturing of your choice, supported by our specialist research facilities.
Who is this course for?
This programme is designed for engineers and physical scientists who want to develop specialist skills and knowledge in advanced manufacturing systems and technology.
What you'll learn
Computer aided design methodologies, tools and techniques
How manufacturing systems function, on a global, company, factory and shop floor scale
Material manufacturing and processing technologies
The role of additive manufacturing in new product development
Advanced manufacturing techniques using lasers
Entrepreneurial concepts, activities and challenges
How to design, build and operate industrial robotic systems
Transferable skills in problem solving, critical analysis, teamwork and communication
The critical role of supply chain management in the operations of modern organisations
Tools and methods of eco-design, design for manufacturing, and design for assembly
Accreditation
This programme is accredited by the Institute of Mechanical Engineering (IMechE), the professional body for mechanical engineers in the UK. This means that successful completion of the programme will put you on track to gain Chartered Engineer (CEng) status in the UK.
Course content
Discover what you'll learn, what you'll study, and how you'll be taught and assessed.
Starting in January 2025
This course is available to start in January 2025, which means you will graduate in the summer graduation. If you choose to start in January 2025 you will undertake Semester two modules first, followed by your dissertation project and then undertake Semester one modules in September. Please view more information about the modules and your funding options on the course page.
Semester one
UK students are exempt from module ENGG596 Technical Writing for Engineers in semester one. EU and international students with strong English language skills may also be exempt, subject to the approval of the programme director.
If you're exempt from ENGG596, you'll select a total of 37.5 credits of optional modules across semesters one and two. If you need to study ENGG596, 30 credits of optional modules will be chosen.
Compulsory modules
Manufacturing Systems (MNFG401)

Credits: 15 / Semester: semester 1

This module investigates how Manufacturing Systems function, considering the interaction of the Manufacturing Systems with external and internal constraints. The module gives special emphasis to the use of Computer Integrated Manufacturing in Manufacturing Systems. A comprehensive overview is given starting with interactions with the Global economy before considering the effects at company and factory level. It then considers the function of Manufacturing Systems within the factory and company level and how this is driven by the function of the machines on the shop floor. It therefore gives a holistic view of how manufacturing systems function at all levels and how the levels interact.
COMPUTER AIDED DESIGN (MNFG604)

Credits: 7.5 / Semester: semester 1

To introduce the student to the latest 3D tools and techniques used by designers.

To develop a wider knowledge and understanding of integrated systems design.

To stimulate an appreciation of modern design and development methodologies.
MATERIALS PROCESSING AND SELECTION (MATS520)

Credits: 15 / Semester: semester 1

​This module introduces the relationships between materials properties and the influence of processing on them. A range of manufacturing processes is considered for ceramics, polymers, metals and composites. The Granta – Cambridge Engineering Selector software is used to inform the selection of materials processing and the inter-relationships with design.
ADDITIVE MANUFACTURING (MNFG610)

Credits: 7.5 / Semester: semester 1

To provide an overview on the role of additive manufacturing in new product development.

To develop a generic understanding on the principles and the complete process chain of additive manufacturing processes.

To provide an awareness on recent developments in additive manufacturing and associated technologies.
TECHNICAL WRITING FOR ENGINEERS (ENGG596)

Credits: 7.5 / Semester: semester 1

To develop technical writing skills for engineers. English Language Centre deliver the module for non-native English speakers, Engineering staff deliver identical syllabus, assessments and learning outcomes for other students.
Optional modules
LASER MATERIALS PROCESSING (MECH605)

Credits: 15 / Semester: semester 1

​The module will cover: how lasers work, what are the key beam properties of high power lasers, how the beam is deployed and delivered to the process/workpiece, safety in laser materials processing, and the working principles and industry practice for a range of laser processes.
ADVANCED ENGINEERING MATERIALS (MATS301)

Credits: 7.5 / Semester: semester 1

This module aims to understand advanced engineering materials, focusing on non-ferrous alloys and composite materials. It covers the processing, heat treatment, microstructure and properties of Al, Ti and Ni alloys. It introduces constituent materials, manufacturing methods, test methods and mechanical response of composite materials.
SUPPLY CHAIN OPERATIONS MANAGEMENT (EBUS506)

Credits: 15 / Semester: semester 1

​This module will provide a study of the key principles, systems and techniques used to assure effective supply chain management. The module covers an extensive range of subjects including logistics, information management, inventory management, partnerships and information technology.
OPERATIONS MODELLING AND SIMULATION (EBUS504)

Credits: 15 / Semester: semester 1

This module will give students an understanding of the role of modelling and simulation in the development and improvement of business processes in a commercial environment. Important elements include analytical techniques of systems, statistical aspects of modelling and system dynamics. Extensive use will be made of a variety of commercially available modelling and simulation tools such as Matlab and Witness.
FINITE ELEMENT ANALYSIS (MECH452)

Credits: 7.5 / Semester: semester 1

In this module the students will gain a basic understanding of the Finite Element method and learn to use Abaqus Finite Element software. This software will then be used to analyse a variety of different problems which are relevant to both mechanical and civil engineers
Programme details and modules listed are illustrative only and subject to change.
Semester two
Compulsory modules
ENTERPRISE STUDIES (MNGT414)

Credits: 7.5 / Semester: semester 2

The module teaches the concepts of Entrepreneurship, Intrapreneurship, Company Infrastructure and Investment Proposals. It is taught using lectures, class questions, case studie sand a comprehensive coursework assignment. Successful students will have acquired knowledge and understanding at mastery level of the process and how itis executed in a modern industrial environment.
ADVANCED MANUFACTURING WITH LASERS (MECH607)

Credits: 15 / Semester: semester 2

This module provides an understanding of the principles of advanced manufacturing techniques using lasers and how these are being explored through current/recent research and adopted by industry.
INDUSTRIAL ROBOTICS AND AUTOMATED ASSEMBLY (MNFG409)

Credits: 15 / Semester: semester 2

This module  investigates how industrial robots and other equipment are used and integrated into  more complex automated  systems.  The module emphasis is upon the application and use of these systems, with less emphasis on the underlying theoretical  mechanisms.   The module is based in the concept of learning through doing, the underlying content being presented as videos, while the contact time is used in practical sessions using industrial robots and in the development of robotic systems using industrial simulation software.  The assessments are designed to help reinforce understanding rather than short term memory.  As an FHEQ level 7 module the tasks and assessments are designed to develop deeper knowledge and skill in application than that expected for those at  FHEQ level 6.
Optional modules
DESIGN FOR ENVIRONMENT, MANUFACTURE AND ASSEMBLY (MNFG413)

Credits: 7.5 / Semester: semester 2

The aim of this module is to provide an introduction to the tools and methods of Eco-design, Design for Manufacture and Assembly using real, everyday products as examples.
MANAGEMENT OF DESIGN (MNGT413)

Credits: 7.5 / Semester: semester 2

To enable students to develop a general understanding of a wide range of aspects of the design function in a manufacturing company and its management, and in particular a comprehensive understanding of the Design Process. The core of the module is a detailed study of a six-phase model of the Design Process derived from several authors and BS7000: Product Planning and Feasibility; Design Specification; Conceptual Design; Embodiment Design; Detail Design; Post-Design-Release.
SMART MATERIALS (MATS515)

Credits: 7.5 / Semester: semester 2

This module introduces students to the facilitating world of 'Smart Materials'. The term 'Smart Materials' is used to define a broad collection of materials that have the in-built ability to 'actuate' in some way in response to external stimulus. Examples of 'Smart materials' include piezoelectrics, electrostrictive materials, shape memory alloys, ferrofluids, various biomimetic materials plus a host of others. This module looks at a selection of smart materials and considers the underlying reasons for the actuating behavior, key performance indicators that aid materials selection, aspects of manufacturing associated with the exploitation of the materials, plus engineering applications of these facilitating and highly useful materials.
Programme details and modules listed are illustrative only and subject to change.
Final project
You will undertake your research project over the summer.
Compulsory modules
MSC(ENG) PROJECT (60 CREDITS) (ENGG660)

Credits: 60 / Semester: summer

The purpose of the project is to provide students with the opportunity to plan, carry out and control a research project at the forefront of their academic discipline, field of study or area of professional practice. The student will report findings both orally and in writing. Detailed instructions are provided in the PG handbook distributed at the outset of the programme.
Programme details and modules listed are illustrative only and subject to change.
How you'll learn
You'll be taught through a combination of traditional lectures and practical classes, benefitting from research-led teaching and active learning methods.
There will be a mixture of lectures, seminars, tutorials, laboratory work, demonstrations, problem-solving exercises, group projects and independent study.
How you're assessed
You'll be assessed through a combination of written exams, class tests and coursework.
Coursework-based assignments include essays, reports, oral presentations, mini-project work, key skills exercises and a dissertation.
Liverpool Hallmarks
We have a distinctive approach to education, the Liverpool Curriculum Framework, which focuses on research-connected teaching, active learning, and authentic assessment to ensure our students graduate as digitally fluent and confident global citizens.
Course options
Studying with us means you can tailor your degree to suit you. Here's what is available on this course.
Your experience
You'll study in the School of Engineering, which hosts modern, world-class teaching and learning facilities. This includes the Active Learning Laboratories, which feature lab space, manufacturing robots and prototyping facilities so you can learn, build and test. You'll also have access to high-spec workstations featuring industry-standard engineering software.
Virtual tour
Chat with our students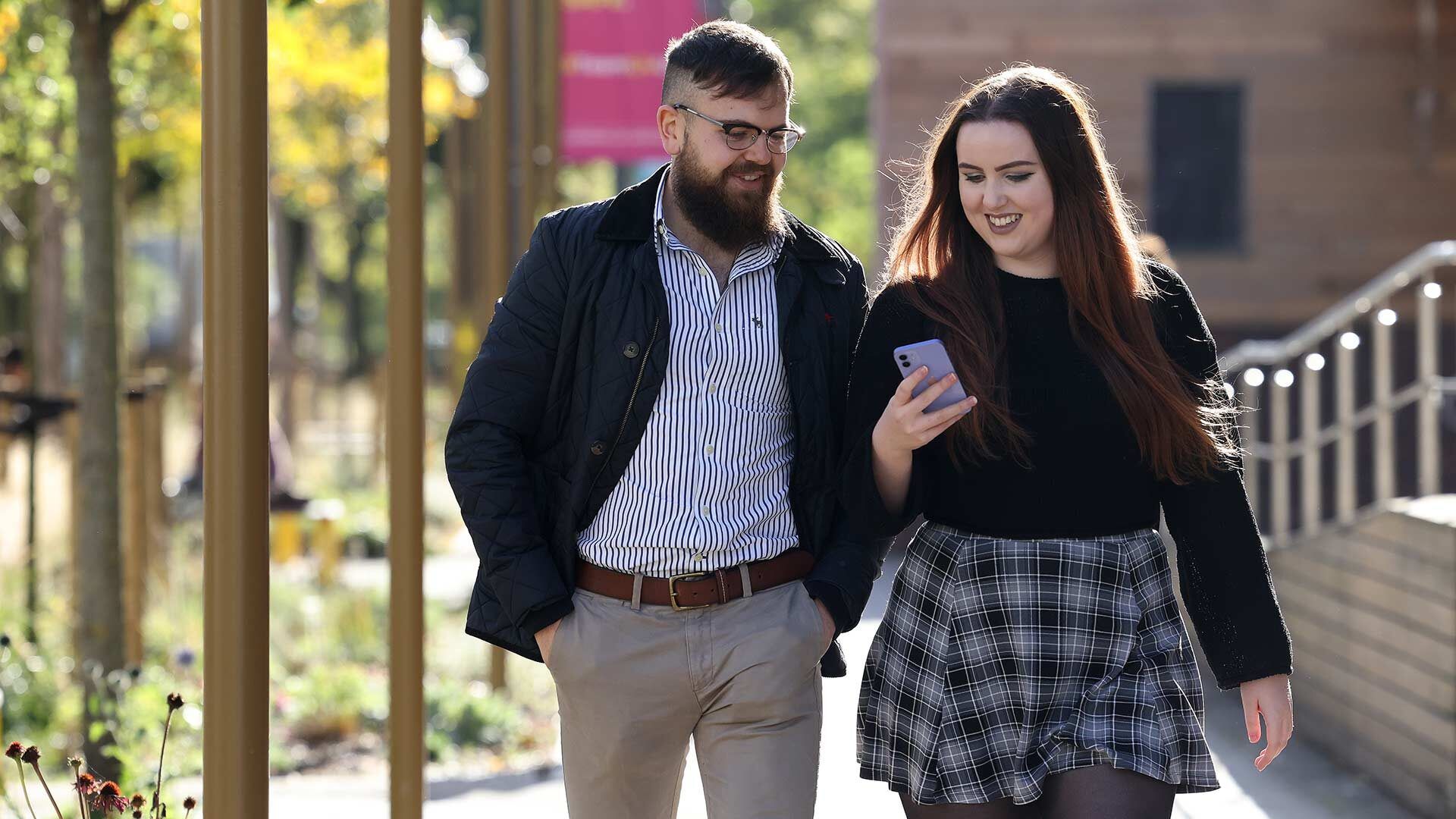 Chat with our students
Want to find out more about student life?
Chat with our student ambassadors and ask any questions you have.
Careers and employability
Whether you're seeking a career bringing new products to market, embracing potentially transformative technologies, working in Government laboratories, focusing on research and development, or leading manufacturing teams, this MSc (Eng) will prepare you for a variety of opportunities in the UK and abroad.
The programme includes a strong practical element and incorporates the latest academic and industry research, preparing you to work effectively at the forefront of manufacturing and engineering.
Our professional accreditation with the Institution of Mechanical Engineers means you'll graduate with a recognised qualification on the route to Chartered Engineer status.
Your future
You'll graduate from this MSc (Eng) ready for a career in manufacturing industries, industrial research and development laboratories, Government laboratories and engineering consultancies.
Career destinations for our previous graduates include working for:
Agusta Westland
National Health Service
BAE Systems
Ford
Jaguar
Unilever
Armed Forces
QinetiQ
National and international bodies such as the Engineering and Physical Sciences Research Council and the European Commission.
You'll also be well placed to pursue PhD study. Some of our previous graduates have secured fully-funded PhD studentships.
Fees and funding
Your tuition fees, funding your studies, and other costs to consider.
Tuition fees
UK fees

(applies to Channel Islands, Isle of Man and Republic of Ireland)

Full-time place, per year
£12,400
International fees
Full-time place, per year
£28,000
Fees stated are for the 2024-25 academic year.
Tuition fees cover the cost of your teaching and assessment, operating facilities such as libraries, IT equipment, and access to academic and personal support.
If you're a UK national, or have settled status in the UK, you may be eligible to apply for a Postgraduate Loan worth up to £12,167 to help with course fees and living costs. Learn more about paying for your studies..
Additional costs
We understand that budgeting for your time at university is important, and we want to make sure you understand any course-related costs that are not covered by your tuition fee. This could include buying a laptop, books, or stationery.
Find out more about the additional study costs that may apply to this course.
Scholarships and bursaries
We offer a range of scholarships and bursaries to provide tuition fee discounts and help with living expenses while at university.
Entry requirements
The qualifications and exam results you'll need to apply for this course.
Your qualification
Requirements
Postgraduate entry requirements

You will normally need a 2:1 honours degree, or above, or equivalent. This degree should be in engineering or science and provide appropriate knowledge of core engineering science topics.

Applicants with a 2:2 honours degree will be considered on a case-by-case basis.

International qualifications

If you hold a bachelor's degree or equivalent, but don't meet our entry requirements, you could be eligible for a Pre-Master's course. This is offered on campus at the University of Liverpool International College, in partnership with Kaplan International Pathways. It's a specialist preparation course for postgraduate study, and when you pass the Pre-Master's at the required level with good attendance, you're guaranteed entry to a University of Liverpool master's degree.
English language requirements
You'll need to demonstrate competence in the use of English language. International applicants who do not meet the minimum required standard of English language can complete one of our Pre-Sessional English courses to achieve the required level.
English language qualification
Requirements
IELTS
C
View our IELTS academic requirements key.
International Baccalaureate

Standard Level 5

TOEFL iBT
88 or above with minimum scores in components as follows: Listening and Writing 19, Reading 19, Speaking 20.
INDIA Standard XII
National Curriculum (CBSE/ISC) - 75% and above in English. Accepted State Boards - 80% and above in English.
WAEC
C4-6
Hong Kong use of English AS level
C
More about life in Liverpool
Discover more about the city and University.
Why study at Liverpool?
Liverpool bursts with diversity and creativity which makes it ideal for you to undertake your postgraduate studies and access various opportunities for you and your family.
Accommodation
To fully immerse yourself in the university experience living in halls will keep you close to campus where you can always meet new people. Find your home away from home.
Fees and Finance
Discover what expenses are covered by the cost of your tuition fees and other finance-related information you may need regarding your studies at Liverpool.
Contact us
Have a question about this course or studying with us? Our dedicated enquiries team can help.
Dr Paul Bryant