Environmental Assessment and Management
Return to top
Course overview
On this taught programme, you'll gain an understanding of the environmental implications of development action and of the wider social, political and economic issues surrounding decisions about the environment.
Introduction
Across a series of compulsory and optional modules, you'll develop advanced environmental planning and management skills – along with the relationships and inherent challenges to overcome to plan for a healthy society.

You will learn to fully understand and practice various tools and techniques associated with environmental assessment and management, including data collection, infrastructure planning, and environmental management systems, with a view to providing you with opportunities of working within the field, as well as research, critical analysis and independent thinking.
You'll get to hear from active practitioners through client-led modules featuring guest lecturers and you will develop real-world skills that you will use throughout your career.
Who is this course for?
You will need a good 2:1 degree from an approved university or equivalent. Any first degree subject can be considered.
We also welcome non-traditional qualifications and relevant work experience which are considered on their individual merits.
What you'll learn
How to evaluate challenges facing modern society in terms of the need to plan for a healthy environment and to manage it accordingly
How to evaluate the interrelationships between economic and social development and impacts on the environment at a variety of scales, and how to produce effective and implementable solutions to policy and planning dilemmas
A range of analytical skills and techniques designed to develop appropriate and implementable solutions to a range of complex environment related problems
Knowledge, skills and understanding to the achievement of environmentally friendly and feasible solutions to real-life problems
Assess the need to adopt strong professional values and ethics, recognising the diversity of interests in public and private decision making
Take part in exploring ideas, perspectives and debates in environmental assessment and management.
Accreditation
This course is accredited by the Institute of Environmental Management and Assessment (IEMA).
IEMA is the professional body for everyone working in environment and sustainability. This course entitles students to free student membership for the duration of the course and on successful completion you qualify for GradIEMA.
Graduate membership is a launchpad for future leaders within environment and sustainability and offers a range of benefits to support you throughout your career. You can then "Fast track" to Practitioner Membership (PIEMA) following successful completion of the work-based assessment of competence.
Course content
Discover what you'll learn, what you'll study, and how you'll be taught and assessed.
Studying this course part-time
International students may be able to study this course on a part-time basis but this is dependent on visa regulations. Please visit the Government website for more information about student visas.
If you're able to study part-time, you'll study the same modules as the full-time master's degree over a longer period, usually 24 months. You can make studying work for you by arranging your personal schedule around lectures and seminars which take place during the day. After you complete all the taught modules, you will complete your final dissertation or project and will celebrate your achievements at graduation the following term.
Studying part-time means you can study alongside work or any other life commitments. You will study the same modules as the full-time master's degree over a longer period, usually 24 months. You can make studying work for you by arranging your personal schedule around lectures and seminars which take place during the day. After you complete all the taught modules, you will complete your final dissertation or project and will celebrate your achievements at graduation the following term.
Semester one
In your first semester, compulsory modules with introduce you to the theory and practice of environmental assessment, teach you about the health origins and importance of environmental protection policy, and help you develop a critical understanding of the growing importance of environmental and sustainable development thinking in decision-making processes.
You'll work independently and in groups, attend interactive lectures, deliver presentations and take part in guest lectures from people currently working in the field.
Optional modules will offer you the chance to develop your education into areas which interest you the most, including the theory and practice of marine planning, the impact of people on the environment, or the issues facing society regarding access to basic needs such as housing, employment or transport.
Compulsory modules
Politics of the Environment (ENVS525)

Credits: 15 / Semester: semester 1

Over the last decade the environment, and perhaps more importantly the concept of sustainable development, is claimed to have become a critical dimension that underpins decision making at a variety of different spatial scales, more particularly international, European, national, regional and local arenas. In this module we explore the extent to which environmental concerns are taken into account in various decision-making processes within the public, private and third sectors. The module will be assessed by an essay (50%) and an open book exam (50%) which provides students with significant choice to explore those parts of the module they find most interesting.
ENVIRONMENTAL ASSESSMENT OF POLICIES, PLANS, PROGRAMMES AND PROJECTS (ENVS529)

Credits: 15 / Semester:

​This is an introduction to environmental assessment theory and practice.
Human Health in Impact Assessment (ENVS611)

Credits: 15 / Semester: semester 1

Human Health plays an increasingly important role in impact assessments in general and in environmental assessment in particular, both nationally and internationally. Requirements for the consideration of human health in environental assessment changed in recent years and there is now a much stronger emphasis on making sure human health effects are adequately considered. In environmental assessment, this does not only include bio-physical determinants of health, but also socio-economic deterinants. However, there is currently a very poor understanding of how this can be implemented in practice and the consultancy and public sectors are struggling to operationalise human health in environmental assessment. This module will help studnets appreciate what the consideration of human health means and how it can be achieved in practice. In this context, students will benefits from the activities of the University of Liverpool's World Health Collaborating Centre on Health in Impact Asssessments. The module will be research and practice informed, enhancing employability. By definition, the module will come with authentic assessment, as the module will exclusively deal with authentic situations.
Optional modules
Marine Planning Theory and Practice (ENVS541)

Credits: 15 / Semester: semester 1

Marine planning is a recent endeavour, taking shape internationally as a new approach to the management of the seas and oceans, in the interests of marine nature conservation and the sustainable use of the seas for shipping, energy, fishing, minerals extraction, tourism, etc. It is linked on the one hand to the traditional regulation of individual maritime activities and on the other hand to the well-established practice of spatial planning on land. Marine planning is developing as a means of organising the use of national sea space in a growing number of coastal jurisdictions in Europe, North America, East Asia, the Pacific region and elsewhere. Its development involves scientific discussion, stakeholder engagement, policy-making, academic research, pilot projects and official plan-making. This module provides the theoretical and practical foundation in marine planning for students with interests in spatial planning and/or marine management. More advanced perspectives are provided through as series of seminars based on discussion of key foundational texts for the topic. ​ ​ Assessment is by three assignments: student-led seminar, presentation and essay.
Research in Anthropocene Environments (ENVS485)

Credits: 15 / Semester: semester 1

Research in Anthropocene Environments provides an opportunity for students to be introduced to, and focus on a wide range of potential topics at an early stage in their MSc studies, providing insight into how research spanning this broad theme is undertaken. The only condition for the topic that students select is that it addresses an aspect of an Anthropocene environment (defined here as one which is directly or indirectly human influenced). It is delivered by staff from across the School of Environmental Sciences whose research is intimately linked to the module title, also allowing students to gain a better insight into the wide range of topics that fall under this theme and what research is done in the school. Staff also talk briefly about their own paths into academia to highlight how research ideas and interests evolve. It is assessed by an abstract and a combined large poster/short oral presentation. The latter occurs during a day of presentations, which is designed to mimic an academic conference.
Spatial Planning Challenges (ENVS411)

Credits: 15 / Semester: semester 1

This module provide students with an understanding of the conflicts facing planners in trying to deliver sustainable development. It introduces students to the range of social, economic and environmental issues that face contemporary society. It outlines the role of spatial planning in managing development pressures while protecting the built and natural environment, and it explores different planning responses to address and reconcile these competing interests.
Programme details and modules listed are illustrative only and subject to change.
Semester two
In your second semester, you'll further develop your environmental assessment skills with compulsory modules covering the historical and modern use of Green infrastructure planning, along with how businesses can influence the wider environmental agenda.
You'll also work on a group project where you'll apply your knowledge to create a tender document, which you will then present to a client and at a departmental conference.
Optional modules will help you develop your understanding of ecology and conservation, as well your independent thinking and critical insight skills.
Compulsory modules
Business and the Environment (ENVS470)

Credits: 15 / Semester: semester 2

Environmental issues are of growing importance to businesses both large and small. Companies and organisations have to comply with a burgeoning body of environmental legislation and environmental considerations are becoming more prominent in relations with industrial partners and clients, suppliers, customers, banks, insurers and local communities. Whilst such pressures are forcing businesses to pay more attention to the environmental implications of their actions, some businesses which are forward looking, perceive the environmental agenda as a great business opportunity. This module is designed to explore some of these issues more fully.
Environmental Planning and Management Project (ENVS560)

Credits: 15 / Semester: semester 2

This is a client-led module, which is based upon the execution of a mini-project that is carried out in groups by students. The project allows the students to apply their knowledge of Environmental Assessment and Management (EAM) in practice and gain experience of being engaged with a real life client. This module essentially delivers authentic assessment. The project experience offered within the module helps in developing skills of analysis, interpretation and policy prescription within the context of EAM. They are well grounded in the Department's own research activities and draw upon established links with a number of local authorities and other public bodies. This module along with ENVS529 is IEMA (Institute of Environmental Management and Assessment) accredited.
Green Infrastructure Planning (ENVS545)

Credits: 15 / Semester: semester 2

The module aims to introduce the field of Green Infrastructure and green space planning by addressing its principles, values and utility within urban planning. By examining the relationship between the landscape, planning policy and human interactions, the module highlights opportunities to implement positive green infrastructure at a number of scales. The module also draws links between the role of Green Infrastructure planning in supporting sustainability objectives and the process of management and monitoring. This is achieved by assessing what methods are appropriate in the evaluation of urban and landscape development. By writing an independent essay through performing literature review and critical analysis, students will gain an understanding of the planning mechanisms in place that govern the development of Green Infrastructure resources. The assessment also requires students to independently complete a project poster. Throughout completing the project poster, students will undertake tasks that mirror real-world professional practices, which helps students to be well-prepared in advance to becoming professionals. The module will also enable students to learn and practically use the skills they may require to evaluate the role and added value of Green Infrastructure in real-world planning scenarios.
Optional modules
Conservation Management (ENVS423)

Credits: 15 / Semester: semester 2

Biodiversity, the Earth's support system, is in decline. Conservation of remaining ecosystems and restoration of disturbed ones is essential and urgently needed. Here we cover controversial issues and current debates in conservation with topics covering approaches to protected area management (terrestrial and marine), ecosystem restoration and conservation policy. The module is run as a dynamic, interactive advanced tutorial course. The sessions are mostly run as lectures with background reading and discussion lead by a member of staff, but also include seminars, group work and student-led presentations.
Making Plans (ENVS427)

Credits: 15 / Semester: semester 2

This module provides a knowledge base of spatial planning disciplines by understanding key historical evolution of plan-making approaches, being conversant with methods and techniques used in the preparation and implementation of spatial plans and policies, and last but not least, demonstrating critical thinking capacities of reviewing a contemporary plan-making practice through a close theory-practice axis.
Monitoring Urban Air Pollution (ENVS666)

Credits: 15 / Semester: semester 2

Liverpool's air quality, much like many other UK's cities, is some of the worst in Europe. Whilst we might understand how it is produced, complex urban layouts and meteorological conditions make it almost impossible to understand how it mixes, disperses and stagnates in our cities; the only way in which we can monitor this is to sense our cities. This research-based module focuses on students using statistical tools to interpret data from University of Liverpool outdoor pollution sensors, Liverpool City Council outdoor sensors, and Government sensors, as well your own sensor that students construct as part of this module. The module content will be provided in the first three weeks after which students will work on research-based projects, with intensive supervision. The module's assessment gives students a taste of both the industry driven and academic world trhough a consultancy style group report and mimicking the process of presenting a paper at an acacemic conference.
Programme details and modules listed are illustrative only and subject to change.
Final project
Starting with a workshop to develop your primary research skills, such as research design, literature searching, research methods and more, your final semester will be devoted to developing, researching and executing an independent piece of research on the topic relating to you speciality.
Initially, you will present your research outline to your, followed by a more detailed outline and, ultimately, a dissertation on your choice of research question. There will be plenty of chances to check in with an academic member of staff, either online or in-person, to discuss your research project over the course of the semster.
Compulsory modules
Dissertation MCD/MA/MSc Planning (ENVS491)

Credits: 60 / Semester: summer

​The module supports students in the development, researching and execution of an independent piece of research under the supervision of an academic member of staff. 
Programme details and modules listed are illustrative only and subject to change.
How you'll learn
To make sure you get a well-rounded education, we use a combination of different teaching styles, like lectures, seminars, tutorials, and practical sessions like group projects and field visits. All the course materials are waiting for you on the teaching homepage, so you can easily access what you need.
We want you to take an active role in your learning journey, so we encourage you to plan and organize your studies, whether that's on your own or with a group. Don't be shy about participating in class discussions, seminars, and library and IT studies. And make sure to get some real-world experience through practice contacts and site visits related to your coursework submissions.
How you're assessed
We use a mix of assessment methods, like coursework like essays, reports, and seminar presentations, as well as exams.
These assessments give you a chance to dive deep into specific parts of the course and show off your writing skills for different audiences. You'll also have the chance to practice your speaking skills with seminar presentations and work as part of a team on group projects.
You'll get to demonstrate your knowledge, understanding, and critical thinking skills during exams and in a final research project in the summer.
Liverpool Hallmarks
We have a distinctive approach to education, the Liverpool Curriculum Framework, which focuses on research-connected teaching, active learning, and authentic assessment to ensure our students graduate as digitally fluent and confident global citizens.
Your experience
At the Department of Geography and Planning, you will learn from world-leading researchers who bring the latest theoretical and practical knowledge.
By the end of your master's, you will have developed the knowledge and skills to become an agent for change on the global stage.
Virtual tour
Chat with our students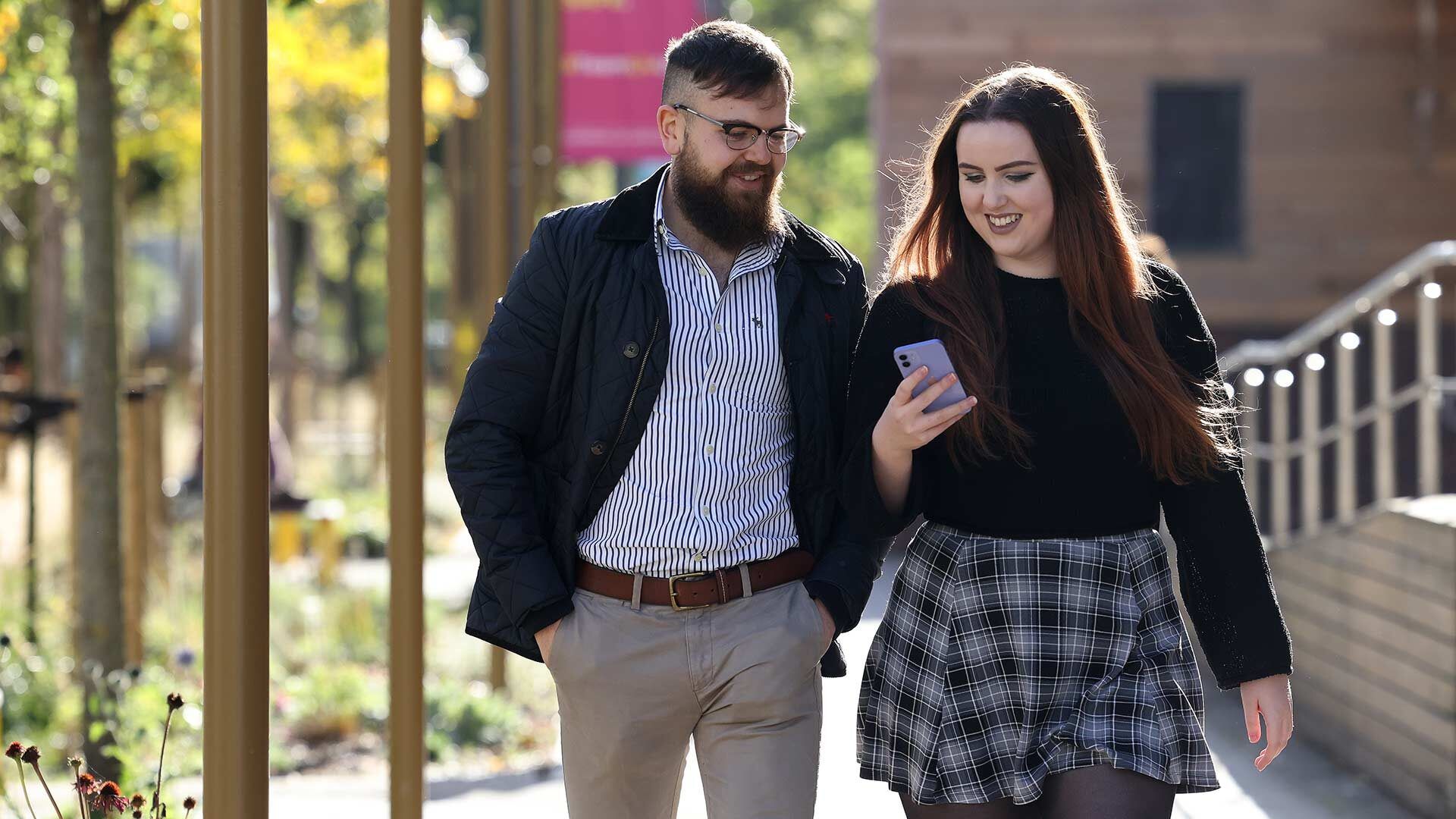 Chat with our students
Want to find out more about student life?
Chat with our student ambassadors and ask any questions you have.
Careers and employability
There's high demand for graduates with a degree in environmental assessment and management, and your prospects should only get better with this master's. Plus, the program is accredited by the IEMA, which will help enhance your profile and boost your employability. It's a great time to be entering this field.
Your future
After completing the program, you'll be well equipped to pursue a variety of career paths in the public and private sector, including environmental consulting. You may even opt to work for environmental charities or continue your education with an advanced degree or research position.
Fees and funding
Your tuition fees, funding your studies, and other costs to consider.
Tuition fees
UK fees

(applies to Channel Islands, Isle of Man and Republic of Ireland)

Full-time place, per year
£10,400
Part-time place, per year
£5,200
International fees
Full-time place, per year
£21,400
Part-time place, per year
£10,700
Fees stated are for the 2023-24 academic year.
Tuition fees cover the cost of your teaching and assessment, operating facilities such as libraries, IT equipment, and access to academic and personal support.
If you're a UK national, or have settled status in the UK, you may be eligible to apply for a Postgraduate Loan worth up to £12,167 to help with course fees and living costs. Learn more about tuition fees, funding and Postgraduate Loans.
Additional costs
We understand that budgeting for your time at university is important, and we want to make sure you understand any course-related costs that are not covered by your tuition fee. This could include buying a laptop, books, or stationery.
Find out more about the additional study costs that may apply to this course.
Scholarships and bursaries
We offer a range of scholarships and bursaries to help cover tuition fees and help with living expenses while at university.
Entry requirements
The qualifications and exam results you'll need to apply for this course.
Your qualification
Requirements
Postgraduate entry requirements

You will normally need a 2:1 honours degree or above, or equivalent. No specific subjects are required.

We also encourage applications from those with relevant experience and professional qualifications. Each application will be assessed on its own merits.

International qualifications

If you hold a bachelor's degree or equivalent, but don't meet our entry requirements, you could be eligible for a Pre-Master's course. This is offered on campus at the University of Liverpool International College, in partnership with Kaplan International Pathways. It's a specialist preparation course for postgraduate study, and when you pass the Pre-Master's at the required level with good attendance, you're guaranteed entry to a University of Liverpool master's degree.
English language requirements
You'll need to demonstrate competence in the use of English language. International applicants who do not meet the minimum required standard of English language can complete one of our Pre-Sessional English courses to achieve the required level.
English language qualification
Requirements
IELTS
C
View our IELTS academic requirements key.
International Baccalaureate

Standard Level 5

TOEFL iBT
88 or above with minimum scores in components as follows: Listening and Writing 19, Reading 19, Speaking 20.
INDIA Standard XII
70% or above from Central and Metro State Boards
WAEC
C4-6
Hong Kong use of English AS level
C
More about life in Liverpool
Discover more about the city and University.
Why study at Liverpool?
Liverpool bursts with diversity and creativity which makes it ideal for you to undertake your postgraduate studies and access various opportunities for you and your family.
Accommodation
To fully immerse yourself in the university experience living in halls will keep you close to campus where you can always meet new people. Find your home away from home.
Fees and Finance
Discover what expenses are covered by the cost of your tuition fees and other finance-related information you may need regarding your studies at Liverpool.
Contact us
Have a question about this course or studying with us? Our dedicated enquiries team can help.