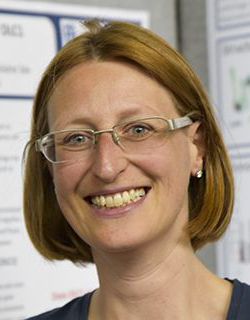 Dr
Violaine
See
Ph.D.
Lecturer
Molecular Physiology & Cell Signalling
About
Personal Statement
I am a senior lecturer in the department of Biochemistry at the University of Liverpool and co-director of the Centre for Cell Imaging. My research group focuses on the cellular response to environmental oxygen level variations and their impact on cell fate. As the environment in solid tumours is hypoxic (low oxygen), or subject to episodes of hypoxia and re-oxygenation, our research has direct significance to cancer. We work across scales from single molecule to small organism, using advanced imaging technologies to elucidate 1) how the cellular signals are regulated by hypoxia and 2) the role of hypoxia on cancer cell phenotype.

I completed my doctorate in molecular and cellular pharmacology in 2001 at the University Louis Pasteur (Strasbourg, France). I moved to the Centre for Cell Imaging at the University of Liverpool in 2002 as a post-doctoral research associate. In 2005 I obtained a prestigious David Phillips Fellowship (BBSRC) to work on intracellular signalling dynamics at the University of Liverpool.