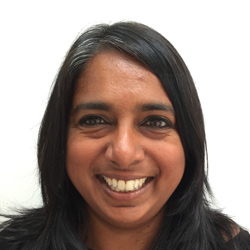 Professor
Shampa
Das
BSc, PhD
Professor of Antimicrobial Therapeutics
Pharmacology & Therapeutics
About
Personal Statement
Shampa Das is a Professor of Antimicrobial Therapeutics and Deputy Head of the Department Pharmacology and Therapeutics. She is an experienced Clinical Pharmacology Scientist with 17 years' experience in the pharmaceutical industry and has extensive expertise in using PK/PD for developing clinical pharmacology and dose strategies.

Shampa Das graduated with a BSc in Biochemistry and Physiology at the University of Sheffield in 1995 and then a PhD at the University of Sheffield in 1999. Following a 1 year post-doc at St Mary's Hospital, University of Manchester, Shampa Das joined AstraZeneca where she worked in various roles in biopharmaceutics, DMPK, clinical pharmacokinetics and clinical pharmacology science. During her time as Clinical Pharmacology Leader and then as Director of Clinical Pharmacology at AstraZeneca's Antibiotic Business Unit she designed and led the clinical pharmacology strategy for several early and late stage antibiotics. She has authored numerous regulatory submission documents and played a pivotal role in successfully defending new drug applications which have resulted in regulatory approval in Europe and the US. Amongst the key achievements are the successful marketing authorization approval of Zavicefta (a lactamase-lactamase inhibitor combination) where she used PK/PD to set the dose and breakpoint, and in Europe to bridge data from clinical trials in certain complicated infection indications to achieve approval in other infectious indications in the absence of clinical data. For Zinforo, a cephalosporin for the treatment of ABSSI and CAP, she achieved European and US approval for paediatric dosage labelling by the use PK/PD modelling to bridge data from both adults and clinical trials in children.

Through interactions with different regulatory agencies during the drug development process, and participation in EMA workshops, Shampa Das has a strong experience and understanding of how PK/PD can be used to inform critical dosage decisions. Special areas of interest are in antimicrobial drug development. In particular design of robust PK/PD packages which will inform dose decisions during the clinical phases and support regulatory submissions. The development and understanding of paediatric doses, and optimisation of dose adjustments for special populations.

Within the Antimicrobial Pharmacodynamics and Therapeutics group at the University of Liverpool, Shampa supports biotech and pharma companies to develop new antimicrobial agents by developing the critical PK-PD package required for dose selection. Her key area of interest is development of translation models and tools to improve the development of antimicrobial therapeutics. Shampa is also a serving member of the European Committee on Antimicrobial Susceptibility Testing (EUCAST) steering committee for breakpoint decisions as PK-PD expert. As well a member of teh CARB-X Advisory Board, co-chair of ESCMID-ASM Joint Conference on Drug Development to meet the Challeng of AMR committee and contributing expert for REVIVE by the Global Antibiotic Research and Development Partnership (GARDP).