Net Zero Week: Decarbonising our Campus
Posted on: 4 July 2023 in Issue 6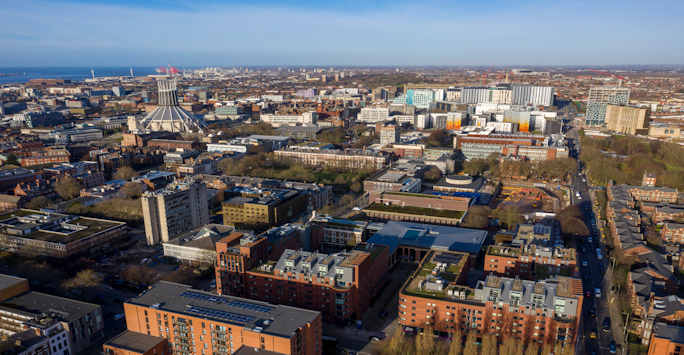 Net Zero Week is an annual campaign to raise awareness about the challenges of climate change and to mark the occasion, Carbon and Energy Officer Ben Parker, explains what we are doing to decarbonise the University campus.
What is net zero?
Put simply, net zero refers to the balance between the amount of greenhouse gas (GHG) that's produced and the amount that is removed from the atmosphere. It can be achieved through a combination of emissions reduction and emission removal.
Our Climate Plan sets out how we will achieve our goal to reach net zero by 2035 and breaks down the specific projects which will help us to reduce our scope 1, 2 and 3 emissions. Karl Whittle, Professor of Zero Carbon and Nuclear Energy recently explained what carbon emissions are, and why they matter
Scope 1 emissions
Our Combined Heat and Power (CHP) Energy Centre uses gas to generate over 65% of the electricity needed for the City Centre campus, contributing to our Scope 1 emissions. By using gas to generate electricity, the CHP has secured savings of 7,000 tonnes of CO2 each year, a 13% reduction in Scope 1 emissions for the University. Although a significantly more sustainable process than some other methods of generating electricity, the use of gas prevents us from reaching our Net Zero target by 2035. This is why plans are currently being developed to fully decarbonise our estate.
Decarbonisation plan
The University of Liverpool Energy Company (ULEC) Board enlisted the services of Ramboll in November 2022 to oversee the creation of a decarbonisation plan. Since then, Ramboll have conducted a baseline review to gain an understanding of the current energy, carbon, and utility usage across all University campuses, including the city centre campus, Leahurst, Greenbank and Ness Gardens. This involved examining extensive energy consumption data, the current operation of plant equipment in the energy centre and the university's district heating network.
Ben explained "Following this, a Commercial Baseline exercise was carried out to assess the financial aspects of our energy position. Ramboll analysed energy costs across all four campuses and explored potential grants and low-cost funding opportunities".
The next stage of the project included a technical Review. We asked Ben what this meant "Ramboll analysed the existing energy production strategies for each campus and evaluated the electricity infrastructure to identify potential connections and constraints for implementing new carbon-saving technologies. This phase also involved modelling and reviewing the Main Campus heat network and assessing different flow/return temperatures of hot water to determine future network capacities and reductions in heat loss".
The next stage of the decarbonisation project consisted of a Future Demand Assessment, which focused on estimating the current and future annual heat and electricity demands for each building based on floor area data. These estimations were assessed using CIBSE benchmarks. Ramboll's Building Services Team and the University's Energy Team identified seven building archetypes representative of the various building types across all four campuses, including an educational building, a laboratory, the sports centre, student accommodation, a library, a medical school, and an administration office. The Archetype Study has provided estimations of existing and future heat and electrical energy usage for each building type.
The ULEC Board will receive a report outlining various decarbonisation options in July 2023, these are likely to include options for heat pumps, solar PV, biomethane, and hydrogen fuels. Once approved the next stage of the project will begin.
Short term measures
Whilst the decarbonisation options provided by Ramboll will address scope 1 emissions in the long term, a further study has been conducted by Ramboll to look at ways to reduce CO2 from our Energy Centre's CHP operation in the short term. This has looked at the potential impact of undertaking such measures as turning off CHP engines when heat demand is low in summer and evenings and modulating the engines to improve efficiency.
Demand side reduction
Running in parallel, Ben explained that FRCS are also implementing a separate programme of work for a wholescale energy efficiency survey of the estate. This is project is being managed by Head of Engineering Services and will produce a comprehensive package of complementary energy reduction measures within our buildings. This is known as demand side reduction. Together with the District Network and energy supply decarbonisation, this will support full delivery of the University's 2035 Net Zero Carbon target across scope 1 and 2 emissions.
Find out more
Watch our video to see the wide range of activities being undertaken across the University which will help us achieve our net zero target.
For more information about our commitments and activities visit Sustainability or follow us on Instagram, Twitter, Facebook and LinkedIn to keep up to date with the latest news. If you want to know more about our work, please email sustainability@liverpool.ac.uk