Sustainability and climate action talks to take place
Posted on: 28 June 2023 in Issue 6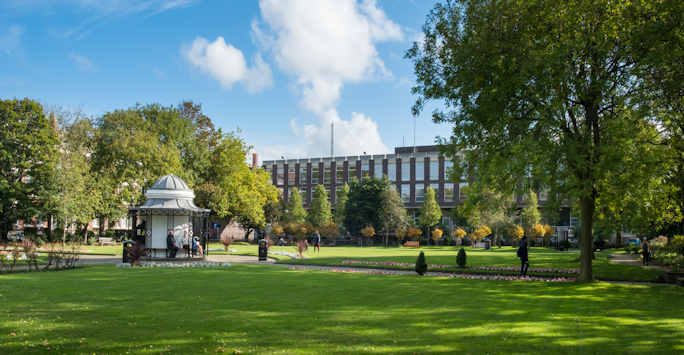 Sustainability and climate action will be the focus of a series of meetings between senior University leaders and local representatives from University and College Union (UCU), UNITE and UNISON, the Green New Deal (GND) University of Liverpool Action Group and the Liverpool Guild of Students.
Meetings are scheduled over the coming months to help foster discussions on the University's sustainability and Climate Plan actions. They will refer in part to matters raised by the Green New Deal Action Group, a collaboration between students and the campus unions, which seeks to make sustainability a priority in trade union relations with the University.
Nicola Davies, Chief Financial Officer and Chair of the University's Sustainability Board, explains: "I am delighted that we are collectively getting around the table to discuss sustainability and climate action. These meetings signify the importance we place on listening to a range of voices and opinions on how we should tackle the most pressing issues facing society today. None of us underestimate the challenges we face going forward, and we are all passionate about ensuring that the University delivers impactful solutions to the climate crisis which benefit everyone, from our staff and students to the communities we serve."
Eve Merrall, UCU Liverpool Branch Green-rep, agrees: "Universities have a critical role to play in tackling the climate crisis, whether in equipping graduates with the knowledge and skills to participate in a sustainable economy, or ensuring sustainability within their physical institutions, on campuses and through supply chains. We believe that putting climate and environment at the heart of our industrial relations will be transformative for the University and the sector".
View this post on Instagram
Discussions are expected to include all aspects of university operations, from reducing our carbon emissions, to how we can develop and use our campus in a way which minimises our environmental impact. Sustainability in teaching, research and careers are also on the agenda as well as the University's divestment strategy.
Nicola Davies continues: "These meetings are an opportunity for us to engage in meaningful dialogue with colleagues in the Trade Unions and the Guild over matters relating to sustainability. I hope that through these discussions we will be able to share ideas and jointly consider potential solutions on how we can move forward on our pathway to net zero and create a more sustainable future."
For more information, please contact the Head of Sustainability Programmes sally.shaw@liverpool.ac.uk