World Book Day: News From Nowhere's sustainability must reads
Posted on: 1 March 2023 in Issue 5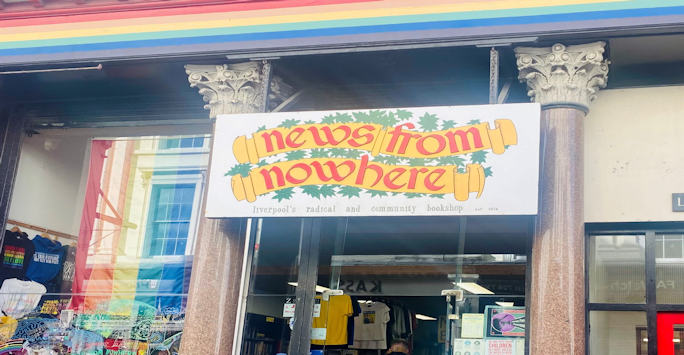 To celebrate World Book Day, Liverpool's not-for-profit radical and community bookshop, News From Nowhere have compiled their top 10 sustainability book recommendations, especially for Sustainable Liverpool.
News From Nowhere is located at 96 Bold Street and run collectively by a workers' co-operative. Committed to social justice, the literature they stock empowers and inspires people to make positive change.
Both the shop, and online shop focus on subjects such as; environment and sustainability, feminism, anti-racism, LGBT+, workers' rights, disability rights, animal rights and veganism, and socialism. Plus fiction and poetry, books for children and young people, books on health and wellbeing, and local interest books. Sustainable Liverpool is excited to share News From Nowhere's must read recommended titles on sustainability, aimed at educating and inspiring university staff and students:
1. The Sustainable(ish) Living Guide, by Jen Gale: Easy, do-able, down to earth ideas and suggestions for everyone to help save the planet.
2. Food For Free, by Richard Mabey:A guide to over 200 types of food that can be gathered in the wild in Britain, it explores the history and folklore of the foods as well as explaining how we identify them and the best ways to cook and eat them.
3. The Vegan Book of Permaculture: Recipes for Healthy Eating and Earthright Living, by Graham Burnett: A vegan cookbook packed with wholesome recipes, veganic growing, forest gardening and eco-friendly living.
4. Small is Necessary: Shared Living on a Shared Planet, by Anitra Nelson: Amidst crisis and fragmentation, the need for sociable, practical and sustainable housing is manifest.
5. From What Is to What If: Unleashing the Power of Imagination to Create the Future We Want, by Rob Hopkins: The founder of the international Transition Towns movement asks why true creative, positive thinking is in decline, asserts that it's more important now than ever, and suggests ways our communities can revive and reclaim it.
6. Paint Your Town Red: How Preston Took Back Control and Your Town Can Too, by Matthew Brown and Rhian E Jones: Across the world, there is a growing recognition that a new kind of economy is needed: more democratic, less exploitative, less destructive of society and the planet.
7. Going Zero: One Family's Journey to Zero Waste and a Greener Lifestyle, by Kate Hughes: This family of 4 have achieved 'zero waste': sending nothing to landfill. Told with refreshing humility and humour, this inspiring story shows that a well-lived life doesn't have to be wrapped in plastic.
8. Movement: How to Take Back Our Streets and Transform Our Lives, by Thalia Verkade and Marco te Broemmelstroet: Our dependence on cars is damaging our health — and the planet's. The Dutch seem to have the right idea, with thousands of bike highways, but even then, what happens to pedestrians or people who want to cycle at a more leisurely pace? What about children playing outside their homes? Or wildlife, which enriches our local areas? Why do we prioritise traffic above all else?
9. How to Store Your Garden Produce: The Key to Self-sufficiency, by Piers Warren, illustrated by Tessa Pettingell: How to Store Your Garden Produce – the key to self-sufficiency is the modern guide to storing and preserving your garden produce, enabling you to eat home-grown goodness all year round.
10. Regenesis: Feeding the World without Devouring the Planet, by George Monbiot: A breath-taking first glimpse of a new future for food and for humanity. How we can resolve the biggest of our dilemmas and feed the world without devouring the planet.
Find out more
Like most independent bookshops, although relatively small, News From Nowhere can order the same vast range of books as bigger shops and websites. Make sure you shop local and check out News From Nowhere, 96 Bold Street and visit the customer order website to search millions of books in print that can be ordered on request.