Hedgehog Awareness Week: Our hedgehog friendly campus
Posted on: 3 May 2023 in Issue 5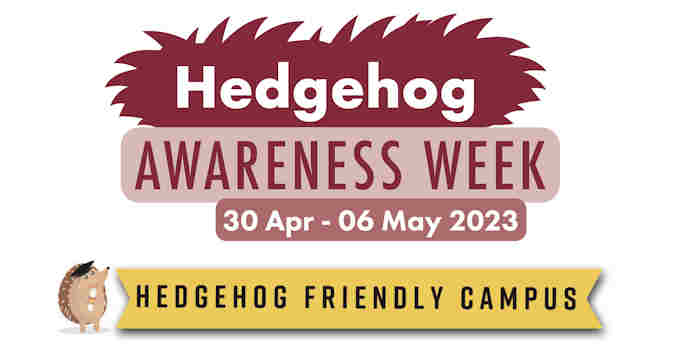 This week is Hedgehog Awareness Week, an annual campaign organised by the British Hedgehog Preservation Society to highlight the problems hedgehogs face and how you can help them.
The number of hedgehogs in rural areas has plummeted by as much as 50% and in urban gardens by 30% since the year 2000. There are perhaps just a million hedgehogs left, representing a 97% fall from the 30 million estimated to have roamed the UK in the 1950s.
This decline has been in part attributed to loss of hedgerows and familiar countryside habitats, leading hedgehogs to move into more urban environments where litter, busy roads and impermeable garden fencing and walls, significantly impact on their survival.
Hedgehog Friendly Campus Scheme
Hedgehog Friendly Campus is a national accreditation scheme, which aims to raise awareness of the plight of hedgehogs, and supports staff and students take practical steps to improve habitats and circumstances for hedgehogs, so they can thrive across university campuses.
The University is a gold accredited member of the Hedgehog friendly campus scheme and a project group, made up of a diverse range of departments and teams across the University work together to undertake a number of initiatives and have been instrumental in the rescue of many hedgehogs.
Think Hedgehog!
Many people don't realise how easy it is to help hedgehogs. These are lots of things you can do to support these vulnerable creatures:
• Give hogs access to your garden. This may be under the gate or via a hedgehog highway, linking gardens together.
• Leave untidy areas of your garden to give them space to search for invertebrates.
• Leave a saucer of water out for thirsty hogs.
• Add a hedgehog house to your garden.
• Raise netting off the ground (e.g., football net) when not in use as they can get caught in it.
• Don't use pesticides in your garden.
• Consider adding a feeding station and provide them with food.
• If you have a pond, make sure it has sloped access to allow hogs to get out of the pond safely.
• When driving at night, consider the hogs that may be crossing the road and take it steady.
View this post on Instagram
Get involved
There are many ways in which you can help the University to be even more hedgehog friendly. Visit the dedicated Hedgehog Friendly Campus scheme page for practical advice and guidance, video demonstrations and activities to get in involved in.
Make sure you attend our hedgehog friendly sessions and events. Build hedgehog houses for the university's hedgehog populace and learn more about these prickly characters. Help care for our urban green spaces and increase biodiversity at the Gardening with the Guild: Hedgehog Houses event on Wednesday 3rd May at 2pm - 4pm in Activity Space 6 at the Guild of Students, click here for more details.
The most important thing you can do at home is make your garden more hedgehog friendly and spread the word to your family and friends and on social media. For regular updates follow @livunihedgehogs on Instagram and Twitter and subscribe to the YouTube channel for video footage of our hedgehog visitors!
You can donate to the 2023 #HEDGEHOGWEEK appeal at: justgiving.com/campaign/HAW23
Find out more
To find out more, please contact one of the University of Liverpool's Hedgehog Champions, Vikki Marshall at: vikkim@liverpool.ac.uk