Transforming the plastics industry for a circular economy
Posted on: 16 March 2023 in Issue 5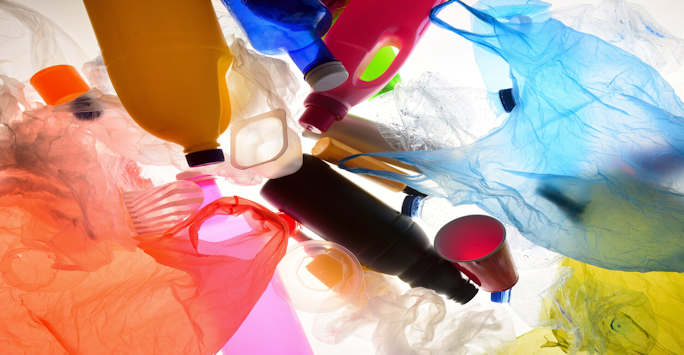 Last month, our Circular Economy Manager, Rhiannon Hunt joined a workshop with international research project, TRANSFORM-CE, to explore how we might navigate to a more circular future for plastics.
TRANSFORM-CE is an Interreg North West Europe funded project, bringing together partners from the UK, the Netherlands, Germany and Belgium, to tackle the issue of single-use plastic waste. Approximately 65million tonnes are produced in Europe each year, however, only around 30% of this is recycled. TRANSFORM-CE applies two innovative technologies to turn these everyday waste materials into valuable, new products for a circular economy.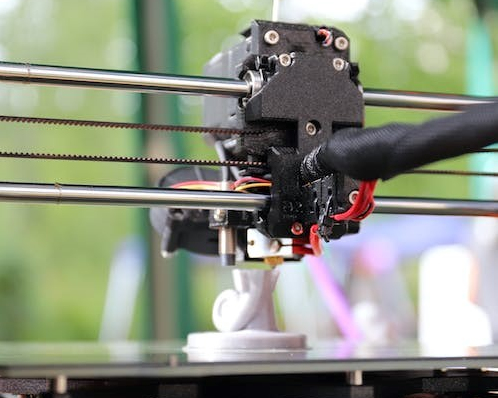 The first, additive manufacturing or '3D printing', uses segregated, high-value plastic waste materials, such as drinks bottles, yoghurt pots and coffee cup lids. These are cleaned, shredded and pelletised before being melted and extruded into a long strand, called filament, which can then be used in a 3D printer to create intricate, custom products by laying down a layer of melted filament at a time. Example products include rapid prototypes, unique fashion accessories and custom vases.
The second technology, called intrusion-extrusion moulding, uses low-grade, mixed plastic waste materials, such as crisp packets, flex packaging and carrier bags. These are shredded and heated until they turn into a malleable clay, which is then forced into a mould using a 10-tonne press to create identical, large-scale products, such as cladding panels and decking.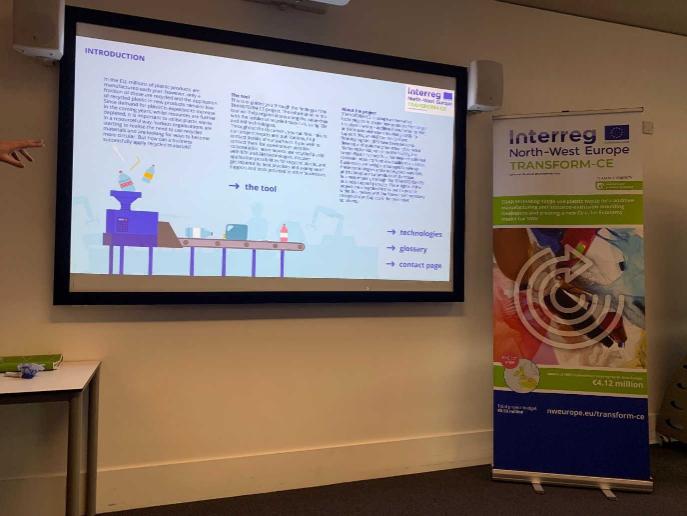 Circular Economy Manager, Rhiannon Hunt attends the TRANSFORM-CE workshop
Now in its fourth and final year, the TRANSFORM-CE project hosted the workshop to reflect on key findings and outcomes. The first stage involved trialling an online 'navigation tool'. This mapped out a circular value-chain for single-use plastics, including the collection, sorting, cleaning and processing of materials, the design and manufacture of products using 3D printing or intrusion-extrusion moulding, and the development of circular business models. Detailed information was included at each stage to facilitate the replication and upscaling of the solutions developed through TRANSFORM-CE. The tool will be published at the end of the project and made publicly available via the TRANSFORM-CE website.
The second half of the workshop required attendees to imagine a circular future for single-use plastics. An innovative back-casting technique was then used to identify the changes necessary if we were to transition to that future scenario from the current situation. Contributions were diverse, demonstrating the complexity of the task at hand. These included improvements to plastic materials and the design of products to improve recyclability, process innovation to improve recycling techniques, behaviour change to reduce consumption and use resources more efficiently, and policy, legislation and financial instruments to support the transition towards a circular economy.
Student led circular economy project
Students at the University have set up their own, on campus plastic waste recycling programme, running until the summer of 2024.
Currently the project is collecting PP (polypropylene), PET (polyethylene terephthalate) and HDPE (high density polyethylene), in the form of milk bottles and plastic bottles, with a view to expand collection to include other forms of these plastic waste materials once the system is in place. These plastics will be shredded in an industrial shredder and cleaned with a sink-float system which also sorts the plastics by type. The clean plastic can then be fed through an extruder built by the team to make 3D printer filament, or can instead be heat pressed into sheets for laser-cutting. The products created through these processes will then be sold back to students, completing the loop for the circular project.
There is one bin on the ground floor of the Harrison Hughes building, near the Arion velocipede on display, and another bin opposite the entrance to the Walker Lecture Theatre on the Upper Ground Floor for students to deposit their plastic waste for use in the project. Find out more here.
Interested to find out more about plastic recycling?
The University recently hosted a workshop with Plastic Tactics as part of Sustainability Week, where students were invited to turn everyday plastic waste, such as bottle caps, into trolley tokens. They host regular events in Liverpool where individuals can get involved turning plastic trash into treasure, find out more about Plastic Adventures with Plastic Tactics.