Sir Keir Starmer visits University's Energy Centre
Posted on: 29 November 2022 in Issue 4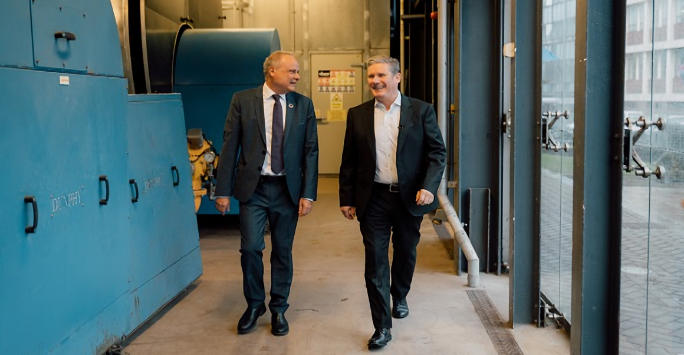 The Labour leader, Sir Keir Starmer, paid a visit to the University's Energy Centre as he took time away from his Party's conference, which took place in Liverpool in September.
The University's Energy Centre houses one of four Combined Heat & Power Plant Engines (CHP) which allow the University to reduce its carbon footprint through the efficient generation of heat and power.
Pro-Vice-Chancellor for Research and Impact, Professor Anthony Hollander, who led the University's delegation to COP26 in Glasgow, welcomed the Labour leader and spoke to him about the University's commitment to sustainability.
Professor Hollander said: "The University is a signatory to the UN's Sustainable Development Goals and is committed to embedding these across the institution including through our research, teaching, learning and our operations."
"Our new Sustainability Strategy, which launched in 2021, encapsulates our desire to act as global leaders in environmental, social and corporate sustainability and sets ambitious targets for the University to hit net zero carbon by 2035 at the latest."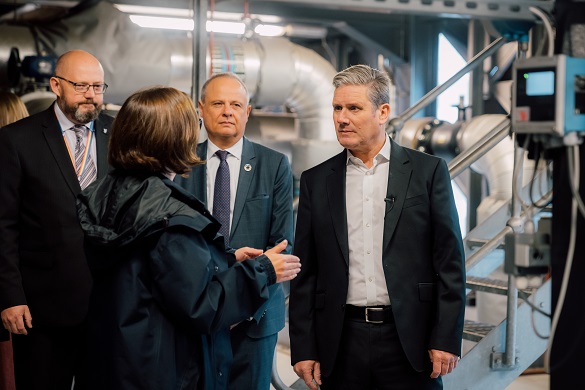 Syd Cottle, Director of Estates Management, led Sir Keir on a tour of the facility. He said: "The visit was an opportunity to show Sir Keir the CHP engines that have successfully helped us to reduce our carbon emissions through the use of efficient technology. I was able to explain our future plans to decarbonise the campus that will take advantage of the existing district heating network and will also include a programme of work to survey the energy efficiency of the estate."
Keir Starmer, Leader of the Labour Party said: "As the British people face sky rocketing energy bills, we need an energy system that works for the future. That is why this week, I set out Labour's central mission to turn the UK into a clean energy superpower.
"The University of Liverpool's Energy Centre is a brilliant example of how innovative technology will reduce our country's carbon footprint through efficient generation of heat and power.
"To achieve clean power by 2030, innovations like this will be vital. I'm delighted to see the work already done by the University on this, and look forward to seeing further developments in future."
The visit involved representatives from Clarke Energy and the Association for Decentralised Energy (ADE).