Spotlight on COP27
Posted on: 29 November 2022 in Issue 4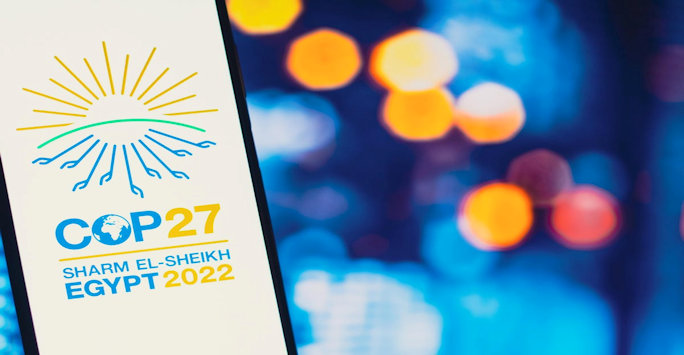 In November, world leaders met at the 27th Conference of the Parties (COP27) in Egypt to discuss how to avoid dangerous climate change. Professor Ric Williams, Chair of Ocean and Climate Science and co-lead of the University's Climate Futures Research, gives us his take on the recent COP27 Summit.
The 2022 United Nations Framework Convention on Climate Change's 27th Conference of the Parties took place in Egypt in November.
What is COP?
COPs are amongst the largest international meetings in the world, and host multilateral discussion of climate change. Their purposes include the reviewing of implementation of the United Nations Framework Convention on Climate Change (1994), Kyoto Protocol (1997) and Paris Agreement (2015), and the adoption of decisions to develop these instruments. The UK has held the COP Presidency since COP26 (Glasgow) and in November, handed over to Egypt.
What was agreed at COP26?
Signatories to the Paris Agreement agreed in Glasgow to an enhanced framework for reporting emissions, timeframes for emissions reductions targets, and mechanisms and standards for international carbon markets. An important objective for the UK presidency was to secure agreement on the phasing out of coal power. Ultimately, 190 countries signed up to phase down their use of coal. Meanwhile, the Glasgow Climate Pact was signed, which calls on all countries to present stronger action plans this year. The UNFCCC has been encouraged to undertake an annual Synthesis Report to more regularly gauge the level of ambition of each country, as determined by its Nationally Determined Contributions.
COP27 and global warming targets
Professor Ric Williams, Chair in Ocean and Climate Science and co-lead of the University's Climate Futures Research theme, said:
"World leaders met at COP27 aiming to abide by the Paris Climate Agreement and limit the rise in global surface temperature above pre-industrial levels to well below 2oC and preferably less than 1.5oC. However, we are getting close to exceeding this lower limit of 1.5oC. Unfortunately, in COP27, there was hardly any advance in reducing the carbon emissions that are needed to avoid exceeding these warming targets."
"A report by the World Meteorological Organisation predicts that over the next 5 years there is over a 90% chance of reaching a global new warming record. The last warmest years were in 2016 and 2020. They predict that over the next 5 years, there is 50% chance of an individual year exceeding 1.5oC. The last report by the Intergovernmental Panel for Climate Change in 2021 stated that the warming of the climate system was leading to an increased frequency and magnitude of extreme events across the globe."
"The challenges are as great as ever with the key greenhouse gases in the atmosphere, carbon dioxide, methane and nitrous oxide, reaching higher concentrations than ever seen before over our historical record. Continued attention on this problem is welcome via these international meetings, but more action is needed in implementing solutions towards reducing our carbon footprint. Turning this continual rise in greenhouse gases around is an immense challenge, requiring us collectively to move towards net zero goals over the next decades."
Outcomes from COP27
While there was little progress in reducing carbon emissions or phasing out the use of coal at COP27, there was an important step forward in agreeing to establish a 'Loss and Damage' fund, designed to help nations most vulnerable to climate change. Acknowledging historic responsibilities for climate change is very important to many countries across the globe. However, the next COP will need to resolve the contentious issue as to which countries will contribute or benefit from this 'Loss and Damage' fund.
Climate Futures Research theme
Responding to the global climate crisis through our research is the focus of the University's Climate Futures Research theme. It brings together experts in a wide range of disciplines to explore impacts of climate change, develop solutions to environmental challenges and address knowledge gaps. Find out more by visiting this webpage.
Find out more
Read the full COP27 and warming targets article from Professor Ric Williams and listen to his interview with BBC Radio Merseyside (from 3hr 10 mins) and check out the online activities linked to COP27 that anyone can access, such as the COP27 Virtual Ocean Pavilion including an online immersive experience.