University launches new Climate Plan
Posted on: 29 November 2022 in Issue 4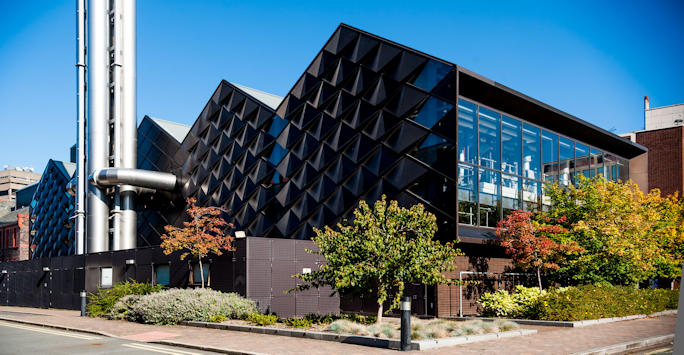 The University's new Climate Plan sets out our ambitions, principles and commitments to being net zero by 2035 – 15 years ahead of the Government's 2050 deadline.
"The University is serious about addressing emissions associated with our activities which are contributing to climate change, the most pressing issue facing society today," says Nicola Davies, Executive Lead for Sustainability, and the University's Chief Financial Officer. "The launch of the Climate Plan is a positive step forward in our net zero journey, but we should not underestimate the challenges we face going forward."
"Everyone has a part to play in helping us achieve our ambitious net zero targets, through your teaching and research, the goods and services you buy, or even how you travel to work or study," adds Nicola. "By working together as a University community, we can move forward on our pathway to net zero and create a more sustainable future."
Key activities
The Climate Plan outlines how we are going to move forward in developing our pathway to net zero, with key activities including:
Completing an energy audit of all campus buildings so we can prioritise and implement energy saving measures
Ensuring the more efficient use of spaces across campus
Retrofitting buildings to ensure heat and electricity use is optimised
Developing a plan to decarbonise our gas-fuelled combined heating and power system, which provides 90% of the power used on the main campus
Alongside a continued focus on climate and sustainability research, a 'Living Lab' programme will also be established. This will act as a test bed for innovative climate solutions, drawing on our research and teaching expertise in both STEM subjects and arts and culture.
Students too will be encouraged to play their part in the fight against climate change with a community of Sustainability Champions launched in all faculties and directorates. These Champions will work in partnership with the Guild of Students to ensure all students understand how they can make a difference and get involved in making the Climate Plan a reality.
Everyone has a part to play
The Climate Plan was first launched at the University's Leadership Away Day in November, with Nicola presenting alongside Phil Marsh, Director of Facilities, Residential and Commercial Services (FRCS) and Dr Louise Ellis, Director of Think EJ.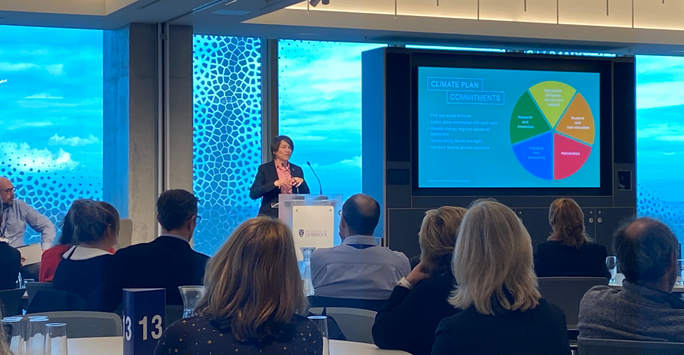 Nicola Davies, Executive Lead for Sustainability, and the University's Chief Financial Officer at the Leadership Forum
Having listened to a summary of the Plan's main objectives and immediate priorities, leaders where then tasked with thinking about how they – and their areas of operation – could help support its delivery, focusing on energy use, travel and procurement.
Students joined each of group of leaders for this breakout activity, helping bring different perspectives and opinions to table. The resulting ideas and feedback from these lively discussions will be used to help inform the delivery of action plans.
The next day, the Climate Plan was launched to staff at the Open Meeting and then to the wider University community and our partners, with communications providing more information on its five key themes: operational emissions, research and innovation, students and their education, partnerships, and engaging and embedding sustainable practices across all University operations.
Collectively, these will help us reduce our carbon and greenhouse gas emissions and other harmful environmental impacts. For more details download the Climate Plan.
If you have any queries or want to know more about how you can get involved, please email sustainability@liverpool.ac.uk