Sustainability in Action - educating future generations
Posted on: 6 July 2022 in Issue 2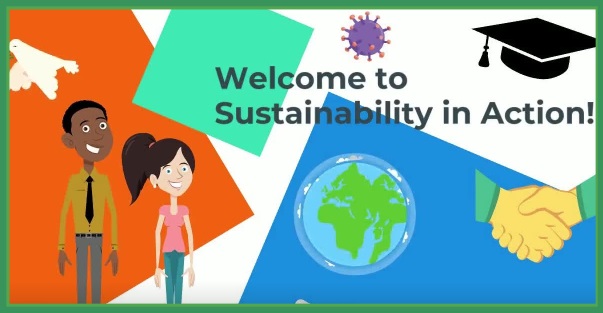 Sustainability in Action is a course in Canvas which explores the United Nation's Sustainable Development Goals (UNSDGs). It is designed to provide students with knowledge on this important aspect of sustainability and how they can apply it to their own life.  
We caught up with Matt Murphy, Chair of the Education for Sustainable Development Working Group, and Nick Bunyan, Co-Chair and Senior Educational Developer, Centre for Innovation in Education, to find out more.
The course created by students, for students 
"Sustainability in Action was originally launched by the Faculty of Science and Engineering as part of the 2020 online Foundation Week activities" Matt explains. "It was created by six student interns as part of a joint collaborative project between Careers and Employability and the Centre for Innovation in Education. They worked throughout August and September 2020 to produce all of its interactive content."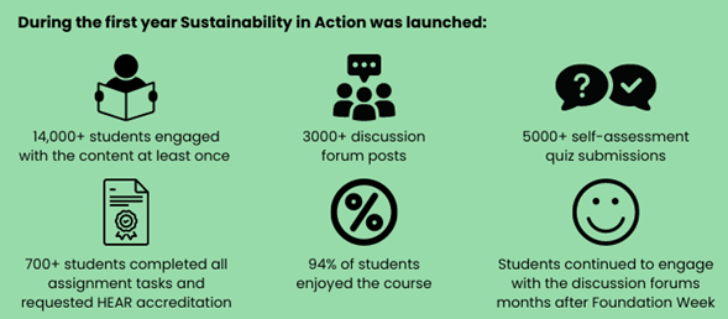 The module is now part of the student Sustainability Hub and is designed by students, for students at the University as a way to introduce them to the UN SDGs.
"It doesn't matter what subject a student is studying as the module is a very basic first introduction to sustainable development goals," Matt says. "All students are automatically registered for Sustainability in Action so they can access it straight from Canvas."
During the course, students learn about each of the 17 SDGs through a series of modules: People, Planet, Prosperity, Peace and Partnerships. These are often referred to as the 'five Ps' throughout the course. 
Sustainability in Action has been nominated for several awards since it was set up, including The Association of Graduate Careers Advisory Services (AGCAS) Sustainability Impact Award 2021, plus it was a finalist at the 2021 Green Gown Awards. It was also submitted by the University as its institutional case study to support the 2021 SDG accord. The team behind Sustainability in Action were also commended for the Sustainability on Campus Staff Award 2022.
Learning  outcomes
The course aims to give students insights into the complexity and interconnectedness of sustainability issues, and to evaluate different examples of sustainable development practice at the global, regional and local scale, including measures taken by the University, to contribute to the SDGs. 
Students are encouraged to analyse and gain an understanding of how SDGs can be applied to daily life in order to increase sustainable practice in future generations. New topics also help illustrate how COVID-19 has impacted sustainable development and the SDGs. 
"By completing all the relevant tasks in the Sustainability in Action module manual, students are able to gain HEAR accreditation" Matt explains. "There are videos, comments, activities and reading to keep the content engaging."
"As the course is developed with Careers and Employability there is a focus on enhancing employability skills" Matt adds. "For example, there is a research task in one of the zones which helps students develop commercial awareness and research skills."
What's next? 
Sustainability in Action has now been developed into the new Student Sustainability Network Hub, due to launch in September 2022.
"We want to employ six student interns for six weeks this summer, next summer and the summer after," says Matt. "What they'll do is refresh the module every year and add any necessary improvements to keep it current.". 70 students have since applied for this position, which is really encouraging to see the enthusiasm from students.
"One of the improvements we want to make is to add ways for students to do something with the knowledge they've learnt so they can really make a difference," he adds. "We also want to focus on promotion to get more students involved. As mentioned, every student across the whole University will be registered for the module but they might not complete it. The working group wants to run a campaign asking schools and departments to encourage students to do it as a co-curricular activity so it becomes part of their programme - even though it might not be for credit."
In addition to the Sustainability in Action course, the Student Hub provides access to further sustainability-related resources and acts as a central point of reference for sustainability-related societies, volunteering, careers advice, COP26 activities, lifestyle choices, and social networks and student events. 
A Staff Hub will be launched in the next Academic Year. "This will be a single point of reference for staff interested in Education for Sustainable Development (ESD)," Nick explains. "It will provide links to all our staff development resources, including case studies, guides, toolkits, workshops, events and the ESD Network. It also gives staff an overview of student-centred resources, such as the Sustainability in Action course and the For Good platform. This site will be updated over the summer to reflect the development of the new 'Student Sustainability Hub' which the Sustainability in Action course will be part of."