The Liverpool Fashion Summit: Moving away from fast fashion
Posted on: 29 April 2022 in Issue 1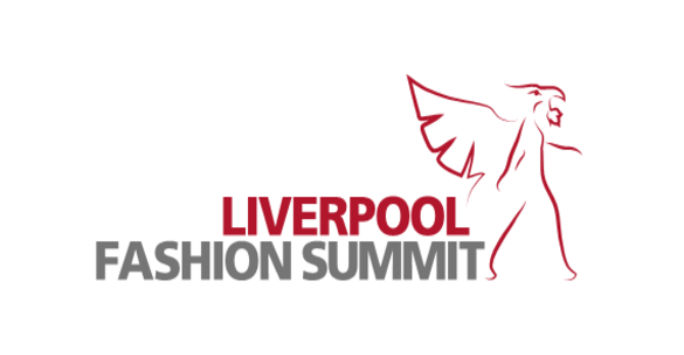 The Liverpool Fashion Summit is the passion project of two University of Liverpool PhD students, Julia Marcet-Alonso and Oliver Kennedy. Here co-founder Julia sets out what the project is aiming to achieve and why it's vital that we change our behaviour when it comes to buying clothes.
The first stitch
Following five-years working in the fashion industry as a visual merchandiser, Julia left to begin a PhD exploring the darker side of the fashion industry. "After years of seeing the negative effects the industry was having on our planet and people, I wanted to bring change to the industry and engage people in talking about the pertinent issues of the fashion world," she adds.
Julia met Olly a few days into her PhD and it quickly became apparent they shared similar views on the fashion industry. "We agreed that there needed to be a space where voices and experts from the field, whether they were academics, businesses, consultants, non-government organisations or consumers of fashion, could come together and spark informative discussions about their experiences of the industry," says Julia. "That's where the idea for Liverpool Fashion Summit began."
Aspirations of the project
Launched in 2020, Julia and the team have now held three Summits promoting sustainability in the fashion industry. "We want to raise awareness about the impact the industry is having on our planet, encourage conversations about how we can be more responsible as citizens, but also challenge fashion companies and organisations on how they can help us achieve a better future," she explains.
Influencing behavioural change is perhaps the most important objective for Julia and the team: "As long as we reach one person and influence their behaviour as a consumer, then we have succeeded," she adds. "It's about encouraging people to begin to consume less, and if enough do, we will really start to see a difference."
Growing into the project
Following a successful funding bid to the Economic Social Research Council (ERSC), Julia and Olly are now looking to use their growing network to expand the reach of the Liverpool Fashion Summit. They've increased the number and profile of guest speakers, for example, securing the support of the CEO of Freedom Row, Anu Menon and Head of Audience and Strategic Planning at Oxfam, Fee Gilfeather. Leading academics, such as Professor Andreas Chatzidakis from Royal Holloway University of London and Professor Deirdre Shaw from the Adam Smith Business School at the University of Glasgow have also spoken at the Summit, tackling issues such as modern slavery.
"Through the network, we have also been given opportunities to collaborate with local initiatives, like Liverpool World Centre and Faiths4Change. Through these connections, we have been invited to talk at local schools, both at student events as well as teacher training days. This is such a rewarding opportunity and through these wider participation activities, we feel as though we can begin to influence future generations on how they can act responsibly when it comes to consuming fashion," says Julia.
Wider acclaim came last year when the Liverpool Fashion Summit was runner-up in the global Principles of Responsible Management Education (PRME) Awards 2021 for Student Recognition. "After such a difficult period during COVID, we were honoured to receive such recognition and the award definitely helped to propel us forward and improved the visibly of the project," says Julia.
Consuming
The way we consume fashion is due for a makeover and Julia is drawing upon her own experiences to encourage others to change their buying behaviours. "Fashion is amazing, it is a way to express ourselves and helps us to explore our identity," she says, "but we have to think about the relationship we have with the clothes we wear. My Grandmother would repair and patch-up all her clothes. She'd never throw something away unless she had to, and this is what we should be inspiring futures generations to do."
Reflecting on the Liverpool Fashion Summit 2022
The third Liverpool Fashion Summit took place between 21-22 April and explored the role of education and policy in addressing social change for a more sustainable future. The event was funded by North West Social Sciences Doctoral Training Partnership and delivered in partnership with the University of Liverpool Management School (ULMS), LJMU Fashion and VOI e-scooters. Julia explained how these collaborations exemplify and promote the aspirations of LFS.
With the first day taking place online, LFS launched a series of pre-recorded interviews with experts from academia and industry. The second day was hosted in ULMS and featured an up-cycling 'mending café', a screening of the documentary 'Dirty Laundry' by Teresa Hardy, as well as round table talks from speakers including Jacquie Ayre, LWC and Lead on the Fashion Fix Project, Rachel Hardy, Faith4Change, plus the University's very own Dr Laura Menzies.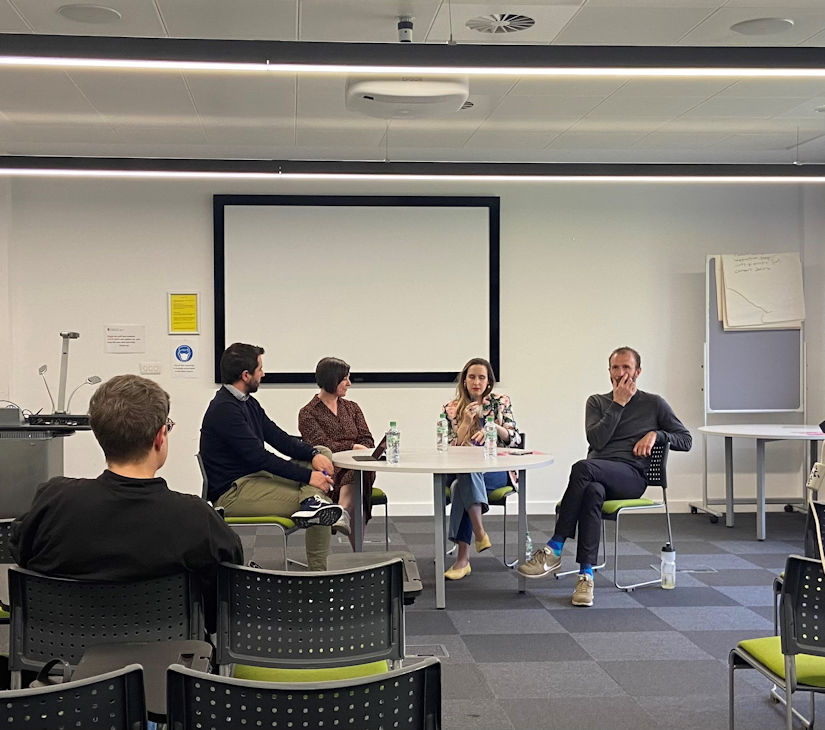 Policy and social change: is it possible to efficiently regulate global supply chains?'round table. With Prof Jo Meehan (ULMS), Sophie Benson (freelance journalist) and Dr Mark Sumner (University of Leeds), facilitated by Jose Gonzalez (PhD student at Cranfield University and innovation expert)
With another successful LFS event now complete, Julia relayed some of the positive feedback she received: "one attendee mentioned she learnt many things about the impact of the fashion industry and that this would influence her behaviours in the future. Several speakers also fed back and agreed that new collaborations and partnerships (especially between academics and the third sector) would start from the conversations held during the event."
"This feedback highlights the importance of these events both as knowledge exchange platforms, catalysts of new collaborations and sources of information for individuals, which has been the goals of LFS from the beginning," concludes Julia.
Supporting the University in its commitment to the United Nations Sustainable Development Goals (UN SDGs), Liverpool Fashion Summit aligns itself with four of these benchmarks:
UN SDG 8, Decent work and Economic growth: Modern slavery was a key topic at this year's Summit, with speakers including academics from a number of UK universities plus industry experts, from organisations such as Oxfam
UN SDG 12 & 13, Responsible Consumption and Production, and Climate Action: The Summit discusses sustainability and the ways a circular economy could provide solutions to current issues.
UN SDG 17, Partnerships for the Goals: Look at some of the great example of how Liverpool Fashion summit's partnerships can lead to positive change: