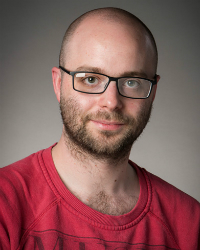 Dr
Phillip
Brooker
Lecturer in Sociology
Sociology, Social Policy and Criminology
About
Personal Statement
Though grounded in sociology, my research and teaching interests lie across a range of interdisciplinary fields, including:

* Ethnomethodology and Conversation Analysis (inc . Video Methods/Analysis)
* Ordinary Language Philosophy
* The Philosophy of Mind
* Science and Technology Studies (STS)
* The Philosophy and Sociology of Science/Knowledge
* Social Media Analytics
* Computer-Supported Cooperative Work (CSCW)
* Human-Computer Interaction (HCI)
* Digital Social Science Methods
* Programming as Social Science (PaSS)

In a broad sense, my research is unified by a focus on social and collaborative computing and software development/usage. This is reflected in the various domains my work has cut across throughout my academic career. For instance, my thesis was a video-aided ethnomethodological study of the use of programming languages in astrophysics and electrical engineering.

After completing my thesis, I contributed to the development and testing of a software package for facilitating social science research work involving Twitter data - Chorus (www.chorusanalytics.co.uk). I have since gone on to use Chorus software in the undertaking of various social science research projects in the burgeoning field of Social Media Analytics, investigating topics as diverse as accounts of cystic fibrosis sufferers, user-experiences of blood glucose monitoring devices and the use of 'racialised hashtags' in online discrimination. Through this work I have been able to contribute to the development of innovative methods and methodologies for doing Social Media Analytics.

More recently, I have worked on various projects in and around online interactions (typically those which perpetuate on social media) which result in 'cultures of fear' and the stigmatisation of social groups. As part of this work I have contributed to publications and to the development of 'critical software interventions' that address such topics as poverty porn and class stigma, weight stigma, far-right politics, and 'fake news'.

Going forward, I am currently working to explore the potential for computer programming (specifically in Python) to feature in core social science research methods training, paying particular regard to how programming can be applied in social science research involving digital data. To this end, I co-convene (with Dr. Jonathan Gray, King's College London) the PaSS (Programming-as-Social-Science) mailing list/network of researchers interested in computer programming as a subject and methodological tool for social research and teaching (www.jiscmail.ac.uk/PaSS), I have contributed to the design and development of a SAGE Campus online course on "Introduction to Python for Social Scientists" (http://bit.ly/2vRUwMH) and I have a textbook currently in preparation with SAGE Publications Ltd entitled "Programming with Python for Social Scientists".