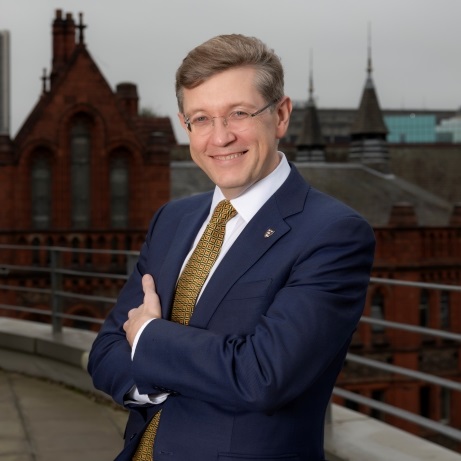 Professor
Iain
Buchan
MD FFPH FACMI FFCI
Chair in Public Health and Clinical Informatics, and Associate Pro Vice Chancellor for Innovation
Public Health, Policy & Systems
About
Personal Statement
Iain Buchan is a leading scientist and innovator working to better harness data for patients and populations.

As Chair in Public Health and Clinical Informatics at the University of Liverpool, and founding Executive Dean of its Institute of Population Health, has he led data-intensive research to address major societal challenges, most recently the COVID-19 pandemic. As Associate Pro Vice Chancellor for Innovation he is now leading strategic projects and partnerships between the University, NHS, local government and industry partners.

Iain trained in medicine in the 1980s, intercalating in pharmacology and writing statistical software. As a junior doctor in the 1990s he also pursued research into care pathways, health system dynamics and care inequities. He then trained as a public health consultant while researching medical informatics and competing doctoral studies in computational statistics.

From 2003-17, he built one of the UK's most successful health informatics research groups at the University of Manchester, attracting over £150m in grants, an MRC centre (Health e-Research Centre) and the forerunner of the UK's national health data research organisation. In 2017/18 he took a year out with Microsoft Research envisioning how artificial intelligence might transform self, clinical and population healthcare. Since 2019, he has led Liverpool's Institute of Population Health, attracted over £30m investment into the academic health system, and delivered world-leading urgent evidence to inform Covid-19 pandemic policies.

Ahead of the pandemic, he proposed a 'National Grid of Civic Data Cooperatives' as a blueprint for data-driven, distributed resilience of regional integrated health & care systems. A concept he then fast-tracked in response to Covid-19 as Combined Intelligence for Population Health Action (CIPHA), delivering: the world's first understanding of voluntary, open-access rapid antigen testing for people without symptoms of Covid-19; the first reopening of mass events in the Northern Hemisphere with effective, data-driven health protection; and a wide range of intelligence-led Covid-recovery activities.

Often described as visionary, he has been building digital tools for integrated care systems since the early 1990s. He originated the Connected Health Cities project and drove the #DataSavesLives movement, paving the way for the data-sharing now needed to advanced health security and form integrated care systems capable of borrowing strength as a network. He conceived e-Labs and Research Objects, which computer science colleagues realised in bioinformatics, and which led to Trusted Research Environments in healthcare. To advance clinical trials informatics, he conceived patented methods and co-founded the NW eHealth spin-out. He conceived the health avatar for interactive predictive healthcare and drives a network of methodology to help advance predictive care for patients and populations on near-real-time data infrastructure such as CIPHA.nhs.uk.

He drives interdisciplinary problem-solving: e.g., biostatistical and machine learning approaches for discovering disease endotypes, with notable discoveries before the methodology mainstreamed. He pursues social epidemiology, with notable papers on England's geographical disparities in wealth, mortality, morbidity, and public investment. He is using CIPHA to shift from just describing inequality to programming equity.

Iain is currently working on digital/connected mental health, the Wellcome Trust Children Growing up in Liverpool birth cohort, and actionable analytics for integrated care systems, including medicines optimisation AIs and programmable equity in waiting lists and hospital discharge plans.

Iain is a Fellow of the Faculty of Public Health, the American College of Medical Informatics, and the Faculty of Clinical Informatics among other multi-professional links and NIHR Senior Investigator.