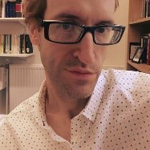 Dr
Andrew
Crines
BA, PhD, FHEA, FRHistS
Senior Lecturer (Associate Professor) of British Politics
Politics
Biography
Personal Statement
I joined the Department of Politics as a Lecturer in British Politics in September 2015 and was then promoted to Senior Lecturer (Associate Professor) in October 2018. Prior to joining I was a Research Fellow at the University of Leeds in Rhetoric and Oratory. I completed my PhD at the University of Huddersfield in 2011 under the supervision of Emeritus Professor of British Politics, Brendan Evans.

In 2017 I won the Political Studies Association (Richard Rose) Prize for making a distinctive contribution towards the study of British Politics. My research has appeared in world leading international journals such as 'The Journal of Common Market Studies', 'Parliamentary Affairs', 'The British Journal of Politics and International Relations', and 'British Politics', amongst others. I have also (co)-authored a number of books and edited collections for on the subjects of oratory and rhetoric in British and US politics for Palgrave, Manchester University Press, and Biteback.

Also (with Prof Bruce Gibson and Dr David Jeffery) I am a Co-Director of the recently launched Network for the Interface of Classics and Politics based here at Liverpool. The Network investigates the relationship between the ancient world, modern politics and international studies, broadly defined. I am also the co-convenor (with Tim Heppell, Leeds) of the PSA Politics and History Group; I am a Fellow of the Royal Historical Society; and also a Fellow of the HEA having completed a qualification in Professional Higher Education Practice.

In the Department of Politics I am the DIrector of Studies (Curriculum Lead). I am also responsible for a number of initiatives such as the Student Mentoring Scheme, Peer Observation, and politics curriculum developments. Within the School I am also HLC Lead for Assessments. I am also the Module Leader for POLI252 Political Communication and Public Speaking (starting September 2019) and POLI323 Rhetoric in British Politics.

I regularly provide interviews for national and international broadcast media and I also tweet at @AndrewCrines.

I am enthusiastic to supervise promising doctoral candidates in the areas of British politics; oratory/rhetoric (broadly defined and applied); party leadership and ideology; parliamentary studies. Please contact me to discuss any research plans you may like me to supervise.



Personal Distinctions
Richard Rose Prize 2017 (Political Studies Association 2017)
Public Lecture (Invitation to Speak, Liverpool Museum 2017)
Learning and Teaching Team Award (University of Liverpool 2017)
Europe & the World: Contribution to Public Engagement (University of Liverpool 2016)
Administrative Roles
Director of Studies (Undergraduate)
Student Mentoring Scheme Co-ordinator
Co-Director of the Network for the Interface of Classics and Politics
HLC Assessment Lead
Co-convenor of the Political Studies Association Politics and History Group
---