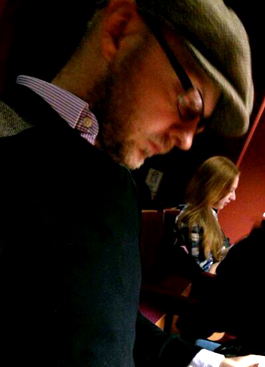 Professor
Kenneth
Smith
PhD
Professor of Music Theory
Music
About
Personal Statement
Kenneth has worked at Liverpool since 2011 after holding posts at Keele and Durham (where he completed his PhD in 2009). His first book, Skryabin, Philosophy and the Music of Desire (Routledge) was published early in 2013, followed in 2020 with Desire in Chromatic Harmony (Oxford University Press), which is a psychological model of twentieth century harmony that examines works by a range of composers, setting these into theoretical and philosophical contexts. A third book, co-written with Dr Stephen Overy, is entitled Listening to the Unconscious: Adventures in Popular Music and Psychoanalysis (Bloomsbury, 2023).

Kenneth has published essays in music journals on twentieth century music theory and analysis in both classical and popular repertoires, and has edited two books - The Routledge Companion to Popular Music Analysis and Demystifying Scriabin.

Current and future projects include: a book on the operas of Franz Schreker (co-authored with Dr Annika Forkert), a major article on 'Extended harmony in Thundercat' (with Dr Richard Worth), and a future book project on Autopoiesis in Musical Form.

Kenneth is currently President of the Society of Music Analysis. He co-organised the popMAC conference at Liverpool in 2014, the RMA2017 conference in Liverpool, and assists with running conferences and colloquia with the SMA, EuroT&AM throughout the year. He hosts weekly Music Theory Colloquia on Zoom Music Theory Colloquia between Liverpool and the University of Georgia in Athens (all are welcome to join-in!).