COVID-19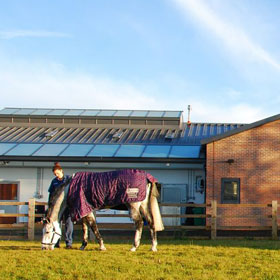 Coronavirus Update – 28th July 2021
The Leahurst Equine Practice continues to provide veterinary services and to teach veterinary students on clinical rotations. We are operating as per the University of Liverpool's COVID policies and risk assessments. This means that there are a few extra steps that we carry out, even though the government has relaxed some of the COVID restrictions.
We politely ask clients to continue wearing mask wherever possible.
What the risk assessment means
When you call us, we will perform a risk assessment for your particular case. Please do not be put off by this – we are performing risk assessments for all cases and as part of this you will be asked questions about your health and about your horse's behaviour around vets.
The main features are:
We will ask you to be at least 2 metres away from us at all times and will ask you to wear a face covering unless you are medically exempt.
Only one person should be presenting the horse to us.
That person must not be ill (no cough, fever or loss of the sense of taste or smell) and must not be isolating or shielding (over 70, pregnant or had a letter from the NHS telling you to shield yourself).
We need to know of any behavioural quirks your horse might have so we can distance safely.
For many cases, we will be able to safely employ social distancing measures by you leaving your horse in a stable or tying the horse up and stepping back 2 metres and we can proceed with examination and treatment as necessary. We will have two vets available to assist in cases where it is necessary for additional restraint or help, and particularly for your safety in cases where it might be difficult to ensure social distancing.
For all cases it is imperative that you inform us IMMEDIATELY if you, or anyone in close contact with you, has been unwell over the last 7-14 days. 
Our vets may call you before your appointment to obtain further information about your horse and obtain a clinical history. This is to reduce the amount of time they are in close contact with you on the yard. Please ensure you provide a correct mobile number when booking your appointment and have your mobile switched on and be ready to answer a call the day of your appointment.
We will continue to offer a video consultation service for mild conditions (e.g., skin lumps) and for repeat prescription checks, wherever possible. This service will be charged at a consultation fee. Please call the office if you wish to book a video consultation. 
Please remember that we are a teaching practice and our students will attend select calls with us. Both students and staff are undergoing regular (minimum twice weekly) COVID testing and have PPE in place. Please inform us at the time of booking if you have any concerns.
 
As per our previous post, please do not be offended if we do not shake your hand as we normally would! Please offer hand washing facilities to our vets if they are available on yard. 
BEVA have also produced some handy videos to help horse owners - please see this link for more information.