COVID-19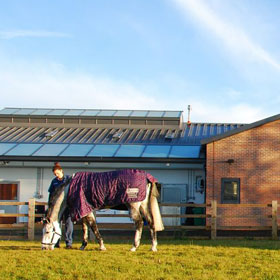 Coronavirus Update – 1st March 2021
The Leahurst Equine Practice continues to provide veterinary services to safeguard animal health and welfare in accordance with guidance by the RCVS, the British Equine Veterinary Association (BEVA) and the British Veterinary Association (BVA) and we are regularly reviewing any updates in the guidance.
BEVA's current advice is that no equine veterinary procedure is automatically "off limits". As such, we are currently increasing the services we provide as we work towards the "new normal" but we will continue to take steps to ensure the safety of all of our staff, clients, their horses and the population as a whole. 
This means... 
Every individual visit / procedure will be risk assessed
Where the risks (to physical safety and/or disease transmission) can be sufficiently minimised by taking simple safety measures, the visit/procedure can go ahead provided that these measures are applied
Where the risks (to physical safety and/or disease transmission) cannot be sufficiently reduced, the visit/procedure should not go ahead, and alternative plans should be made 
What the risk assessment means
When you call us, we will perform a risk assessment for your particular case. Please do not be put off by this – we are performing risk assessments for all cases and as part of this you will be asked questions about your health and about your horse's behaviour around vets.
The main features are:
We will ask you to be at least 2 metres away from us at all times and will ask you to wear a face covering unless you are medically exempt.
Only one person should be presenting the horse to us.
That person must not be ill (no cough, fever or loss of the sense of taste or smell) and must not be isolating or shielding (over 70, pregnant or had a letter from the NHS telling you to shield yourself).
We need to know of any behavioural quirks your horse might have so we can distance safely.
For many cases, we will be able to safely employ social distancing measures by you leaving your horse in a stable or tying the horse up and stepping back 2 metres and we can proceed with examination and treatment as necessary. We will have two vets available to assist in cases where it is necessary for additional restraint or help, and particularly for your safety in cases where it might be difficult to ensure social distancing.
For all cases it is imperative that you inform us IMMEDIATELY if you, or anyone in close contact with you, has been unwell over the last 7-14 days. 
Our vets may call you before your appointment to obtain further information about your horse and obtain a clinical history. This is to reduce the amount of time they are in close contact with you on the yard. Please ensure you provide a correct mobile number when booking your appointment and have your mobile switched on and be ready to answer a call the day of your appointment.
We will continue to offer a video consultation service for mild conditions (e.g., skin lumps) and for repeat prescription checks, wherever possible. This service will be charged at a consultation fee. Please call the office if you wish to book a video consultation. 
Please remember that we are a teaching practice and our students will attend select calls with us. Both students and staff are undergoing regular (every 72 hours) COVID testing and have PPE in place. Please inform us at the time of booking if you have any concerns.
 
As per our previous post, please do not be offended if we do not shake your hand as we normally would! Please offer hand washing facilities to our vets if they are available on yard. 
BEVA have also produced some handy videos to help horse owners - please see this link for more information.
Vaccinations during COVID-19
Many of you will have concerns about whether you need to restart a primary course and the cost or restarting vaccination courses. Please call us and we can advise on the best options for you and your horse.
To summarise,
We will be performing annual and 6-monthly influenza and tetanus vaccinations, as well as primary (new) vaccination courses. Please call reception to book your horse in.
We will be performing all routine work following a risk assessment of each individual case to ensure this can be done safely.
"While you're here…" Although we would normally be happy to provide additional examinations or vaccinations to our clients whilst on their yard visiting another horse, we are currently unable to do this as our vets must perform a risk assessment PRIOR to attending the call.
Please be aware that although we are available to help your horse in all cases where this can be done safely, there may still be some delays or last minute changes in appointments due to the fact that some procedures will take longer and some procedures will require both our duty vets at the same time. Because of this, you may have to wait longer than usual for an appointment for routine calls. Please bear with us and our reception team who will ensure you are looked after as soon as we can safely do so.