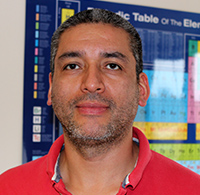 Dr
Jesus Enrique
Salcedo Sora
M.D., Ph.D.
Post-Doctoral Research Associate
Liverpool Shared Research Facilities
About
Personal Statement
I obtained a medical degree and a master of science in Biochemistry from the National University of Colombia. Later on I was awarded a scholarship to undertake a PhD in applied molecular genomics at The University of Manchester. I then spent the next four years as a Wellcome Trust International Fellow in Tropical Medicine at the University Militar "Nueva Granada", Colombia, before joining the Molecular and Parasitology Group at the Liverpool School of Tropical Medicine. I was later appointed Lecturer in Microbiology in the School of Health Sciences of Liverpool Hope University. I have now moved to the University of Liverpool Institute for Integrative Biology.

I am currently studying phenotypes associated to cell growth rate variability in microorganisms. This underpins phenomena such as dormancy, persistence to environmental stress (antibiotic persistence and resistance), and cellular senescence (ageing). Although there are clearly mechanistic processes that carry out programmed growth physiology, at individual cellular level the fluctuation of phenotypic outcomes (cell size, cytoplasmic and membrane composition) is ultimately stochastic. Thus, we are applying a system biology data-driven approach to construct a framework that could facilitate our understanding of how microbial cell growth allows survival under unpredictable environments without sacrificing reproduction.