World Refill Day: Don't bin it, refill it
Posted on: 9 June 2023 in Issue 6
The University of Liverpool is celebrating World Refill Day on the 16th June by highlighting all of the refill opportunities and initiatives on campus and supporting staff and students to prevent plastic pollution and reduce waste.
As an institution responsible for educating the leaders of tomorrow, the University of Liverpool is working to establish a robust culture of reuse. Taking this step is also key to achieving our target of halving the amount of avoidable domestic waste sent to energy from waste facilities by 2025.
Leading the Way
To promote awareness of the refill options on offer, the University has listed all publicly-facing catering venues and libraries on the Refill app, including details of what can be refilled in each location. This enables individuals on our campus to search for the nearest place to refill based on their location at any time.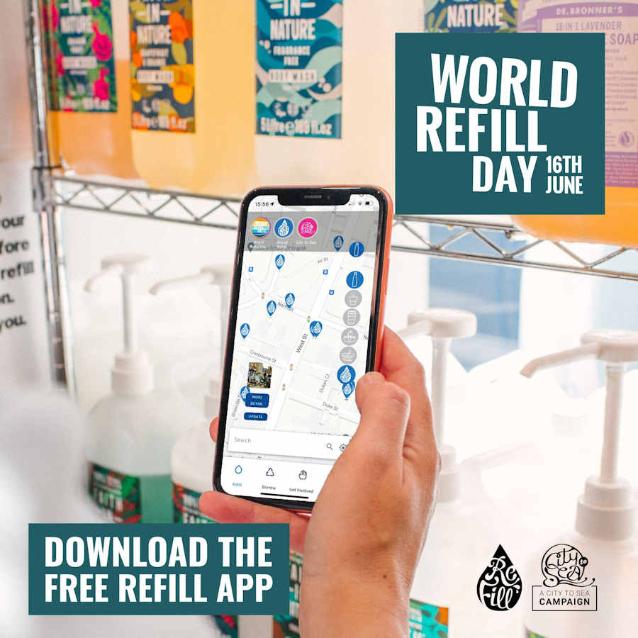 Complementing this, the Facilities, Residential and Commercial Services department have been busy mapping all internal water fountains available to our students and staff. Not only is this a useful tool for helping to promote awareness, but the information gathered is also being used to identify areas in need of refill solutions and for planning works to swap stand-alone water coolers for plumbed-in fountains, reducing the need for replacement cooler bottles.
The following venues are now registered on the Refill app, detailing how you can refill your own bottles, cups and containers:
Sydney Jones Library Cafe
Bio Science Cafe
Chemistry Cafe
Management School Cafe
Law and Social Justice Cafe
Leahurst Café
Contactless Refill
Earlier this year, the University took important steps to promote a culture of reuse and refill on campus. To address health and safety concerns post-pandemic, contactless refill training was rolled out for reusable cups, takeaway containers and water bottles. This is a simple process whereby customers remove lids themselves and place their reusables on a wipe-clean surface, ready to be refilled without the need for direct handling by staff.
Throughout the year, everyone can enjoy a 10p discount at our coffee outlets when using a reusable cup, and hot and cold water refills are available for free.
Top refill tips
'Going plastic free and opting to refill does take a little extra organisation and preparedness, but if you persevere it eventually becomes second nature and part of your daily routine.' Alex Preugschat, Sustainability Officer
'One of the challenges of refill is the hassle of carrying around bulky reusable items, so I tend to opt for compact, collapsible solutions that take up little space when not in use.' Rhiannon Hunt, Circular Economy Manager
'Downloading the Refill app is free and it lets me find nearby locations where I can refill my water bottle on the go, wherever I am.' Sam Hay, Waste and Recycling Officer
'When using zero waste shops, remember you can use any container, provided its clean and dry. Wash out and reuse biscuit tins, sauce jars and plastic takeaway containers to save on the cost of Tupperware.' Kate Sisodia, Sustainability Comms & Engagement Officer
'Many outlets will provide a discount when using a reusable coffee cup, which is a great way to reduce waste and save money.' Tom Weldon, Sustainability Officer
Competition time! #ChooseToReuse
Throughout the week leading up to World Refill Day the Environmental Sustainability Team will be running a competition, asking students and staff to share photos of their refill experience on campus for their chance to win a refill gift pack.
We're asking students and staff share photos on social media, or via email, using their reusable bottle, cup or container on campus and tagging us on instagram using the hashtag #choosetoreuse for a chance to win a refill gift pack from zero waste shop, Friendly Turtle. The refill pack contains the everyday essentials for sustainable living, including a Two Tier Lunch Box, Reusable Coffee Cup and Glass Water Bottle.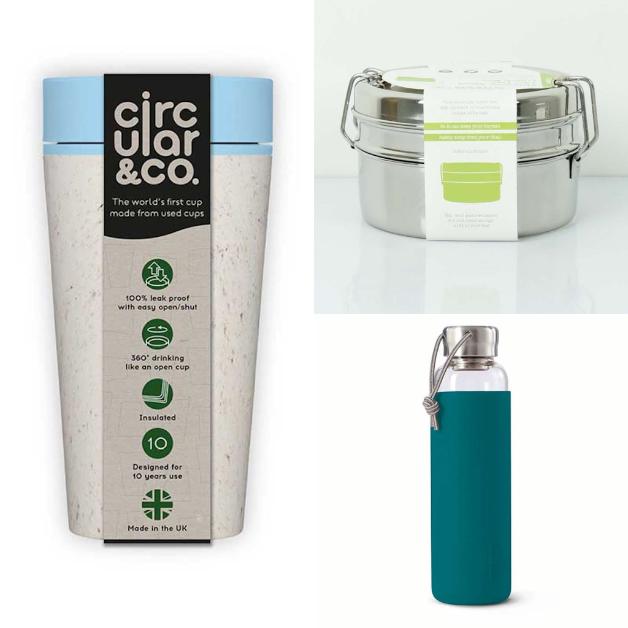 To enter, simply post your image* of you using your reusable cups, bottles and containers on campus and tag @livunisustainability using the hashtag #choosetoreuse or email your submission to sustainability@liverpool.ac.uk. The deadline for submissions is Monday 19th June 2023 at 9am. The winner will be chosen at random and will be announced shortly after.
The competition is open to all University of Liverpool staff and students.
We look forward to seeing your posts!

Terms and conditions
Entrants can enter a maximum of three images.
The theme of the competition is World Refill Day.
This competition closes Monday 19th June 2023 at 9am.
Entries should be uploaded to Instagram grid on stories and tagged @livunisustainability or emailed to sustainability@liverpool.ac.uk.
Entries must be saved as JPEG files. Please ensure images are of maximum possible resolution and quality.
All entries must be the original work of the entrant. The entrants must be the sole owner of copyright of all photographs entered and must have obtained permission of anyone featured in the entries or their parents/guardians if children under 16. Entrants must not have breached any laws when taking their photographs.
UoL reserves the right to ask to see original files of any entries.
Entrants will retain copyright to the photographs that they submit. By entering the competition all entrants grant UoL royalty-free non-exclusive licence for publication and exhibition of their photographs in print, on websites or in any other media. No fees will be payable for any of the above uses. While we make every effort to credit photographers, we cannot guarantee that every use of the photographs will include photographers' name.
Prize winners will need to submit their name, address to receive prizes.
By entering, entrants will be deemed to have agreed to be bound by these rules.
Images that are deemed to be inappropriate or in breach of these terms will be disqualified from the competition. This includes images that may be offensive, previously published, copyrighted (by somebody other than the entrant) or otherwise contrary to the spirit of the competition.
UoL sustainability team reserves the right to amend these rules at any time.