Vote with your butt!
Posted on: 9 June 2023 in Issue 6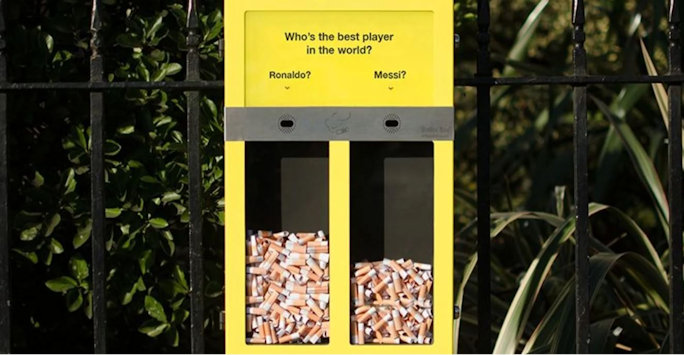 The University of Liverpool has launched a pilot of three new, interactive Ballot Bins in a bid to tackle cigarette litter on campus.
In the UK, 66% of all littered items are cigarette butts, as a staggering 87% of butts are disposed of on the ground with only 13% making it into a bin (Keep Britain Tidy, 2023). This presents a number of environmental challenges. Despite common misconceptions, cigarette butts are not readily biodegradable, with many containing plastics, which break down into polluting microplastics within the environment. As cigarettes contain a variety of toxic chemicals, they also pose a risk to wildlife and ecosystems. Additionally, cigarette butt litter looks untidy and can block drains, incurring additional maintenance costs, so be sure to vote with your butt and stamp out cigarette litter on campus.
Ballot Bin pilot
The bright yellow Ballot Bins, designed by sustainability charity, Hubbub, in collaboration with design and technology studio, Common Works, are proven to reduce cigarette litter by 46%. Through an interactive interface, smokers are encouraged to vote on polls and answer questions by depositing their butts in the corresponding bin slot. The polls and questions are written in magnetic letters, and can therefore be updated according to topical themes to keep things interesting.
As part of the pilot, Ballot Bins have been installed in the following locations:
Sydney Jones Library
The Management School
University Place
The impact on litter will be monitored over the coming months and further bins procured accordingly.
What about vapes?
We acknowledge that an increasing proportion of smokers are using vapes, including disposable varieties. These should never be disposed of in general waste bins, as they contain highly flammable lithium batteries, which can spark fires if damaged, faulty or punctured. The Sustainability Team are working to install dedicated vape collection bins in a number of locations across the campus. In the meantime, search for your nearest vape recycling point here.
Smoking (including vaping) is banned in all enclosed public spaces in England including bars, pubs and restaurants, public transport, in some public spaces such as train stations, and the vast majority of hotel rooms. Unless you are in your own home or your own vehicle, or in the middle of a wide-open space, your safest option is to assume that smoking is illegal.
Looking to quit smoking?
If you need support with quitting smoking or vaping, help is available for free via the NHS. Simply search for your local Stop Smoking Service here.