Veg out on this! Supporting Vegetarian Week
Posted on: 16 May 2023 in Issue 5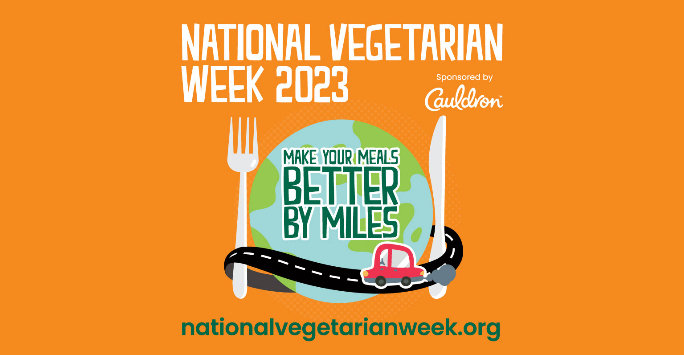 Whether for the environment or other reasons, May is a great time to try vibrant, vegetarian options as part of National Vegetarian Week 2023. The University has a variety of vegetarian and plant-based items to choose from in the cafes and restaurants across campus.
National Vegetarian Week is a UK-wide initiative running from the 15th to the 21st May 2023, challenging individuals, families and organisations to try eating a more plant-based diet. It is run by the Vegetarian Society, sponsored by Cauldron and is supported by well-known public figures, from Sir Paul McCartney to Delia Smith.
Environmental Benefits of a Vegetarian Diet
There's no denying that the consumption of meat is associated with greater CO2e emissions compared to most fruits, vegetables, grains and pulses. This is the result of a number of factors, from land-use change and farming processes, to the direct expulsion of greenhouse gases, such as methane, through their normal bodily functions. Of meat options, chicken and pork tend to have the lowest impact, followed by dairy products and lamb, with beef almost always the most carbon intensive (Energy Saving Trust, 2022). In line with this, the Climate Change Committee (2022) has recommended that the UK reduces meat and dairy consumption by 20% by 2030 and by 35% by 2050, instead opting for a plant-rich diet with smaller quantities of higher quality meat and dairy.
To demonstrate the difference opting for vegetarian alternatives can make, we ran our Campus Food & Drink Veg Fully Loaded Burrito and Beef Fully Loaded Burrito through a carbon calculator. The Beef racked up around 4.2kg CO2e – nearly 2.5 times that of the Veg at 1.7kg CO2e. This just goes to show that making small changes to daily choices can add up!
View this post on Instagram
Reducing meat consumption can also help to free agricultural land used for pasture, returning this to natural habitats, such as woodland and peat bog, which sequester (capture) carbon from the atmosphere, acting as carbon sinks. It is estimated that rewilding 9% of agricultural land by 2035 and 21% by 2050 is required if we are to achieve NetZero (Climate Change Committee, 2022). In addition to carbon savings, this can also help boost biodiversity and support the reestablishment of habitats necessary for the repopulation of endangered species.
Whether opting for a permanent switch, a week-long challenge or trying out one or two vegetarian dishes, it all contributes towards a more positive future for our planet. Beyond the environmental benefits, there are also additional benefits to be had by making the switch, from cost savings afforded by replacing meat with cheaper protein, such as legumes, mushrooms and eggs, to health improvements by reducing saturated fat intake and focusing on getting your 5 fruits and vegetables a day.
The University of Liverpool Campus Food & Drink, is proud to support National Vegetarian Week, with:
Vegetarian options making up 50% of menu items in Vine Court and The Guild
Reduced prices on the vegan bean burger, halloumi wrap, falafel wrap, halloumi fries and vegan nuggets at the Sphinx
The beet bun, chickpea dahl, and vegetarian quiche available in the Victoria Gallery and Museum
In addition to opting for vegetarian and plant-based menu options, remember there are further ways to help the environment through sustainable food choices, whether reducing food waste, sourcing food locally and opting for minimal packaging or packaging-free options.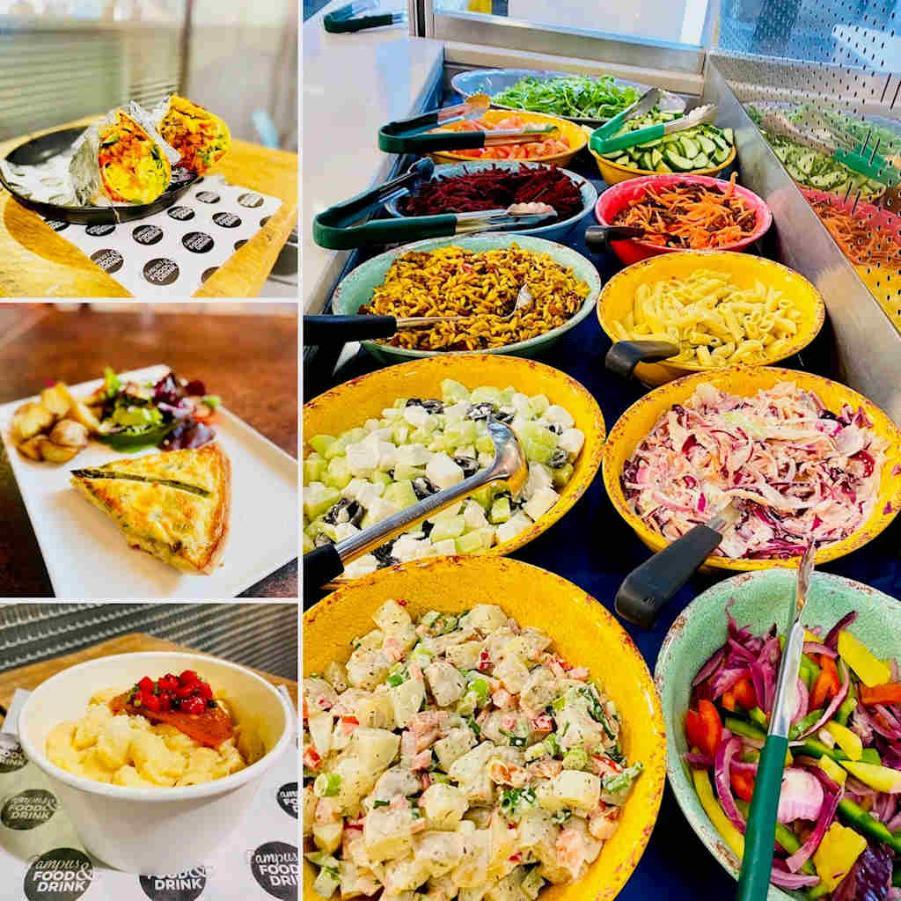 Campus Food & Drink Vegetarian options, including the Fully Loaded Veg Burrito
Some of our colleagues are already making changes to their events, recently the Guild held their Annual Guild Awards and the food menu offering was entirely vegan, with the option to swap the vegan main for a meat main. The University's Centre for Sustainable Business host regular conferences and events and make catering as sustainable as possible by providing vegan and vegetarian options only. They also use only locally sourced foods, provide whole fruits that will not be wasted, there's no paper or plastic cups/cutlery and guests are encouraged to bring their own water bottle and food container so they can take any left over food home.
Find out more
To get involved with National Vegetarian Week and access a range of tips and recipes, visit www.nationalvegetarianweek.org.
For more information about Campus Food & Drink visit www.liverpool.ac.uk/food-and-drink
Join the Guild of Students Vegan Society , which offers a community of like-minded people when it comes to the pressing issue of animal rights. Join in with social events and meet ups, as well as any activism you wish to partake in!