Student-focused sustainability
Posted on: 29 November 2022 in Issue 4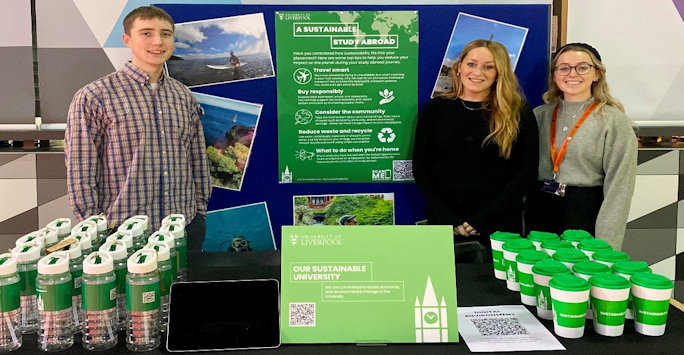 The Sustainability Team has been out and about talking to students at both the University and further afield, spreading the sustainable message and encouraging students to think about how they can act to help save our planet. We caught up with the Sustainability Team to find out what they have been up to.
Sustainable study abroad
The team took part in Global Opportunities Week to help students make more sustainable travel choices when considering their study abroad options. Over 150 students visited the sustainability stand, getting top tips on how they can lower their carbon footprint while abroad plus of course, the usual sustainable freebies, which went down a treat.
"It's great that the University offers such amazing locations for students to visit and study in during their degrees. Our role at the event was to raise awareness about the impact travelling can have on the planet, and what students can do to mitigate this during their time abroad," says Sian Fairhurst, Net Zero Carbon 2035 Project Manager. "We weren't there to deter students, but to inform them about ways they can lower their carbon footprint and how they can give back to the communities they would be living in, by really embedding themselves in the culture."
Along with the top travel tips, the team talked about the impact different modes of transport have on the planet. Students were encouraged to input their journey into a carbon calculator, to see how many metric tonnes of carbon would be emitted from their flights.
"We know travelling by plane is often the most cost effective and convenient mode of transport, but we wanted students to realise what this means for the planet," explains Kate Sisodia, Sustainability Communications and Engagement Officer. "Students were shocked by the amount of carbon generated by a flight to Australia or Canada for example, but then they were very receptive to the advice we gave them regarding ways they can 'offset' this further down the line."
Kate continues: "It was a very positive day and I feel as though all the students we interacted with came away with new information, and many said they would try to embed the tips we suggested to them during their study abroad."
Outreach matters
The Team also visited Cronton Sixth Form College as part of their 'Green Week'. Set up in the foyer over a Wednesday lunchtime, the Team asked the sixth-formers to answer the question, 'What does sustainability mean to you?'.
Out of the 80+ answers received, one comment in particular stood out to the Team: 'Meeting the needs of today, without compromising the needs of the future'.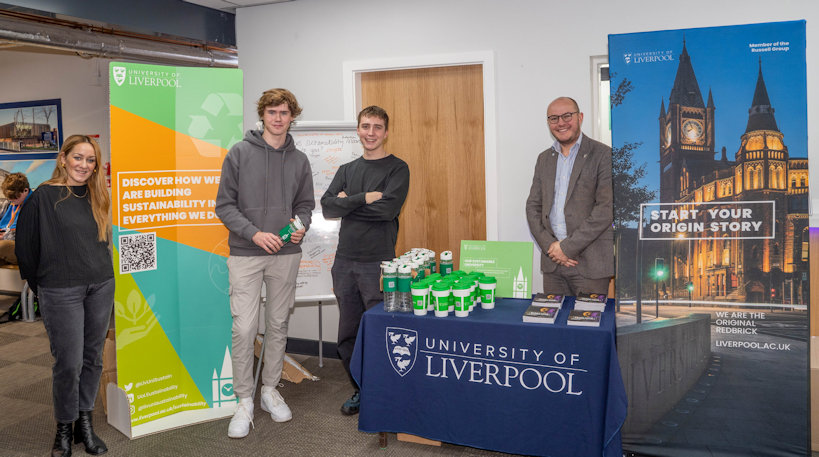 Kate Sisodia, Sustainability Communications and Engagement Officer, Joe Bardsley, Communications and Engagement Assistant and Kieran O'Sullivan, UK Recruitment Manager with a student at Cronton Sixth Form College for Green Week
"It was fantastic to see students thinking about how their actions can impact the planet, and we really enjoyed discussing sustainability at the University of Liverpool and what undergraduate courses are on offer," says Kate. "We can't wait to be back Cronton College, and hope they enjoyed the rest of their Sustainability Week."
Get involved:
The Team has lots of exciting things planned for the new year, including Sustainability Week in February 2023. If you have any suggestions or ideas for the event, please email: sustainability@liverpool.ac.uk