Top tips for reducing waste at Christmas
Posted on: 19 December 2022 in Issue 4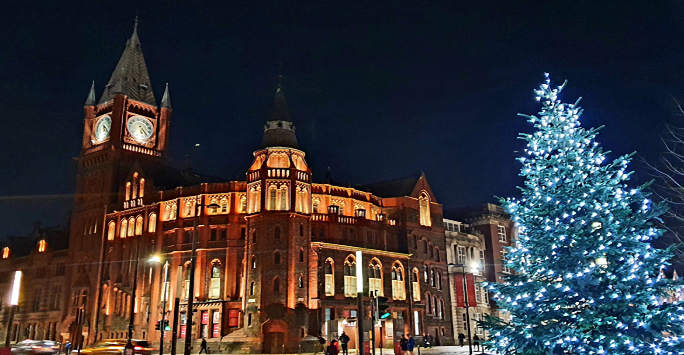 From cardboard and wrapping paper, to food and plastic packaging, the Christmas period can generate a significant amount of waste.
Around 114,000 tonnes of plastic packaging will be thrown away and not recycled in the UK this Christmas, as well as 300,000 tonnes of carboard packaging used. Even more staggering, is the amount of food that will be wasted. In the UK, we waste 5 million Christmas puddings, 2 million turkeys, and 74 million mince pies every year. Of all the purchases made for Christmas in the UK, only 1% will remain in use six months after the festivities have ended.
Below are some top tips on how to minimise our waste and environmental impact this Christmas.
Make sure perishable food is consumed or taken with you if you are leaving for the holidays. Unopened dried foods, tins and jars can be dropped off at one of the Fareshare drop-off points across campus.
Use recyclable wrapping paper where possible. Remember if it's got foil or glitter on it then it can't be recycled and could contain plastic.
Reuse and reinvent your leftovers. Love Food Hate Waste have various creative recipes and ideas for how to make your Christmas leftovers go further.
Check your local Council website to see what items you can recycle, and to double check when your Christmas collections are. Visit Bin collection dates - Liverpool City Council
Reuse paper, card and gift tags for next year or simply save the materials for crafting.
If you have received an unwanted gift, don't just throw it away. Think about donating it to charity, or even regift it where appropriate.
All of those new toys and gadgets that are gifted over Christmas means more batteries to dispose of. Lithium-ion batteries can explode if damaged or crushed, and contribute to around 700 fires every year in bin waggons and waste facilities. They should not be thrown away within your general waste, and should be recycled separately. Many shops and supermarkets have recycling bins for your batteries, and you can find out your local facility by visiting Batteries | Recycle Now
Soft plastics are the packaging that you can't normally put out with your household recycling. This can include crisp packets, salad bags, biscuit wrappers and bread bags. Whilst it's best to try and avoid this packaging altogether, that isn't always possible. The good news is that soft plastic recycling points can often now be found in your local supermarket. You can find your local participating store by visiting Local recycling | Recycle Now
Did you know you can recycle your real Christmas tree? Councils will often have drop-off points for you to take your tree, or your local tip might accept your old tree. Christmas tree recycling - Liverpool City Council
Find out how the University will reduce its waste by 50% and embed a circular economy across all operations here.