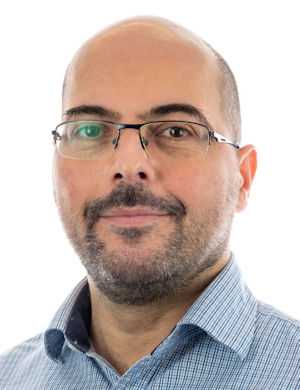 Professor
Constantinos
Andreopoulos
BSc(Hons), MSc, PhD, MInstP, FHEA
Professor in Experimental Particle Physics
Physics
Research
Research Overview
"My research is focussed on accelerator-based neutrino physics and, in particular, on the experimental study of neutrino flavour oscillations. I perform high-precision measurements of neutrino mixing in order to establish the possible existence of leptonic charge-parity (CP) invariance violation and to identify its origin. I also aim to uncover possible new discrete symmetries of lepton flavour mixing and understand the connections between the quark and lepton sectors. Finally, I investigate the validity of the established 3-flavour paradigm both through direct experimental searches for new, sterile neutrinos and indirectly, via over-constrained measurement of 3-flavour mixing. I conduct my research on several experiments, maintaining a balanced portfolio that includes running (T2K), near-future (SBN/SBND) and far-future experiments (DUNE/LBNF).
"
Fermilab Short-Baseline Neutrino (SBN) Program physics exploitation
I am centrally involved in preparations for the physics exploitation of the Fermilab Short-Baseline Neutrino (SBN) Program, in particular in the SBN Near Detector (SBND).
I serve as a member of the SBND Executive Committee (2020-present), chair of the SBND Speakers Committee (2019-present), SBND Physics co-Coordinator (2017-present), and as Systematics & Oscillation Sensitivity WG co-Coordinator (2018-present) for the overall SBN programme. I lead the development of a simultaneous sterile neutrino oscillation and systematics constraint fit for SBN, as well as preparations for SBND neutrino cross-section measurements of unprecedented precision.
Comprehensive neutrino interaction modelling and global analysis of neutrino scattering data
I am co-spokesperson of the international GENIE collaboration, and one of the main authors of the well-known GENIE neutrino event generator, as well as of the corresponding global analysis of neutrino scattering data informing GENIE tunes. GENIE performs influential phemomenology research in the boundary between nuclear and particle physics, provides a bridge between theory and measurement, and it is a key ingredient in the exploitation effort of many experiments.
T2K physics exploitation
I am a member of the T2K experiment in Japan where, over the past decade, I performed flagship oscillation measurements. I am founder and coordinator of the VALOR fitting group which, from 2010 to present, has produced over 20 reviewed oscillation physics analyses and it has contributed to 12 published T2K papers, an effort culminating in the 2020 Nature paper on T2K neutrino CP violation constraint.
Research Group Membership
Research Grants
Experimental Particle Physics Consolidated Grant 2019
SCIENCE AND TECHNOLOGY FACILITIES COUNCIL (STFC)
October 2019 - September 2022
PNT using Neutrino Particles
EUROPEAN SPACE AGENCY (FRANCE)
March 2019 - March 2020
Particle Physics Consolidated award
SCIENCE AND TECHNOLOGY FACILITIES COUNCIL (STFC)
October 2015 - September 2019
Research Collaborations
http://www.dunescience.org
https://valor.pp.rl.ac.uk
Costas Andreopoulos, Jaggar Henzerling, Christos Papadopoulos, Jaiden Parlone, Konstantinos Pazalos, Myriam Sarantea
Project:
ML4Cancer
External
: WITSIDE,
A project to develop Deep Learning applications for the diagnosis and prognosis of a number of cancer types.
Costas Andreopoulos, Chris Barry, Ana Cezón Moro, Javier Fidalgo Prieto, Stefano Melis, Claudia Prajanu, Marco Roda, Júlia Tena-Vidal
Project:
POSITRINO
External
: GMV Innovations Ltd
An ESA-funded study, to perform a preliminary exploration of the innovative and disrupting technological concept of Positioning, Navigation and Timing (PNT) applications based on neutrinos.
http://t2k-experiment.org