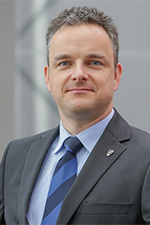 Professor
Carsten
Welsch
Prof Dr
Head of Department
Physics
Research
Research Overview
"My QUASAR Group carries out world-class research in accelerator science and technology. I have been leading large scale national and European research projects in accelerator science and technology for many years.

We are internationally recognized as one of the leading groups in beam instrumentations development, beam dynamics studies for accelerators and light sources, as well as for pursuing a cutting edge programme in accelerator applications with a focus on the medical sector and beam instrumentation. Our research is realized in close collaboration with other Cockcroft Institute (CI) stakeholders, enhanced by the facilities at Daresbury, as well as our collaboration partners from around the world.

Our main research activities are:
- Scientific frontier accelerators & underpinning technologies
- Novel high gradient accelerators
- Applications of accelerators to address global challenges"
Frontier Accelerators

My QUASAR Group is working in partnership with research groups from around the world to design, build and continuously optimize world-class research infrastructures. This includes contributions to the energy frontier machines, in particular the Large Hadron Collider (LHC) at CERN, its High Luminosity upgrade and the Future Circular Collider. We contribute our unique experience in beam instrumentation and beam dynamics (https://www.liverpool.ac.uk/quasar/research/beam-dynamics/) R&D.

We pursue a very broad and interdisciplinary research program into the design of beyond state-of-the-art low energy antimatter research facilities. The QUASAR Group has been leading developments into diagnostics for low energy antimatter beams for many years, including cyrogenic current comparators for nA beams, novel emittance monitors for low energy storage rings, and optical monitors for single shot profile measurements. I was spokesperson of the international FLAIR collaboration between 2015 - 2018 and have coordinated the 4M€ EU-funded research and training network AVA since 2017.

Finally, we collaborate with other Cockcroft Institute partners on the optimization and experimental exploitation of the CLARA accelerators on Daresbury campus.
Novel Accelerators

A significant part of our R&D focuses on novel acceleration techniques. This includes dielectric laser and carbon nanotube (CNT)-based "micro"-accelerators, as well as laser and particle-driven plasma wakefield accelerators. There schemes show immense promise for innovation of affordable and more compact accelerator. ‌

We have successfully proposed enhanced structures for ultra-compact dielectric laser accelerators and novel CNT-based structures. We are working closely with colleagues at PSI and the Erlangen University on experimental tests of these structures.

An alternative approach to reaching very high accelerating gradients is to generate a plasma wake by a high energy proton beam as demonstrated successfully by the AWAKE experiment at CERN. As scientific project manager of AWAKE-UK, I have a key role in planning the UK's contribution to the experiment and am leading work on cutting edge beam diagnostics R&D and plasma simulations.‌

We are also developing diagnostics for laser and beam-driven plasma-accelerated beams within EuPRAXIA. This is a new distributed facility that was admitted to the ESFRI roadmap of key European research infrastructures. Our research helps overcome the significant challenges that high gradient accelerators pose.
Accelerator Applications
My QUASAR Group is carrying out R&D into healthcare technologies that help improve patient treatment.

For example, we are developing non-invasive on-line beam monitor for proton therapy in collaboration with our clinical partners Clatterbridge Cancer Centre (CCC) and CNAO in Italy. More widely, through the coordination of the 4M€ EU-funded Optimization of Medical Accelerators (OMA) project, I help improve proton and ion beam cancer treatment with a large number of international partners.

We also work closely with Adaptix on the design and optimisation of ultra-compact, high resolution x-ray imaging systems. Through detailed Monte Carlo simulations and experimental studies we contribute to the development of beyond state-of-the-art imaging technologies that have excellent potential to disrupt a centenary technology.

My Group also applies Data Science techniques to various real-world challenges. As Director of the Liverpool Centre for Doctoral Training in Data Intensive Science LIVDAT I lead R&D into machine learning techniques, artificial intelligence and automation.

Based on beam instrumentation prototypes developed over the years within my Group, I have established the company D-Beam Ltd which has become a partner of choice for beam instrumentation projects around the world.
Research Group Membership
Research Grants
Quantum Gas jet Based Helium Atom Microscope (QHAM)
INNOVATE UK (UK)
October 2021 - March 2022
Cockcroft Institute Core Grant
SCIENCE AND TECHNOLOGY FACILITIES COUNCIL (STFC)
April 2021 - March 2025
Data intensive science - a research and training initiative
SCIENCE AND TECHNOLOGY FACILITIES COUNCIL (STFC)
January 2020 - June 2020
Optical Fibre Analysis System (OASYS)
SCIENCE AND TECHNOLOGY FACILITIES COUNCIL (STFC), UK RESEARCH AND INNOVATION (UKRI) (UK)
September 2020 - September 2021
Awake - UK
SCIENCE AND TECHNOLOGY FACILITIES COUNCIL (STFC)
October 2017 - September 2020
ARIES Integrating Activity project
EUROPEAN COMMISSION
May 2017 - April 2022
Cockcroft Institute Core Grant
SCIENCE AND TECHNOLOGY FACILITIES COUNCIL (STFC), UK RESEARCH AND INNOVATION (UKRI) (UK)
April 2017 - March 2022
AWAKE
SCIENCE AND TECHNOLOGY FACILITIES COUNCIL (STFC)
October 2016 - March 2018
Towards precision experiments with antihydrogen
ENGINEERING & PHYSICAL SCIENCES RESEARCH COUNCIL (EPSRC), UK RESEARCH AND INNOVATION (UKRI) (UK)
April 2017 - March 2022
Accelerators Validating Antimatter Physics - AVA
EUROPEAN COMMISSION
January 2017 - February 2021
HLLHC
SCIENCE AND TECHNOLOGY FACILITIES COUNCIL (STFC)
April 2016 - March 2021
EUPRAXIA European Plasma Research Accelerator with eXcellence In Applications.
EUROPEAN COMMISSION
November 2015 - October 2019
Optimization of Medical Accelerators
EUROPEAN COMMISSION
February 2016 - July 2023
OPAC - optimization of Particle Accelerators: A Marie Curie Initial Training Network
EUROPEAN COMMISSION
December 2011 - November 2015
LAsers for Applications at Accelerators: A Marie Curie Initial Training NETwork
EUROPEAN COMMISSION
October 2011 - September 2015
EuroCirCol - European Circular Energy-Frontier Collider Study
EUROPEAN COMMISSION
June 2015 - December 2019
Optical imaging system for the ESS Diagnostics
SCIENCE AND TECHNOLOGY FACILITIES COUNCIL (STFC)
April 2015 - May 2016
DITANET
EUROPEAN COMMISSION
June 2008 - May 2012
The Cockcroft Institute - An International Centre for Accelerator Research and Development serving aspirations of science and society
SCIENCE AND TECHNOLOGY FACILITIES COUNCIL (STFC)
April 2009 - March 2017
High resolution fiber optic particle detector for next generation accelerators
ROYAL SOCIETY (CHARITABLE)
July 2014 - July 2016
DITA-IIF Investigations into Advanced Beam Instrumentation
EUROPEAN COMMISSION
September 2014 - August 2016
BeaPhy Beam physics studies into ELENA@AD
EUROPEAN COMMISSION
April 2014 - March 2016
SiPM in-depth- Development of novel analytical and experimental approaches for an in-depth characterization and optimization of Silcon photomultipliers
EUROPEAN COMMISSION
September 2013 - September 2015
AWAKE - Proton-driven plasma wakefield acceleration: a new route to a TeV e+e- collider (Cockcroft)
SCIENCE AND TECHNOLOGY FACILITIES COUNCIL (STFC)
October 2012 - September 2015