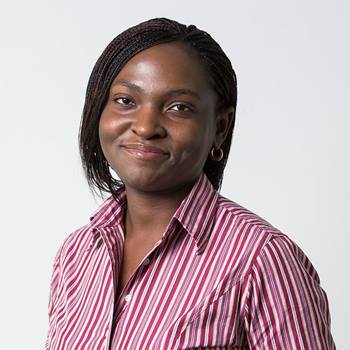 Dr
Lilian
Otaye-Ebede
PhD MBA BSc (Hons) FHEA Academic Member CIPD
Reader (Associate Professor) in HRM and Director of Studies for the MSC HRM Programme
Work, Organisation and Management
Professional Activities
Summary
External Executive Committee/Boards
• Academy of Management Gender and Diversity in Organisation (GDO) Representative-at-large on the Executive Committee (2019 - Date)

Editorial Boards
• International Journal of Human Resource Management (2018 – Date)
• African Journal of Management (2019 – Date)
• Journal of Organizational Effectiveness: People and Performance (2015 – Date)

External Examiner Roles
• University of Canberra, PhD External Examiner 2014 – 2015
• Huddersfield University, PhD External Examiner 2017 – 2018
• Coventry University, BA (Hons) Business and HRM course Reviewer 2018

Professional Affiliations
• Beta Gamma Sigma (BGS)
• British Academy of Management (BAM)
• Academy of Management (AOM)
• Associate Member of the Higher Education Academy (AHEA)
• Nigerian Institute of Management (Chartered) (NIM)
• Academic Member of the CIPD
• Chartered Association of Business Schools (CABS)


Keynote, Chaired Sessions, Professional Development Workshops and Symposiums
• Organiser, Chair, Panellist, Human Resource Development of Rural Farmers in Nigeria through Innovation Information Technology, May, 2019
• Invited to be the Keynote speaker at the 2nd International Interdisciplinary Conference on Gender, Work and Society - "Gender, work and leadership: Bringing together feminist and postcolonial insights" - Lahore University.
• Organiser and Chair, ESRC Seminar Series - Discussing the future agenda on EDI at work, November, 2016
• Chair and Organiser – Liverpool John Moores University, HR Research Symposium. The HR Journey: Where we have been, where we are going, February, 2016
• Organiser and Chair, ESRC Seminar Series - Evaluating the impact of Equality, Diversity and Inclusion (EDI) initiatives in the workplace, March, 2016
• Session Chair for Human Resource Management Stream. British Academy of Management Conference, 2014.


Internal Administrative or Committee Roles
EHRC University Commitee (University)
Director of Studies MSc HRM
Athena Swan Committee Member (Faculty)
Media Appearances
Human Resource Development of Rural Farmers through Innovative Information Technology, Times (May 2019)
Diversity and Inclusion Why Bother?, Radio 31 (Invited, April 2019)
Professional Body Memberships
(Academic Member CIPD, 2015 - present)