Reflections on virtually launching Reconstructing Public Housing
Posted on: 18 December 2020 by Matt Thompson in Blog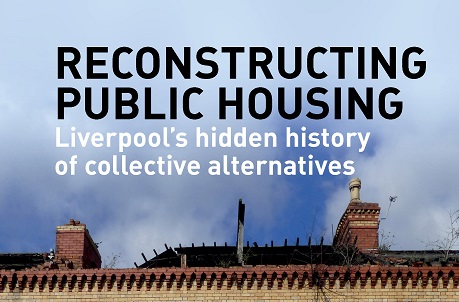 In this blog, Matt Thompson, Heseltine Institute Leverhulme Early Career Fellow reflects on the virtual launch of his new book 'Reconstructing Public Housing'.
---
On Thursday 10 December, I presented my new book Reconstructing Public Housing to a room on Zoom. The joys of being physically present in a public debate (aided and abetted by complimentary plonk) notwithstanding, the virtual book launch appears to have its upsides after all. Around 120 people participated on the day – an amazing attendance simply unthinkable in person.
Eventbrite's scarily detailed post-match analysis reveals the geographical spread of participants (see map below), who hailed not just from across the UK, but across much of Europe, the east and west coast of North America, Australia, South America, Israel and Singapore. They even break it down for you by city. London came out top, with Liverpool a close second, Manchester in third and, surprisingly, Toronto not far behind – perhaps reflecting the Canadian city's cluster of community land trusts (CLTs).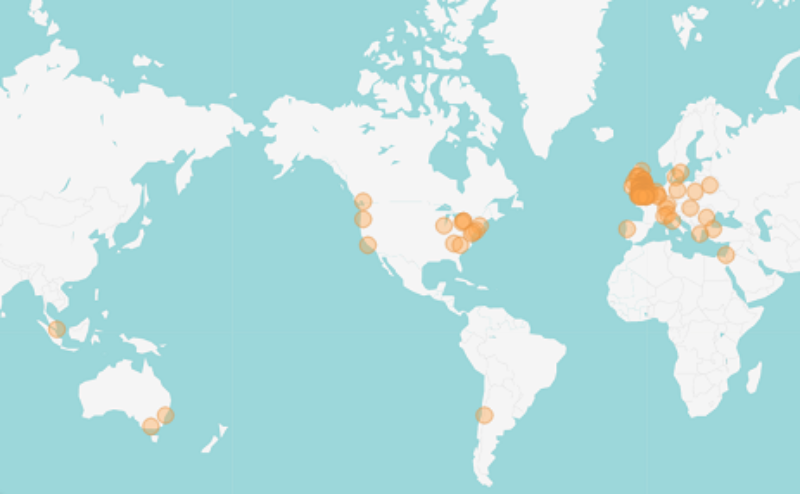 This is testament to the relevance of Liverpool's extraordinary history to national and international debates around the housing crisis and the 'urban question' under capitalism – just as much as it is a reflection of changing attitudes to what constitutes entertainment in these dark days!
Fortunately (and frighteningly!), many of those who helped make history in Liverpool turned up to discuss the more contentious points of the historical narrative I have tried to reconstruct from their testimony. Many of those asking questions and shaping the discussion were personally involved in the 1970s cooperative movement in the city – or, indeed, in building the broader movement today. It was a real honour to have these personalities participate in the launch and contribute to what became a lively debate.
As you will see in the video, the Q&A covered a lot of ground and produced a surprisingly animated discussion for an online event. Having been asked to write a brief reflection on the launch, I thought I would take the opportunity to engage with some of the important themes that came up in discussion.
From Liverpool exceptionalism to systematic replication
A major theme is the question of how we transcend Liverpool exceptionalism to replicate collective housing alternatives in other places, across the UK and globally. First, we need to develop the organising capacities and infrastructures of the movement – for renewed cooperation amongst cooperatives, within and between localities.
National membership organisations such as the National CLT Network are vital to this endeavour; so too are enabling hubs at the city-regional scale. An important recent development is the Liverpool City Region Community-led Housing Hub, following similar hubs developed in London and Leeds, amongst other places, with funding from Power to Change.
To celebrate the launch of Liverpool's enabling hub, a number of public events are planned for late February 2021 – so watch this space for news about how to get involved in further discussion on the future of housing in Liverpool.
Second, the state is crucial in supporting the viral replication of collective alternatives. Yet engaging with the state means engaging with bureaucracy – and bureaucracy tends towards flattening out difference and risks suffocating the spontaneous creative energies that animate social movements and keep their politics alive.
The book can be read as a working through of this paradox – of how we might go about codifying into replicable administrative rules the radical transformative capacity of collective alternatives to 'play with the rules of the game' without co-opting or constraining that capacity. In short, how do we build a bureaucracy from below? How do we prefigure the state – to re-engineer its tools and commandeer its resources to serve the commons rather than capital?
One pragmatic strategy is to create legal codes in national legislation and policy frameworks that unlock new powers and benefits for collective alternatives – such as Community Benefit Societies enabling community shares. In the book I suggest such legal forms are imperfect institutional articulations of the commons – pragmatic compromises made within the ownership model we have inherited from feudalism, polarised between freehold and leasehold, landlord and tenant relations. Short of systemic transformation, we must find clever ways of innovating new legal structures within this flawed system.
Last but not least, we need to tell persuasive stories, craft new narratives and propagate popular parables that can compete with prevailing neoliberal myths – such as the spurious 'tragedy of the commons' – that thwart endeavours to spread the word and expand the movement. I have written the book as a contribution to this political project of narrative (re)construction.
Gender and the role of women
The secondary texts I draw upon in the book – notably Alan McDonald's Weller Way and Jack McBane's The Rebirth of Liverpool: the Eldonian Way – tend to present the history of Liverpool's 1970s co-op movement as one dominated by male figureheads, such as Billy Floyd and Tony McGann, often painted as war leaders in political battle against adversity, against all odds, in a kind of masculinist heroic drama. Such familiar stories place more value on political events and grand struggle than on the long, hard, often hidden work of social reproduction.
While some of this reflects the era's traditional gender roles and the cultural context of Liverpool's working class communities, this is precisely the reading of history I aim to deconstruct and critique as flawed and problematic. The history I tell in the book explains how, if men were the more visible figureheads in a few vanguard cases, it was actually women who were the driving force behind the co-ops, doing most of the work to organise communities and keep projects running.
And in many cases, women were also the prominent leaders. For instance, Jane Corbett was one of the leading figures of Langrove Street Co-op before becoming a Labour councillor and Liverpool City Council Cabinet Member. Jackie Harris led Southdene and the Kirkby co-ops more generally, likewise politicised through this process to become a Labour councillor and Knowsley Council Cabinet Member. In Kirkby, and Liverpool too, many co-ops were set up by groups of single mothers, often very young, including Harris, who empowered themselves through the co-op campaign process and were politicised as a result.
Housing activism over the past decade has been led almost exclusively by women. Juliet Edgar in Little Klondyke; Nina Edge in the Welsh Streets; Dorothy Kuya, Eleanor Lee, Hazel Tilly, Theresa McDermott, Marianne Heaslip and Gemma Jerome in Granby; Angela McKay, Britt Jurgensen and Jeanne van Heeswijk in Homebaked – to name but a few.
But making visible the central role of women in this way may also reproduce a "masculinist" reading of history. This concern is partly why I critique and deconstruct the myths of exceptionalism and heroism and tease out the tensions between focusing on dramatic political events and behind-the-scenes processes of ongoing maintenance, bureaucratic management and social reproduction (not that these distinctions map onto gendered notions in any clear, unproblematic way).
This is something I try to capture in a number of dialectical perspectives mobilised in the book – from the dialectic of personalities and structures in making history, to the dialectic of treating housing as a noun (a commodity, an event) and as a verb (an activity, a lived process).
At the same time, I am conscious of having written more of a political (and urban) history than a social history – with key events and characters in the foreground of the story. There is more work to be done, for sure, on the cultural dynamics and social relations that have socially reproduced these collective housing alternatives over time. Any history is of course only ever a partial, incomplete picture that requires continual reworking, revising and elaborating.
Class and 'Generation Rent'
The question of class came up in relation to renting and radicalisation – picking up on the way I began the talk in reference to my master's thesis on mixed tenure communities. The co-ops were driven by tight-knit working class communities in creatively conflictual relationships with middle class professionals. In working so closely with the secondary development agency Cooperative Development Services (CDS), Weller Street Co-op's motto was 'professionals on tap, not on top!'
Yet it was those idealistic professionals who articulated the ideas behind the movement and who largely wrote the history of this period. In many ways there is a gap between the material cultures developed through working class practices and the intellectual history written by middle class participant-observers.
Thirty years later, things are less clear-cut. Neoliberalism has shattered working class organisation and fractured solidarity structures, while also inflating land and asset values which has proletarianised the middle classes, leading to the rise of renting, rentierism and 'generation rent'. The ideas infusing CLTs today reflect this decomposition and complex blurring of class.
The history of CLTs is being written by people often with direct stakes in (or else close affiliation with) the projects they are writing about. There is a pluralism to the CLTs – in class composition, tenure typologies and ideological imaginaries – that did not so much mark the co-ops.
One upshot is opening up new possibilities for cross-class solidarity and alliances – reflected in more expansive contemporary imaginaries, for the urban commons and the right to the city, an alliance between the alienated and the dispossessed. The rise of middle class renting – and the radicalisation of young renters as Generation Left – presents renewed opportunities for more radical discourses around dwelling, occupation, public ownership and collective management of assets.
Another important cleavage intersecting with class is race, not least in terms of the institutional racism and racist urban policy shaping Granby's history. I consider these issues in this article for the Poverty and Race Research Action Council.
The production and dissemination of historical knowledge
It was great that the event provided an opportunity to bring together older and younger generations in dialogue. Questions circulated around how to bridge the generational gap between the 1970s/80s wave and the contemporary resurgence in political activism; how to prevent the knowledge loss – a kind of collective amnesia – between historical moments of engagement.
Conduits for political education beyond political parties and educational institutions are of course vital. But here I want to consider the contribution of academic knowledge – specifically how books such as this can find an audience in the public domain and escape the enclosure and commodification of knowledge production.
Open access is a promising movement within academic publishing. Directories such as OAPEN and DOAB – and DOAJ for journals – have been busy compiling open access books and articles. The UK's first fully open access university press, at University College London, was founded in 2015; since publishing open access books such as this (including a chapter by me on Liverpool's collective housing alternatives) aimed at disseminating knowledge about political alternatives.
University presses remain important players in the decommodification of knowledge production –they are independent not-for-profit charities with civic missions tied to their host universities, working against the grain of the private profit-making firms that dominate the industry. Many presses are now engaged in establishing open access as a new norm. The UK's third oldest press, Liverpool University Press (LUP), is at the forefront.
My book was chosen by LUP as one of two manuscripts in a demonstration project for open access publishing – partly for its potential to speak widely across academic, policy and public domains. It was a great honour to be selected for the project and I am grateful to LUP and the University of Liverpool Library for their support in getting the book out there. The test of economic viability is whether digital downloads generate enough physical sales of the paperback – so please do support the experiment by buying direct from LUP rather than elsewhere.
Some of the costs have been covered by the University of Liverpool Library, who found spare funds in their annual budget due to a commercial publisher returning fees they had overcharged for journal subscriptions. If we could re-divert even a fraction of the extortionate (and unearned) fees currently charged by private academic publishers for universities to access the publicly-funded knowledge they produce – into open access alternatives – we would be making huge progress in growing the knowledge commons.
Alternatives to institutional financing of open access include crowdfunding – through organisations such as Knowledge Unlatched. LUP's Open Access Author Fund invites authors to donate royalties to fund future open access publications by early career researchers (with LUP matching all donations). If you are interested in publishing open access, take a look at this guide by LUP editorial director Alison Welsby, who was responsible for bringing Reconstructing Public Housing into the light of day.
Another important aspect is public education and the design of new university courses on collective alternatives, currently woefully lacking in the UK – that is, until recently. Tom Moore, who very generously and expertly chaired the event, has designed a brand new master's course specifically on community-led planning and housing at the University of Liverpool.
In, against and beyond the state
Finally, the question looming largest in the discussion was the role of the state. Part of why I choose to describe CLTs and co-ops as 'collective housing alternatives' rather than the conventional terms 'collaborative housing' or 'community-led housing' is because I want to emphasise their connection to the notion of the public and the state as democratic, collectively-controlled alternatives to managerial, technocratic forms of public housing. The state is essential to the task of supporting the expansion of collective alternatives – from legal protection, to policy support, to provision of land and financial resources.
In light of the 2019 electoral defeat of a democratic-socialist government-in-waiting which would have supported the flourishing of collective alternatives nationally, the local state is all the more important. We should look to the emerging global movement new municipalism and its strategies of working in, against and beyond the (local) state, drawing upon the historical lessons of the Greater London Council (GLC) and northern experiments with municipal socialism.
I am keen to characterise the Militant period of Liverpool's political history in the mid-1980s as an ambiguous and contested one – rather than the straightforwardly negative experience that many in the co-op movement at the time understandably felt it to be. Although the Militant policy programme was incredibly hostile to the co-ops – unwittingly playing into the hands of their ideological enemies, Thatcher's neoliberal government – it was also an admirably ambitious attempt to assert local autonomy over centralised domination and renew public spending and socialist politics (albeit lacking the key ingredient of participatory democracy). Unlike their GLC counterparts, Militant missed a trick with the co-ops in not seeing them as allies.
Militant's stance nonetheless highlighted co-op shortcomings – their potential for inward-looking exclusivity. The collective housing movement can learn from this – by connecting collective ownership with a sense of democratic stewardship and public accountability. Which is why we need to think about making connections with the state and what remains of its democratic governance structures.
Another reason for bringing the state back into discussion about the commons is the need for large-scale financial backing and public land transfer. This is particularly true for London's context of intensified financial speculation in land and property assets.
In the discussion I briefly mentioned a community campaign for CLT ownership of part of the St Ann's hospital site in Haringey – St Ann's Redevelopment Trust (StART) – which remains at the mercy of the London Mayor and Greater London Authority. It was announced the very same day that the contract for redevelopment has gone to Catalyst, a locally-based housing association. This is positive news for collective alternatives, with 50 homes allocated for community ownership – although a drop in the ocean of London's deep housing crisis.
Politicians and policymakers need to be convinced about the desperate need to turn back the tide of privatisation of public land and assets – before the state can be any more ambitious about systematically expanding and scaling public ownership in ways which embody the democratic principles of collective alternatives.
The Liverpool City Region Land Commission – the UK's first city-regional land commission of its kind – promises to radically transform the way in which land, both public and private, is treated across the Liverpool metropolitan area. Its recommendations, due to be published at the end of 2020, will hopefully encourage the Combined Authority and the Metro Mayor to establish public-common partnerships with collective alternatives – and not just in housing: in community enterprise incubation, urban farming, community amenities, renewable energy and ecological services.
Future research
The book contributes to an action-research agenda I have been co-developing with a few colleagues in and around the Heseltine Institute on alternative industrial strategy, community enterprise and the social economy in the Liverpool City Region. This provides the platform for my current research into advancing economic democracy through municipalism.
Building on an initial survey of the new municipalist movement as well as collective work on city-regional social economies and entrepreneurial municipalism, I am currently comparing how co-operative ecosystems are being cultivated in different ways by municipalists in Preston, Plymouth, and Islington in London.
This involves tracing the emergence of a transatlantic institutional ecosystem of progressive think tanks and cooperative development agencies; while looking into the history of how cooperative development agencies were developed by municipal-socialist authorities in the 1970s and 1980s.
Covid-19 put a spanner in the works – cancelling planned trips to the USA over spring and summer 2020 – but also offered new opportunities. On the back of research commissioned by a Liberal Democrat Task Force into Universal Basic Income (UBI), I am now following the development of campaigns for UBI pilots, in cities across the UK and internationally, led by urban coalitions organised as part of the UBI Lab Network.
While moving beyond the book's focus on housing, UBI and municipalist co-operative development can likewise be seen as collective alternatives pointing to a new paradigm – Public Sector 2.0 – in broadly comparable ways to Liverpool's co-ops and CLTs.
------------------------------------------------------------------------------------
A recording of Matt's virtual book launch can be found here.
---