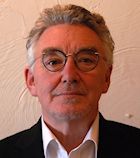 Prof
Gareth
Padfield
BSc PhD CEng FRAeS FREng
Emeritus Professor of Aerospace Engineering
School of Engineering
About
Personal Statement
I joined the University of Liverpool in 1999 after a 25 - year career in Government Research (The Royal Aircraft Establishment, DERA) and Industry, with the remit to develop and lead Aerospace Engineering research and teaching. My previous employment taught me many things about research and management but I am often reminded that committment to quality, integrity and passion are for me, the most important attributes.

My passion for things Aerospace drives my committment, and has been with me from an early age.

I held the post of Head of the School of Engineering from 2004-2010 and launched the University's Virtual Engineering Centre in 2009.

Since retiring in 2011, I have continued to work with the Flight Science research group and in 2012 gave the Nikolsky lecture at the American Helicopter Society's annual forum in Fort Worth.

In 2014 I published a new book - So you Want to be an Engineer; a guide to a wonderful, mysterious profession. The book draws on my experience as a practising engineer, and is aimed at students, educators and early career practitioners. I am available to present the essence of my guide to students in secondary and higher education.

I also run a small technical consultancy, Flight Stability and Control, and have supported Industry and Governments on a wide range of projects over the last 15 years.

Prizes or Honours
Fellow of the Royal Academy of Engineering (Roayl Academy of Engineering, 2008)
Westland best paper prize (The RAeS, 2006)
best conference paper (Emerald Press, 2005)
Westland best paper Prize (The Royal Aeronautical Society, 2004)
Hodgson best paper prize (The Royal Aeronautical Society, 2002)
Best Human Factors paper (American Helicopter Society, 2001)
Bronze medal (Royal Aeronautical Society, 1999)