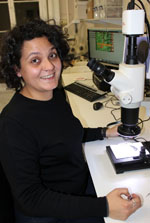 Dr
Ceren
Kabukcu
BA, MA, PhD
Postdoctoral Research Associate
Archaeology, Classics and Egyptology
About
Personal Statement
I am an archaeobotanical scientist with broad interests in Quaternary palaeoecology, and plant food and wood fuel use by hunter-gatherers and the earliest farmers in Southwest Asia and Europe. I am interested in exploring the complex two-way relationships between people, climate and the environment and how these are manifest in the plant use practices of prehistoric societies. I specialise in the analysis of carbonised plant macro-remains (wood charcoal, seeds, tubers, etc.) and have published on a variety of topics including the establishment of anthropogenic, managed woodlands in Neolithic Anatolia, the changing nature of pre-agricultural plant food and woodland exploitation by late Pleistocene and early Holocene hunter-gatherers, as well as on quantitative methods in archaeobotany and wood charcoal analysis, with a focus on palaeoecological applications.
My most recent project, funded by the Leverhulme Trust (Before farming: prehistoric plant use in the Taurus-Zagros arc of Southwest Asia; Early Career Fellowship) involved researching archaeobotanical remains from Franchthi Cave in the Aegean Basin, Palegawra Cave and Shanidar Cave on the Zagros Mountains (Iraqi Kurdistan) and Karain Cave and Gusir Höyük (Anatolia), spanning the Middle-Upper Palaeolithic, Epipalaeolithic and early Neolithic. The time depth of this project, and my ongoing work, allows me to address some of the most fundamental aspects of human behaviour: why we eat what we eat, and how we impact and shape plant resources in our environments.
I am additionally interested in exploring the use of 13C isotopes and dendro-anthracology as tools in the investigation woodland management practices in the past.