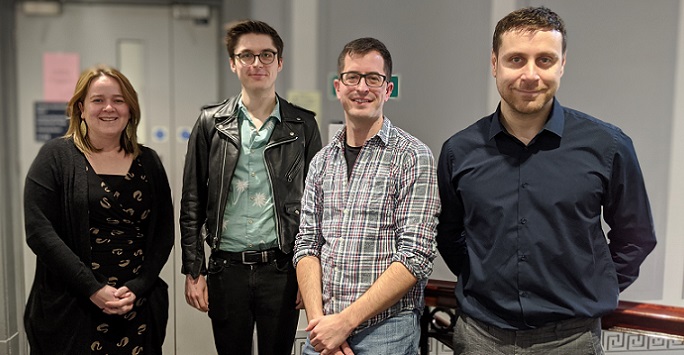 Dr Robert Treharne and Samuel Ball: Hive Learning
Dr Robert Treharne is a lecturer in technology enhanced learning within the School of Physical Sciences at the University of Liverpool. He is co-founder of HiPy - the grass roots, community driven coding initiative that uses a unique "Hive Learning" strategy to introduce students and staff at the University to Python.
Samuel Ball is a PhD student at the University of Liverpool studying applications of AI to drug safety. Sam joined the HiPy initiative in its first year during his undergraduate program and has developed most of the resources used during HiPy events. Currently, he co-leads the initiative along with Rob, and continues to develop learning resources for the group.
In this podcast we hear about an innovation that has been developed in the School of Life Sciences to support students with their coding practices. This innovation came about by accident when 100 students turned up for supplementary coding support and, as a result, a peer-assisted learning project, HiPy, was born. We hope this podcast will support you to reflect upon the needs of your own students and how you could potentially evolve your personal practice to support student development.
Subscribe, Listen, Rate and Review
You can also listen on your preferred platform: Apple Podcasts, Breaker, Castbox, Google Podcasts, Overcast, Pocket Casts, RadioPublic, Spotify and Stitcher. Just search for 'Liverpool Academy'.
Let us know what you think by tagging in The Academy on twitter.
Further reading
Access the reading list related to this podcast.
Music and Effects
This podcast uses sounds from freesound: https://freesound.org/s/417560/ and music from Purple Planet: https://www.purple-planet.com