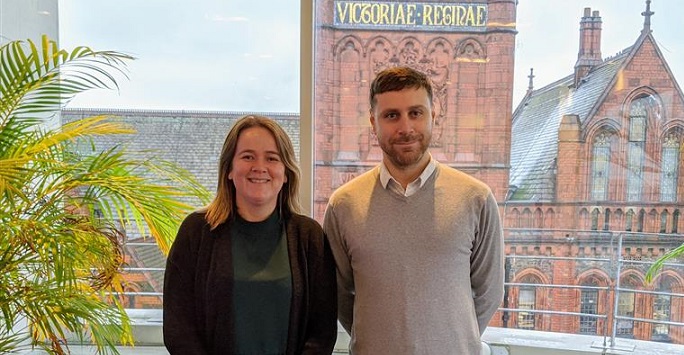 Podcast Trailer: Dr Alex Owen and Matt Davis
In this trailer we introduce The Academy's Developing Practice Podcast. We outline the rationale for the podcast and some of the topics we will cover in our first series. We meet the podcast hosts, Dr Alex Owen and Matt Davis.
Dr Alex Owen is a Senior Academic Developer working in collaboration with colleagues from across the Academy, the wider institution and beyond to enhance the development of excellence in learning and teaching in line with the University's strategic objectives. At her previous institution she was a Faculty of Education based Head of Department and now, at the University of Liverpool, she leads on the design and delivery of a range of opportunities for colleagues to continually develop their professional practice with a view to learning and teaching enhancement.
Alex's work involves providing 'Peer Learning' leadership across the broad range of Academy activities designed in response to the strategic educational objectives of the University. She works to cascade and share good learning and teaching practice and to build supportive networks for educational leaders to share and promote excellence in learning and teaching practice at the University. Her interest lies with the development of opportunities for innovation in educational practices to be acknowledged, celebrated and shared with the wider University community.
Twitter: @alexandra_owen
Matt Davis is an Organisational Developer (eLearning Lead) and his role is to create blended and online learning design, to commission learning interventions, to consult with managers and leaders on how to enhance performance through learning, to help facilitate strategic change through learning and to perform learning needs analysis. He also conducts evaluation and analysis of all such activities. He has worked in Learning and Development for 11 years in various roles.
Matt is a keen advocate of providing organisational development initiatives to facilitate powerful and positive change in people and thus the organisation they work for. Being very technology focused and previously running a not for profit eLearning company he sees the huge benefits that online/mobile learning can bring to an organisations ability to learn and adapt for the future, as well as the personal benefits that each staff member can gain.
Twitter: @ElearnerMatt
Subscribe, Listen, Rate and Review
You can also listen on your preferred platform: Apple Podcasts, Breaker, Castbox, Google Podcasts, Overcast, Pocket Casts, RadioPublic, Spotify and Stitcher. Just search for 'Liverpool Academy'.
Let us know what you think by tagging in The Academy on twitter.
Music
The music for our podcasts is brought to you by Purple Planet: https://www.purple-planet.com