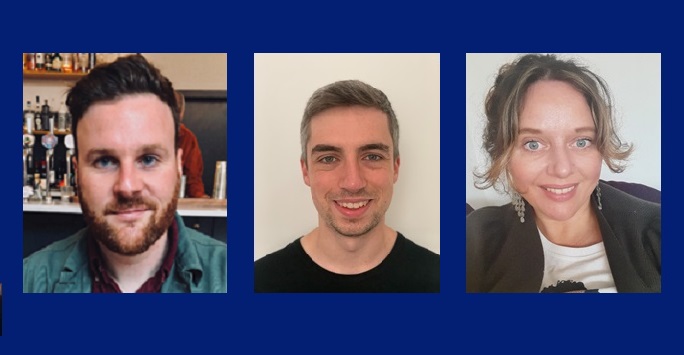 Making an Impact 2021 Special #3: Engaging with policy makers
In this podcast we chat with Sabina, James and Tom about how, as colleagues working in HE, we can engage with policy makers.
Guests
Tom Arnold is a post-doctoral research associate at the Heseltine Institute of Public Policy, Practice & Place. He joined the institute in March 2020 after completing his PhD at the University of Manchester's planning school, which focused on the rescaling of transport planning powers in Northern England. His research centres primarily on local and regional governance and institutions in England, and particularly their relationship with UK government. He is currently involved in a project assessing how local policymakers are developing post-Covid recovery strategies. Prior to joining the Heseltine, Tom was involved in producing the UK2070 Commission's report into regional inequalities.
James Coe is Senior Policy Advisor at the University of Liverpool. He is responsible for providing advice on higher education, civic engagement, and wider policy developments, to the Vice Chancellor and her senior leadership team.
Sabina Frediani is the University of Liverpool's Director of Communications and Public Affairs, directing a team focused on staff and student communications, media relations, engagement with research and corporate events. Prior to joining the University in 2018, Sabina spent 20 years as a communications professional in the campaigning and charity sector. This included working as Director of Campaigns at the human rights organisation, Liberty from 2007 to 2014, where she lobbied policymakers on human rights issues and directed award winning public campaigns. She has worked for the disability rights charity, Mencap and managed public affairs at the Foundation for Peace, a charity working nationally and internationally to promote non-violent conflict resolution. She has written and spoken on issues including women's rights, asylum and refugee rights, counter-terrorism and personal privacy and has worked as an associate lecturer at the University of Central Lancashire. She also sits on the University of Liverpool's Equality and Human Rights Commission Working Group, which works towards making the University a more equitable institution for staff and students.
Subscribe, Listen, Rate and Review
You can also listen on your preferred platform: Apple Podcasts, Breaker, Castbox, Google Podcasts, Overcast, Pocket Casts, RadioPublic, Spotify and Stitcher. Just search for 'Developing Practice'.
Let us know what you think by tagging in The Academy on twitter.
Further reading
Access the reading list for this podcast.
Music and FX
This podcast uses sounds from freesound: https://freesound.org/s/417560/ and music from Purple Planet: https://www.purple-planet.com