About the session
Part of the role of a leader, and one of the key facets of professional and academic success, is to help to develop and empower those around you. Moreover, it is also vital for us to seek out the right people to help support and challenge us as we develop. Some of this development will be undertaken formally – through training, teaching and tutorial – but at higher levels, much development comes through coaching and mentoring relationships. In this session, we'll explore what coaching and mentoring are and the skills that coaches and mentors use to help realise an individual's potential.
Who is it for?
Early Career Researchers (including Postdocs)
Mid-Career Researchers.
Objectives
By the end of this session, participants will have explored how coaching and mentoring help release potential in people Identify behaviours that coach-like mentors use Provide tools, questions and approaches that can potentially be used in ALL work conversations.
Get to know your facilitator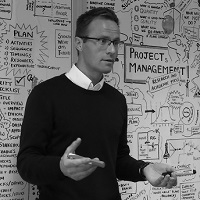 Dr. Steve Hutchinson, Founder of Hutchinson Training and Development Ltd
For the past 15 years Dr. Steve Hutchinson has run a company that specialises in helping leaders, thinkers and professionals to develop and achieve. Originally a research scientist, he's subsequently worked with Universities, Research Institutions, Public, Private and Not-for-Profit Organisations and has led on projects all over the world - both as a trainer, consultant and coach. He is the coauthor/editor of five books and has written many other articles and chapters.
Session video and presentation
Download the presentation (PPT, 14.6MB)
All NPDC21 listed resources including presentation slides and top tips are freely available. Please ensure you acknowledge the author(s) and/or source when using them.
Back to: Researcher Hub